Intimal Sarcoma of Artery
Last updated May 4, 2018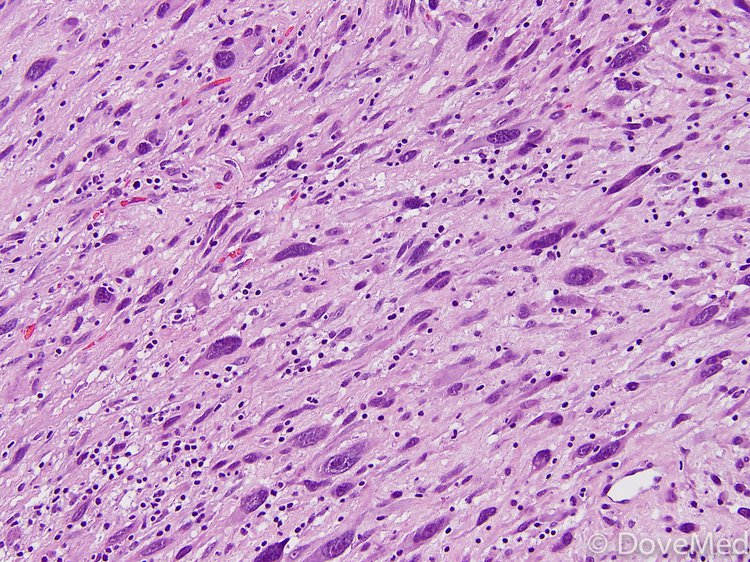 Microscopic pathology image showing a high grade spindle sarcoma.
---
What are the other Names for this Condition? (Also known as/Synonyms)
Aortic Intimal Sarcoma
Intimal Sarcoma of the Aorta
Pulmonary Intimal Sarcoma
What is Intimal Sarcoma of Artery? (Definition/Background Information)
An Intimal Sarcoma of Artery is a connective tissue tumor that originates in large blood vessels (the major arteries) and in the heart-lung blood circulation system of the body
Though its occurrence is extremely rare, Intimal Sarcoma is highly malignant and highly lethal. It has the tendency to spread to the bones, liver, kidney, and other major organs. A wide age range of individuals are known to be affected by this tumor
There are two main types of Intimal Sarcoma, based on the location it affects: Intimal Sarcoma of the Pulmonary Artery, and Intimal Sarcoma of the Aorta. The former (pulmonary type), is twice as common as the latter (aortic type)
Who gets Intimal Sarcoma of Artery? (Age and Sex Distribution)
Intimal Sarcoma of Artery may be present in individuals of all age group, though the tumor is normally observed in adults. It is rarely found in infants and very young children
The average age at incidence for Pulmonary Intimal Sarcoma is 48 years, and 62 years for Aortic Intimal Sarcoma
Intimal Sarcoma is a very rare condition with very few recorded number of cases. Even so, a slight female predominance with the pulmonary type is seen at 4:3 (female-male ratio). Both sexes seem to be equally affected with the aortic type of tumor
There is no available information on any racial or ethnic preference
What are the Risk Factors for Intimal Sarcoma of Artery? (Predisposing Factors)
Risk factors are currently unknown or unidentified for Intimal Sarcoma of Artery
But, some morphological or genetic abnormalities may be potential causal factors
It is important to note that having a risk factor does not mean that one will get the condition. A risk factor increases ones chances of getting a condition compared to an individual without the risk factors. Some risk factors are more important than others.
Also, not having a risk factor does not mean that an individual will not get the condition. It is always important to discuss the effect of risk factors with your healthcare provider.
What are the Causes of Intimal Sarcoma of Artery? (Etiology)
The exact cause of Intimal Sarcoma of Artery is unknown. They are thought to occur spontaneously, due to some genetic or morphological anomaly.
What are the Signs and Symptoms of Intimal Sarcoma of Artery?
The signs and symptoms are based on the type of Intimal Sarcoma of Artery and a wide-range of presentation is evident. A diagnosis of Intimal Sarcoma is extremely difficult and most often the actual cause is evaluated and understood post-mortem.
Intimal Sarcoma of the Pulmonary Artery:
The tumor is normally located either on the right or left, or on both branches of the main pulmonary trunk (in 80% of the cases), or is found on the pulmonary valve. Frequently, lung metastasis, or spread of the cancer to outside of the chest region (to kidney, pancreas, lymph nodes, brain, skin) is observed
Signs and symptoms: Pulmonary arterial embolism is frequently and incorrectly diagnosed, since it is seen that Pulmonary Intimal Sarcoma presentations mimic this condition. They include shortness of breath, chest pain, rapid breathing, and frequent cough
Intimal Sarcoma of the Aorta:
The tumor is normally located either on the descending thoracic aorta, or more frequently on the abdominal aorta. Due to this, embolism of the tumor occurs (where a portion of the cancerous material is carried by the aorta to other distant regions). Also, metastases of the tumor may be seen, to the abdomen, liver, bone, and lymph node regions
Signs and symptoms: Arterial embolism related presentations are observed, such as back pain, lack of pulse in the lower extremities, leg pain, discomfort while walking, abdominal angina, and hypertension. These presentations impede a proper diagnosis of the condition
How is Intimal Sarcoma of Artery Diagnosed?
A diagnosis of Intimal Sarcoma of Artery would include:
Physical exam with evaluation of medical history
CT, MRI scan of the affected region
Histopathological studies conducted on a biopsy specimen. This is mandatory for an accurate diagnosis to ensure early and proper management of the condition
Many clinical conditions may have similar signs and symptoms. Your healthcare provider may perform additional tests to rule out other clinical conditions to arrive at a definitive diagnosis.
What are the possible Complications of Intimal Sarcoma of Artery?
A lack of early, accurate diagnosis with improper management complicates the situation, and results in the loss of valuable time. The complications from Intimal Sarcoma of Artery (both aortic and pulmonary) could possibly include:
The metastasizing or malignant nature of Intimal Sarcoma and its potency of affecting many vital organs and blood vessels
Blood loss during invasive treatment methods may be heavy
Damage of vital nerves and surrounding structures during surgery
How is Intimal Sarcoma of Artery Treated?
Intimal Sarcomas of the arteries are aggressive lesions and require early diagnosis, followed by prompt and critical management of the tumors. The treatment measures may include:
Wide surgical excision of Intimal Sarcoma, removal of the entire lesion, which is followed by chemotherapy and/or radiotherapy
When it is at an inaccessible location, or is unsafe for surgical intervention, radiation therapy and/or chemotherapy is employed
Post-operative care is important: A minimum activity level is to be ensured, until the surgical wound heals
Follow-up care with regular screening and check-ups are important
How can Intimal Sarcoma of Artery be Prevented?
Current medical research have not established a method of preventing Intimal Sarcoma of Artery occurrence
Regular medical screening at periodic intervals with blood tests, scans, and physical examinations are mandatory for those who have already endured the tumor, due to its high metastasizing potential and possibility of recurrence
What is the Prognosis of Intimal Sarcoma of Artery? (Outcomes/Resolutions)
Intimal Sarcoma of Artery, both pulmonary and aortic type, are extremely rare, but high-malignancy tumors that are not completely understood. The long-term prognosis depends on a combination of factors, such as:

Age of the individual at the time of diagnosis
Tumor location, size, and stage at detection
And most importantly its early and accurate identification

The best outcome is when the tumor is detected early, it can be surgically removed, and when it has not metastasized to other body regions
However, despite intensive treatment and management of the condition, the prognosis remains extremely poor. The short-term outcome is about 9 months for Pulmonary Intimal Sarcoma patients and about 18 months for Aortic Intimal Sarcoma patients, given its highly infiltrative and metastasizing ability
Additional and Relevant Useful Information for Intimal Sarcoma of Artery:
The management of Intimal Sarcoma of Artery is extremely difficult, due to the following reasons:
The extreme rarity of the tumor
The non-specific and misleading symptoms it presents
Its high-malignancy behavior
The difficulty in performing complete surgical resection
The several regions and organs of the body it can affect
And a lack proper medical literature on the subject
What are some Useful Resources for Additional Information?
American Cancer Society (ACS)
1599 Clifton Road, NE Atlanta, GA 30329-4251
Toll-Free: (800) 227-2345
TTY: (866) 228-4327
Website: http://www.cancer.org

National Cancer Institute (NCI)
U.S. National Institutes of Health
Public Inquiries Office
Building 31, Room 10A03
31 Center Drive, MSC 8322 Bethesda, MD 20892-2580
Phone: (301) 435-3848
Toll-Free: (800) 422-6237
TTY: (800) 332-8615
Email: cancergovstaff@mail.nih.gov
Website: http://www.cancer.gov

National Organization for Rare Disorders (NORD)
55 Kenosia Avenue Danbury, CT 06810
Phone: (203) 744-0100
Toll-Free: (800) 999-6673
Fax: (203) 798-2291
Email: orphan@rarediseases.org
Website: http://www.rarediseases.org
References and Information Sources used for the Article:
http://www.cardiothoracicsurgery.org/content/6/1/162 (accessed on 12/16/12)

http://www.ncbi.nlm.nih.gov/pmc/articles/PMC1847907/ (accessed on 12/16/12)

http://www.ajronline.org/content/175/5/1289.long (accessed on 12/16/12)

Pathology & Genetics: Tumours of Soft Tissue and Bone; WHO Classification of Tumours; Edited by Christopher D.M. Fletcher, K. Krishnan Unni, Fredrik Mertens; IARC Press, Lyon, 2002
Helpful Peer-Reviewed Medical Articles:
Fukuda, W., Morohashi, S., & Fukuda, I. (2011). Intimal sarcoma of the pulmonary artery--diagnostic challenge. Acta Cardiol, 66(4), 539-541.

Furest, I., Marin, M., Escribano, P., Gomez, M. A., Cortinac, J., & Blanquer, R. (2006). [Intimal sarcoma of the pulmonary artery: a rare cause of pulmonary hypertension]. Arch Bronconeumol, 42(3), 148-150.

Garg, N., Lewis, M. A., Maleszewski, J. J., & Kalra, M. (2012). Intimal sarcoma in an inflammatory aneurysm after endovascular aneurysm repair. J Vasc Surg, 55(4), 1134-1137. doi: 10.1016/j.jvs.2011.08.049

Mayer, E., Kriegsmann, J., Gaumann, A., Kauczor, H. U., Dahm, M., Hake, U., ... & Oelert, H. (2001). Surgical treatment of pulmonary artery sarcoma. The Journal of thoracic and cardiovascular surgery, 121(1), 77-82.

Dennie, C. J., Veinot, J. P., McCormack, D. G., & Rubens, F. D. (2002). Intimal sarcoma of the pulmonary arteries seen as a mosaic pattern of lung attenuation on high-resolution CT. American Journal of Roentgenology, 178(5), 1208-1210.

Zhao, J., Roth, J., Bode‐Lesniewska, B., Pfaltz, M., Heitz, P. U., & Komminoth, P. (2002). Combined comparative genomic hybridization and genomic microarray for detection of gene amplifications in pulmonary artery intimal sarcomas and adrenocortical tumors. Genes, Chromosomes and Cancer, 34(1), 48-57.

Choi, E. Y., Yoon, Y. W., Kwon, H. M., Kim, D., Park, B. E., Hong, Y. S., ... & Kim, H. S. (2004). A case of pulmonary artery intimal sarcoma diagnosed with multislice CT scan with 3D reconstruction. Yonsei Medical Journal, 45, 547-551.

Strobel, K., Bode, B., Lardinois, D., & Exner, U. (2007). PET-positive fibrous dysplasia-a potentially misleading incidental finding in a patient with intimal sarcoma of the pulmonary artery. Skeletal radiology, 36(1), 24-28.

Valve, P. (2007). Intimal sarcoma of the pulmonary artery.
Reviewed and Approved by a member of the DoveMed Editorial Board
First uploaded: Dec. 30, 2013
Last updated: May 4, 2018
Was this article helpful?
Comments