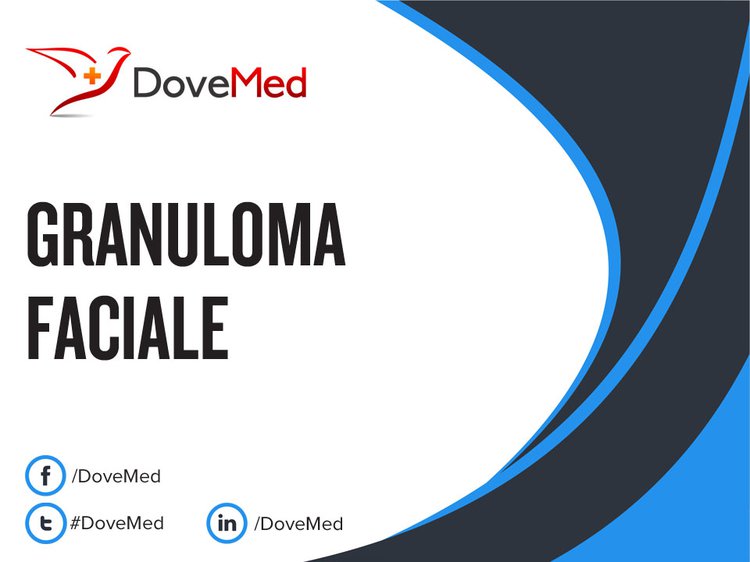 Granuloma Faciale (GF) is a benign inflammatory disorder of skin that chiefly occurs on the face. This rare condition can appear as pigmented skin papules, plaques, or nodules.
What are the other Names for this Condition? (Also known as/Synonyms)
GF (Granuloma Faciale)
Granuloma Faciale Eosinophilicum
Granuloma Faciale with Eosinophilia 
What is Granuloma Faciale? (Definition/Background Information)
Granuloma Faciale (GF) is a benign inflammatory disorder of skin that chiefly occurs on the face (as the name of the condition implies)
This rare condition can appear as pigmented skin papules, plaques, or nodules on the body. Granuloma Faciale is seen to occur in middle-aged and elderly adults
The cause of Granuloma Faciale is generally unknown; although the risk factors for the condition include sun damage from exposure to sunlight
Treatment is mostly undertaken since Granuloma Faciale is a chronic condition that keeps appearing and disappearing, but never goes away (resolves) by its own. In many cases, due to its facial location, treatments are considered for cosmetic concerns
The treatment may involve topical medications, oral medications, phototherapy, laser surgery, and excisional surgery. The prognosis for Granuloma Faciale is good with suitable treatment
Who gets Granuloma Faciale? (Age and Sex Distribution)
Granuloma Faciale is an uncommon and benign skin condition that affects adults in the 30-60 years' age group
Both males and females are affected, but a male predominance is observed
Individuals of all racial and ethnic background may be affected. Worldwide, no geographical localization of the condition has been reported
However, Granuloma Faciale is more commonly seen among Caucasians
What are the Risk Factors for Granuloma Faciale? (Predisposing Factors)
Currently, the following risk factors have been identified for Granuloma Faciale:
Prolonged sun exposure, exposure to ultraviolet (UV) light
Exposure to intense sun for long periods during the course of work or due to regular participation in outdoor sports activities
People living in geographical regions where hot-dry, desert-like climatic conditions prevail
The condition is more common among fair-skinned individuals (especially Caucasians)
It is important to note that having a risk factor does not mean that one will get the condition. A risk factor increases ones chances of getting a condition compared to an individual without the risk factors. Some risk factors are more important than others.
Also, not having a risk factor does not mean that an individual will not get the condition. It is always important to discuss the effect of risk factors with your healthcare provider.
What are the Causes of Granuloma Faciale? (Etiology)
The cause of development of Granuloma Faciale is presently unknown.
Some researchers believe that it may be due to exposure to sunlight
A localized dysfunction associated with production of immunoglobulin G (IgG) subclass 4 is a possible contributing or causative feature
What are the Signs and Symptoms of Granuloma Faciale?
The signs and symptoms of Granuloma Faciale include:
It occurs as single or multiple skin lesions
The lesions may be in the form of papules, plaques, or nodules
They may range in size from a few mm to 5 cm; but are usually less than 2 cm in size
Skin inflammation may be present
There can be pigmentation observed; increased pigmentation can be noted. Some lesions become darker after sun-exposure
The surface of the lesion has an orange peel appearance
Usually there are no signs and symptoms, but occasionally the lesions may be painful and itchy
They can also bleed and ulcerate
As the name implies, the common site of the tumor is the face. Even though face is common, other parts of the body may also be affected, in which case it is called Extrafacial Granuloma Faciale
How is Granuloma Faciale Diagnosed?
A diagnosis of Granuloma Faciale may involve the following:
A thorough medical history and physical examination
Dermoscopy: It is a diagnostic tool where a dermatologist examines the skin using a special magnified lens
Wood's lamp examination: In this procedure, the healthcare provider examines the skin using ultraviolet light. It is performed to examine the change in skin pigmentation
Tissue biopsy: A biopsy is performed and sent to a laboratory for a pathological examination. The pathologist examines the biopsy under a microscope. After putting together clinical findings, special studies on tissues (if needed) and with microscope findings, the pathologist arrives at a definitive diagnosis
Many clinical conditions may have similar signs and symptoms. Your healthcare provider may perform additional tests to rule out other clinical conditions to arrive at a definitive diagnosis.
What are the possible Complications of Granuloma Faciale?
Granuloma Faciale may cause the following complications:
Emotional stress
Some individuals may have concerns regarding their appearance, especially since it appears on the face
The condition can be chronic; it gets better and worse with time
Bleeding and ulceration of the skin lesions (from scratching) can result in superimposed bacterial and fungal infections
How is Granuloma Faciale Treated?
The treatment of Granuloma Faciale may involve the following:
Use of medications and applications:

Topical steroid lotions and creams
Oral dapsone therapy, to treat moderate to severe skin conditions
Anti-malarial medications have been found to be beneficial in some individuals

Surgical procedures that may include:

A complete surgical excision, which can result in a cure
Moh's surgery, where the lesion is precisely removed in thin slices
Laser treatments, which offers a less-invasive method of diminishing the appearance of the skin lesions

Cryotherapy, where cold temperatures are used to destroy the skin lesions
Phototherapy, where light is used to treat the skin condition 
In rare cases, radiation therapy may be administered
Generally, proper follow-up care with regular screening and check-ups are important and encouraged.
How can Granuloma Faciale be Prevented?
Currently, there are no known methods to prevent Granuloma Faciale occurrence. However, some of the risk factors may be recognized and controlled. These include:
Avoiding or minimizing sun exposure
Use of sunscreens, protective clothing against sun exposure, etc.
Smoking cessation
What is the Prognosis of Granuloma Faciale? (Outcomes/Resolutions)
The prognosis for Granuloma Faciale is good with appropriate treatment, since it is a benign tumor
The condition rarely goes away by itself without treatment
Additional and Relevant Useful Information for Granuloma Faciale:
There is no evidence to prove that the intake of certain foods have an influence on Granuloma Faciale development
Cleaning the skin too hard with strong chemicals or soaps may aggravate the skin condition. Care must be taken avoid strong soaps and chemicals that could potentially worsen the condition
The presence of dirt on the body is not a causative factor for the condition. However, it helps to be clean and hygienic, which may help the condition from getting worse
Avoid scratching or picking the skin lesions, which may lead to additional complications, such as superimposed infections
What are some Useful Resources for Additional Information?
American Academy of Dermatology
930 E. Woodfield Road Schaumburg, IL 60173
Phone: (866) 503-SKIN (7546)
Fax: (847) 240-1859
Website: http://www.aad.org
References and Information Sources used for the Article:
Wolff, K., & Johnson, R. A. (2009). Fitzpatrick's color atlas and synopsis of clinical dermatology. McGraw-Hill Medical.
Thiers, B. H. (1989). Year Book of Dermatology 1988. Archives of Dermatology, 125(8), 1150.
Burns, T., & Breathnach, S. (1992). Rook's Textbook of dermatology Vol 4. London: Blackwell Scientific Publications, 1992.
Bolognia, J. L., Schaffer, J. V., Duncan, K. O., & Ko, C. J. (2014). Dermatology Essentials E-Book. Elsevier Health Sciences.
Helpful Peer-Reviewed Medical Articles:
Roberts, P. F., & McCann, B. G. (1985). Eosinophilic angiocentric fibrosis of the upper respiratory tract: a mucosal variant of granuloma faciale? A report of three cases. Histopathology, 9(11), 1217-1225.
PEDACE, F. J., & PERRY, H. O. (1966). Granuloma faciale: a clinical and histopathologic review. Archives of dermatology, 94(4), 387-395.
Ortonne, N., Wechsler, J., Bagot, M., Grosshans, E., & Cribier, B. (2005). Granuloma faciale: a clinicopathologic study of 66 patients. Journal of the American Academy of Dermatology, 53(6), 1002-1009.
Rusin, L. J., Dubin, H. V., & Taylor, W. B. (1976). Disseminated granuloma faciale. Archives of dermatology, 112(11), 1575-1577.
Marcoval, J., Moreno, A., & Peyrı́, J. (2004). Granuloma faciale: a clinicopathological study of 11 cases. Journal of the American Academy of Dermatology, 51(2), 269-273.
Ludwig, E., Allam, J. P., Bieber, T., & Novak, N. (2003). New treatment modalities for granuloma faciale. British Journal of Dermatology, 149(3), 634-637.
LeBoit, P. E. (2002). Granuloma faciale: a diagnosis deserving of dignity. The American journal of dermatopathology, 24(5), 440-443.
Chatrath, V., & Rohrer, T. E. (2002). Granuloma faciale successfully treated with long‐pulsed tunable dye laser. Dermatologic surgery, 28(6), 527-529.
Thiyanaratnam, J., Doherty, S. D., Krishnan, B., & Hsu, S. (2009). Granuloma faciale: case report and review. Dermatology online journal, 15(12).