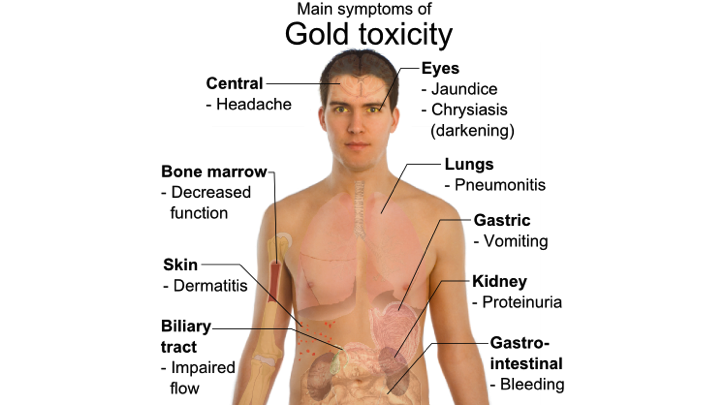 Illustration showing the symptoms of Gold Toxicity.
What are the other Names for this Condition? (Also known as/Synonyms)
Gold Poisoning
Heavy Metal Poisoning due to Gold
Toxicity due to Gold
What is Gold Toxicity? (Definition/Background Information)
Gold Toxicity is the toxic effect of gold that occurs when gold is administered to the body. It is usually given for rheumatoid arthritis (RA), juvenile rheumatoid arthritis (JRA), or psoriatic arthritis
Gold is generally administered to reduce joint pain and joint swelling. In many, gold treatment helps in decreasing joint deformity and joint disability. Although, in about 50% of the individuals, the injections may not be an effective treatment tool
Individuals with the genotype HLA-DR3 have a higher risk for gold therapy-induced Gold Toxicity. In such individuals, kidney toxicity and platelet dysfunction may occur
Gold Toxicity long-term effects may include liver inflammation, blue-grey skin color, and mouth ulcers. There can also be bone marrow suppression resulting in frequent infections
Stopping or discontinuing the use of gold therapy is the first line of treatment for Gold Toxicity. The treatment for arthritis using gold may be resumed, if the side effects improve and go away
The prognosis of Gold Toxicity is generally good with appropriate early diagnosis and treatment including stoppage of the causative gold therapy
Who gets Gold Toxicity? (Age and Sex Distribution)
Gold Toxicity can affect individuals of any age including children and adults. It is a rare condition
There is no specific preference for any gender (both males and females are affected)
All racial and ethnic groups are affected and no predilection is observed
What are the Risk Factors for Gold Toxicity? (Predisposing Factors)
The risk factors for Gold Toxicity may include:
Individuals with rheumatoid arthritis, juvenile rheumatoid arthritis, or psoriatic arthritis who are administered (long-term) gold therapy
Presence of the genotype HLA-DR3 is a risk factor
It is important to note that having a risk factor does not mean that one will get the condition. A risk factor increases ones chances of getting a condition compared to an individual without the risk factors. Some risk factors are more important than others.
Also, not having a risk factor does not mean that an individual will not get the condition. It is always important to discuss the effect of risk factors with your healthcare provider.
What are the Causes of Gold Toxicity? (Etiology)
Gold Toxicity is caused by the administration of gold-based therapy as part of treatment for rheumatoid arthritis, juvenile rheumatoid arthritis, or psoriatic arthritis, usually for several years.
Gold therapy is usually given as injections, but it may be orally administered (in capsule form) too. It helps reduce joint inflammation and pain caused by the arthritis
When gold is injected to the muscles, they travel to different parts of the body causing toxicity, since gold is a foreign body
Gold therapy may be given early in the course of the condition, when other treatment measures, such as steroid and OTC pain medications, do not work
What are the Signs and Symptoms of Gold Toxicity?
The side effects of gold therapy occur in about 1 in 3 individuals. In some individuals, immediate side effects (called nitritoid reaction) are noted after gold therapy. The signs and symptoms of Gold Toxicity may include:
Inflammation of skin, or dermatitis
Damage to the kidneys, or nephritis
Damage to the platelet function causing thrombocytopenia Purpura
Inflammation of blood vessels, known as vasculitis
Enlarged lymph nodes, or lymphadenopathy
Pruritus or itching
Proteinuria or presence of protein in urine
The hair, nails, and lips are usually not affected
In majority of the cases, the signs and symptoms are mild and go away on its own. In some cases, it can be severe and additionally result in the following:
Low blood pressure (BP)
Nausea
Loss of consciousness
The signs and symptoms associated with long-term Gold Toxicity (which are generally long-lasting) may include:
Bluish-grey discoloration of skin on the sun-exposed areas. This is known as chrysiasis and is an irreversible condition
Increased pigmentation can also occur in the lens/cornea of the eye; a condition called ocular chrysiasis
Mouth sores
Inflammation of liver, or hepatitis
Bone marrow suppression leading to anemia and frequent infections
Moreover, there may be signs and symptoms of the underlying rheumatoid arthritis, juvenile rheumatoid arthritis, or psoriatic arthritis.
How is Gold Toxicity Diagnosed?
The diagnosis of the Gold Toxicity may involve:
A complete physical examination and an assessment of the individual's medical history including history and treatment of rheumatoid arthritis or psoriatic arthritis
Computed tomography (CT) and magnetic resonance imaging (MRI) scans
Tissue biopsy of the affected region: A tissue biopsy is performed and sent to a laboratory for a pathological examination. The pathologist examines the biopsy under a microscope. After putting together clinical findings, special studies on tissues (if needed) and with microscope findings, the pathologist arrives at a definitive diagnosis
Many clinical conditions may have similar signs and symptoms. Your healthcare provider may perform additional tests to rule out other clinical conditions to arrive at a definitive diagnosis.
What are the possible Complications of Gold Toxicity?
The complications associated with Gold Toxicity can include:
Diarrhea may result from taking oral drug (gold) therapy
Neurological complications such as severe neuropathies
Severe gold toxicity resulting in many vital organs being affected, including the kidney, liver, and blood
Individuals with HLA-DR3 have a greater chance of getting kidney toxicity (nephropathy) and platelet dysfunction causing immune thrombocytopenia
Gold Poisoning can destroy the function of the lymph nodes
Extensive necrosis of the liver
Rarely, it can cause heart attacks and strokes
How is Gold Toxicity Treated?
Discontinuing the gold therapy (or intramuscular injections) responsible for the side effects may result in improvement of Gold Toxicity signs and symptoms and also help stop its progression
Other treatment measures for the condition include symptomatic treatment and consideration of alternative therapy for rheumatoid arthritis or psoriatic arthritis
In many cases, gold therapy is stopped for a period of time for the signs and symptoms of Gold Toxicity to get better, and the treatment is then resumed. If the side effects return, then the individual is not a candidate for gold therapy and it should be avoided.
How can Gold Toxicity be Prevented?
Currently, there are no specific methods or guidelines to prevent Gold Toxicity
The gold-based therapy injections that caused the condition may be discontinued or alternative medications used
What is the Prognosis of Gold Toxicity? (Outcomes/Resolutions)
The prognosis of Gold Toxicity is generally good on discontinuation of the offending gold therapy, followed by adequate treatment
However, the prognosis is also associated with the severity of Gold Toxicity and underlying rheumatoid arthritis or psoriatic arthritis
Regular follow up visits with the healthcare providers are important: Early diagnosis and treatment of the condition may prevent worsening or acute side effects due to Gold Poisoning
Additional and Relevant Useful Information for Gold Toxicity:
Research studies have generally shown that Gold Toxicity does not affect the growth and development of a baby in the womb
In 50% of the individuals, the injections (given as part of therapy for various arthritic forms) may not be an effective treatment tool
It is generally good to avoid alcohol, while taking gold therapy
Because of the heavy side effects and newer, advanced treatments for arthritis, gold therapy is on the decline; hence, Toxicity due to Gold is less frequently seen nowadays
What are some Useful Resources for Additional Information?
References and Information Sources used for the Article:
http://rarediseases.org/rare-diseases/heavy-metal-poisoning/ (accessed on 04/24/2016)
http://www.ncbi.nlm.nih.gov/pubmed/22101718 (accessed on 04/24/2016)
http://www.ncbi.nlm.nih.gov/pmc/articles/PMC2988217/ (accessed on 04/24/2016)
http://jama.jamanetwork.com/article.aspx?articleid=292268 (accessed on 04/24/2016)
Helpful Peer-Reviewed Medical Articles:
Ali, H., Khan, E., & Sajad, M. A. (2013). Phytoremediation of heavy metals—concepts and applications. Chemosphere, 91(7), 869-881.
Conde, J., Larguinho, M., Cordeiro, A., Raposo, L. R., Costa, P. M., Santos, S., ... & Baptista, P. V. (2014). Gold-nanobeacons for gene therapy: evaluation of genotoxicity, cell toxicity and proteome profiling analysis. Nanotoxicology, 8(5), 521-532.
Li, N., Zhao, P., & Astruc, D. (2014). Anisotropic gold nanoparticles: synthesis, properties, applications, and toxicity. Angewandte Chemie International Edition, 53(7), 1756-1789.
Zhang, X. D., Wu, D., Shen, X., Liu, P. X., Fan, F. Y., & Fan, S. J. (2012). In vivo renal clearance, biodistribution, toxicity of gold nanoclusters. Biomaterials, 33(18), 4628-4638.
Mieszawska, A. J., Mulder, W. J., Fayad, Z. A., & Cormode, D. P. (2013). Multifunctional gold nanoparticles for diagnosis and therapy of disease. Molecular pharmaceutics, 10(3), 831-847.
Lee, S. M., Kim, H. J., Ha, Y. J., Park, Y. N., Lee, S. K., Park, Y. B., & Yoo, K. H. (2012). Targeted chemo-photothermal treatments of rheumatoid arthritis using gold half-shell multifunctional nanoparticles. ACS nano, 7(1), 50-57.
Ayzenberg, I., Kleiter, I., Schröder, A., Hellwig, K., Chan, A., Yamamura, T., & Gold, R. (2013). Interleukin 6 receptor blockade in patients with neuromyelitis optica nonresponsive to anti-CD20 therapy. JAMA neurology, 70(3), 394-397.
Smolen, J. S., Breedveld, F. C., Burmester, G. R., Bykerk, V., Dougados, M., Emery, P., ... & Scholte-Voshaar, M. (2016). Treating rheumatoid arthritis to target: 2014 update of the recommendations of an international task force. Annals of the rheumatic diseases, 75(1), 3-15.