Epithelioid Sarcoma (ES)
Last updated May 26, 2018
Approved by: Maulik P. Purohit MD MPH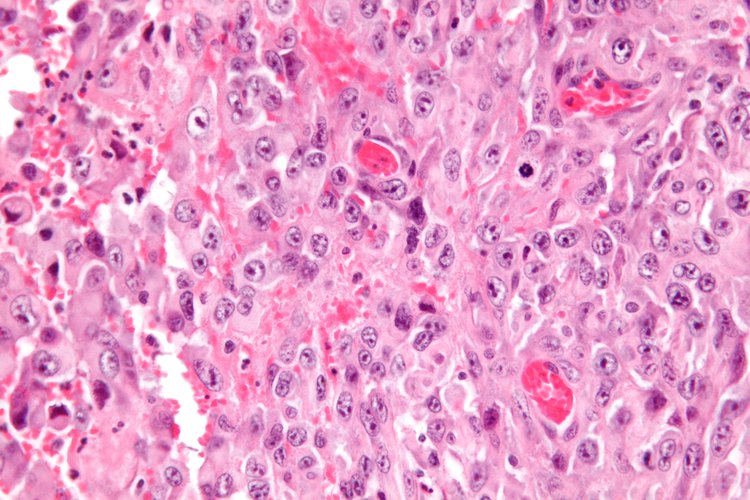 Very high magnification microscopic pathology image showing epithelioid sarcoma, proximal subtype. H&E stain.
---
What are the other Names for this Condition? (Also known as/Synonyms)
Adult Epithelioid Sarcoma
Epithelioid Cell Sarcoma
Epithelioid Cell Synovial Sarcoma
What is Epithelioid Sarcoma? (Definition/Background Information)
An Epithelioid Sarcoma (ES) is a type of soft tissue tumor involving the epithelioid cells (which line the blood vessels) and connective tissues. It has a high malignancy potential (capacity to metastasize)
Though its occurrence is rare, ES frequently affects soft tissues just below the skin (termed superficial), or deep inside the body organs, occurring as a solitary tumor. Tumors at the superficial locations are known to ulcerate the overlying skin
ES has been observed in the upper and lower limbs, and on the trunk. Teenagers and young adults are most commonly affected. Usually, an individual does not experience pain or tenderness at the tumor sites
Who gets Epithelioid Sarcoma? (Age and Sex Distribution)
Epithelioid Sarcoma may be present in individuals of all age group, but the peak age range is between 10-39 years (from teenage to young-adult period). Infants, young children, and the elderly, are rarely affected
There is a slight male predilection; the male to female gender ratio is 1.8:1
No particular racial/ethnic preference is seen
What are the Risk Factors for Epithelioid Sarcoma? (Predisposing Factors)
No risks are evident, or have been identified for Epithelioid Sarcoma occurrence
However, some have reported external injury or trauma as a possible predisposing factor
It is researched that the tumor formation may be affected by certain genetic factors too
It is important to note that having a risk factor does not mean that one will get the condition. A risk factor increases ones chances of getting a condition compared to an individual without the risk factors. Some risk factors are more important than others.
Also, not having a risk factor does not mean that an individual will not get the condition. It is always important to discuss the effect of risk factors with your healthcare provider.
What are the Causes of Epithelioid Sarcoma? (Etiology)
The exact cause and mechanism of Epithelioid Sarcoma formation, is unknown. They are thought to occur spontaneously
It is suggested that genetic factors or trauma (of any sort), may have a role in their formation
What are the Signs and Symptoms of Epithelioid Sarcoma?
The presentations are based on the location of the tumor. Epithelioid Sarcoma signs and symptoms include:
Most tumors are asymptomatic. However, in others, a wide-range of behavior is observed
They may grow at a slow rate and appear as painless inflammatory irregular (or nodular) lesions below the skin surface. They may also be present as deep-seated tumors
Lesions just below the skin appear like a badly-healed wound
Most common location of ES is the finger, hand, forearm, foot, knee, leg, thigh, and trunk. Other locations include the spine, penis, and female genitalia
On the hands and legs, muscle contracture and nerve compression may occur, causing muscular- and nerve-related signs and symptoms
How is Epithelioid Sarcoma Diagnosed?
A diagnosis of Epithelioid Sarcoma is made using the following tools:
Physical exam with evaluation of the individual's medical history
MRI scan, PET scan, of the affected region
Histopathological studies conducted on a biopsy specimen: A pathologist examines the tissue under a microscope before arriving at a definitive diagnosis. A microscopic examination by a pathologist is considered to be gold standard in diagnosis of the tumor
Genetic analysis through molecular testing, helps differentiate ES from other different tumor types
Many clinical conditions may have similar signs and symptoms. Your healthcare provider may perform additional tests to rule out other clinical conditions to arrive at a definitive diagnosis.
What are the possible Complications of Epithelioid Sarcoma?
Complications are dependent on the site and severity of the tumor. These include:
Recurrence of Epithelioid Sarcoma after surgery (there is an 80% chance of recurrence)
Metastasizing of tumor into lungs, lymph nodes, and scalp
Bones may undergo demineralization; sometimes limb amputation may be required
Damage to vital nerves, blood vessels, and surrounding structures during surgery
Side effects from chemotherapy (such as toxicity), radiation therapy
How is Epithelioid Sarcoma Treated?
Treatment measures for Epithelioid Sarcoma include the following:
Wide surgical excision of ES with removal of the entire lesion is adopted, if necessary. If the lesion is not fully removed, then it might recur
Embolization is used to provide temporary relief from the symptoms, and reduce blood loss during a surgical procedure
High-dose radiation therapy is used after the surgery to destroy the remaining present tumor cells. Chemotherapy has not shown any particular benefit in treating ES
Aggressive lesions may require multi-disciplinary management
Bone tumors may require the use of bone grafts. Amputations may be recommended for lesions on the limbs
Post-operative care is important; minimum activity level is to be ensured until the surgical wound heals
Follow-up care with regular screening and check-ups are important
How can Epithelioid Sarcoma be Prevented?
Current medical research has not established a way of preventing Epithelioid Sarcoma
Regular medical screening at periodic intervals with blood tests, scans, and physical examinations are mandatory for those who have already endured ES; due to its metastasizing potential and chances of recurrence
Often several years of active vigilance is necessary
What is the Prognosis of Epithelioid Sarcoma? (Outcomes/Resolutions)
Epithelioid Sarcoma is a rare, high-mortality tumor, with metastasizing/malignancy potential (metastatic rate at 45%)
The long-term favorable prognosis depends on a combination of factors such as; young age of patient, female gender, and location of tumor at the extremities (distal)
A negative outcome is guided by factors, such as age at diagnosis, the size of the tumor (larger than 2 cm), location of the tumor (axial or proximal), and if biopsy of the specimen reveals necrosis with high vascularity
Additional and Relevant Useful Information for Epithelioid Sarcoma:
Epithelioid Sarcoma is often confused with many benign and malignant sarcomas. Hence, an accurate diagnosis is essential for prompt and definite treatment action.
What are some Useful Resources for Additional Information?
American Cancer Society (ACS)
1599 Clifton Road, NE Atlanta, GA 30329-4251
Toll-Free: (800) 227-2345
TTY: (866) 228-4327
Website: http://www.cancer.org

National Cancer Institute (NCI)
U.S. National Institutes of Health
Public Inquiries Office
Building 31, Room 10A03
31 Center Drive, MSC 8322 Bethesda, MD 20892-2580
Phone: (301) 435-3848
Toll-Free: (800) 422-6237
TTY: (800) 332-8615
Email: cancergovstaff@mail.nih.gov
Website: http://www.cancer.gov
References and Information Sources used for the Article:
http://sarcomahelp.org/epithelioid-sarcoma.html (accessed on 12/14/12)

http://ajcp.ascpjournals.org/content/131/2/222.full (accessed on 12/14/12)

http://www.ncbi.nlm.nih.gov/pubmed/4014539 (accessed on 12/14/12)

Pathology & Genetics: Tumours of Soft Tissue and Bone; WHO Classification of Tumours; Edited by Christopher D.M. Fletcher, K. Krishnan Unni, Fredrik Mertens; IARC Press, Lyon, 2002
Helpful Peer-Reviewed Medical Articles:
Hornick, J. L., Dal Cin, P., & Fletcher, C. D. (2009). Loss of INI1 expression is characteristic of both conventional and proximal-type epithelioid sarcoma. The American journal of surgical pathology, 33(4), 542-550.

Modena, P., Lualdi, E., Facchinetti, F., Galli, L., Teixeira, M. R., Pilotti, S., & Sozzi, G. (2005). SMARCB1/INI1 tumor suppressor gene is frequently inactivated in epithelioid sarcomas. Cancer research, 65(10), 4012-4019.

Hasegawa, T., Matsuno, Y., Shimoda, T., Umeda, T., Yokoyama, R., & Hirohashi, S. (2001). Proximal-type epithelioid sarcoma: a clinicopathologic study of 20 cases. Modern Pathology, 14(7), 655.

Billings, S. D., Folpe, A. L., & Weiss, S. W. (2003). Epithelioid sarcoma-like hemangioendothelioma. The American journal of surgical pathology, 27(1), 48-57.

Chbani, L., Guillou, L., Terrier, P., Decouvelaere, A. V., Grégoire, F., Terrier-Lacombe, M. J., ... & Coindre, J. M. (2009). Epithelioid SarcomaA Clinicopathologic and Immunohistochemical Analysis of 106 Cases From the French Sarcoma Group. American journal of clinical pathology, 131(2), 222-227.

Spillane, A. J., Thomas, J. M., & Fisher, C. (2000). Epithelioid sarcoma: the clinicopathological complexities of this rare soft tissue sarcoma. Annals of surgical oncology, 7(3), 218-225.

de Visscher, S. A., van Ginkel, R. J., Wobbes, T., Veth, R. P., Ten Heuvel, S. E., Suurmeijer, A. J., & Hoekstra, H. J. (2006). Epithelioid sarcoma: still an only surgically curable disease. Cancer, 107(3), 606-612.

Laskin, W. B., & Miettinen, M. (2003). Epithelioid sarcoma: new insights based on an extended immunohistochemical analysis. Archives of pathology & laboratory medicine, 127(9), 1161-1168.
Reviewed and Approved by a member of the DoveMed Editorial Board
First uploaded: June 26, 2013
Last updated: May 26, 2018