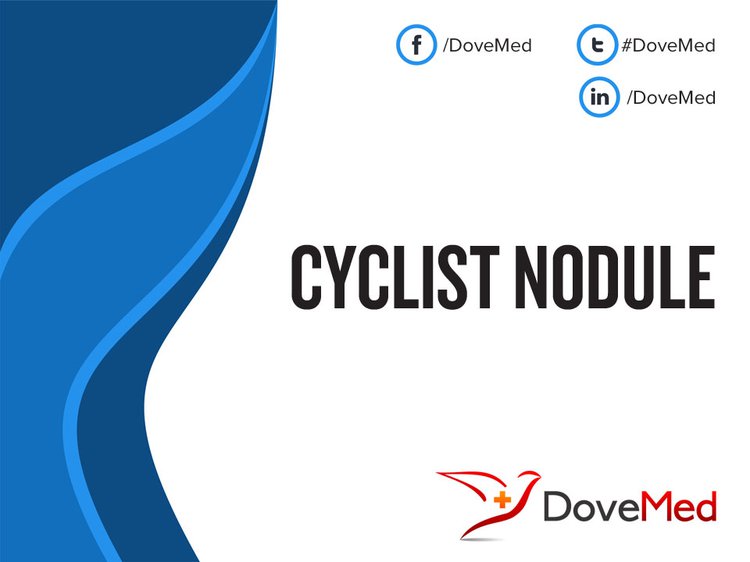 Cyclist Nodule (or Biker's Nodule) is a benign tumor of the soft tissues that occurs in the pelvic region, and in areas between the anus and genitals (called the perineum) in cyclists/bikers.
What are the other Names for this Condition? (Also known as/Synonyms)
Biker's Nodule
Perineal Hygroma in Cyclist
Supernumerary Testicle (in Men)
What is Cyclist Nodule? (Definition/Background Information)
Cyclist Nodule (or Biker's Nodule) is a benign tumor of the soft tissues that occurs in the pelvic region, and in areas between the anus and genitals (called the perineum) in cyclists/bikers
The condition occurs from chronic bicycling, which causes the formation of a firm mass due to a constant friction and pressure between the cyclist seat/saddle and the skin of the perineal region
Most Cyclist Nodules do not present significant signs and symptoms, though it can present with pain and discomfort while cycling. Some may grow to larger sizes affecting the performance of the cyclists
Cyclist Nodule may be treated using steroid injections or a simple surgery. The condition may be improved by reducing cycling or changing the cycle seat/saddle
With adequate treatment, the prognosis of Cyclist Nodule is generally excellent. However, it may recur if cycling is continued; it can also affect one's professional cycling career
Who gets Cyclist Nodule? (Age and Sex Distribution)
Cyclist Nodule is a rare tumor that is mostly observed in adults; but, it can be seen in a wider age group
Both males and females are affected and no gender preference is noted
There is no known ethnic group or racial preference
What are the Risk Factors for Cyclist Nodule? (Predisposing Factors)
The risk factors for Cyclist Nodule include the following:
Chronic bicycling - as a sport, a means of daily transport, or as part of one's occupation
Both professional and amateur cyclists are at risk
It is important to note that having a risk factor does not mean that one will get the condition. A risk factor increases ones chances of getting a condition compared to an individual without the risk factors. Some risk factors are more important than others.
Also, not having a risk factor does not mean that an individual will not get the condition. It is always important to discuss the effect of risk factors with your healthcare provider.
What are the Causes of Cyclist Nodule? (Etiology)
Cyclist Nodule is the formation of a benign nodule in the perineal region (in both men and women), caused by the effect of constant friction or pressure resulting in injury to the skin and soft tissues of the perineum
This constant rubbing or abrasion of the saddle (of the cycle) against the skin results in microtrauma and leads to the formation of a firm mass, also known as a Biker's Nodule
What are the Signs and Symptoms of Cyclist Nodule?
The signs and symptoms of Cyclist Nodule may include:
Due to constant cycling, the benign tumor grows at a slow rate and presents as a firm mass in the perineal region
It may not present any pain or tenderness; but, pain may be felt while cycling
Skin thickening (fibrosis) of the soft tissue tumor may be seen
Occasionally, degeneration of the central part of the tumor can cause the tumor to change from a solid mass to a cystic mass
In males, it may be present as a nodule below the scrotum (on the groove/ridge). Hence, the tumor is also known as an Accessory Testicle or a Third Testicle
In females, it may arise on the vulva or perineal region
Majority of the tumors are less than 3 cm in size; the size may range from 1-6 cm and some tumors are larger
How is Cyclist Nodule Diagnosed?
A diagnosis of Cyclist Nodule is made using the following tools:
Complete physical examination and evaluation of the individual's medical history: In order to establish a diagnosis of a Cyclist Nodule, a history of cycling is important
Radiological studies conducted on the tumor through CT and MRI scans, if necessary
Although the above modalities can be used to make an initial diagnosis, a tissue biopsy of the tumor may be necessary to make a definitive diagnosis. The tissue for diagnosis can be procured in multiple different ways which include:
Fine needle aspiration (FNA) biopsy of the tumor: A FNA biopsy may not be helpful, because one may not be able to visualize the different morphological areas of the tumor. Hence, a FNA biopsy as a diagnostic tool has certain limitations, and an open surgical biopsy is preferred
Core biopsy of the tumor
Open biopsy of the tumor
Tissue biopsy:
A tissue biopsy of the tumor is performed and sent to a laboratory for a pathological examination. A pathologist examines the biopsy under a microscope. After putting together clinical findings, special studies on tissues (if needed) and with microscope findings, the pathologist arrives at a definitive diagnosis. Examination of the biopsy under a microscope by a pathologist is considered to be gold standard in arriving at a conclusive diagnosis
Biopsy specimens are studied initially using Hematoxylin and Eosin staining. The pathologist then decides on additional studies depending on the clinical situation
Additional tests may be necessary to rule out an aggressive angiomyxoma, particularly in females. Hence, the pathologist may perform special studies, which may include immunohistochemical stains, molecular testing, and very rarely, electron microscopic studies to assist in the process
Many clinical conditions may have similar signs and symptoms. Your healthcare provider may perform additional tests to rule out other clinical conditions to arrive at a definitive diagnosis.
What are the possible Complications of Cyclist Nodule?
Complications due to Cyclist Nodule could include:
The presence of the tumor can lead to painful sexual intercourse
Emotional stress and trauma for professional cyclists, as Cyclist Nodule can be a serious handicap
Cyclist Nodule can affect the performance, and thus, the career of a professional cyclist
Recurrence of the tumor on resuming cycling
How is Cyclist Nodule Treated?
Treatment measures for Cyclist Nodule may include the following:
Administration of steroid or hyaluronidase injections, during the early stages
Amateurs can give up cycling (may be temporarily), which may result in regression of the condition
Professionals may try to change the size and shape of the saddle; they may be advised to change their cycling pants
The healthcare provider may recommend a simple surgical excision and removal of the nodule
Support to help with stress and anxiety
Follow-up care with regular screening and check-ups are important and encouraged
How can Cyclist Nodule be Prevented?
The formation of a Cyclist Nodule may not be prevented. But if it develops, one may try considering the following measures:
Reduce or stop cycling (or training)
Or otherwise, change the saddle and cycling gear, to reduce friction/vibration between the seat and the skin
What is the Prognosis of Cyclist Nodule? (Outcomes/Resolutions)
A Cyclist Nodule is a benign tumor; the prognosis is generally excellent with suitable treatment
However, in rare cases, the condition can become chronic/longstanding and may severely hamper the career of a professional bicyclist
Additional and Relevant Useful Information for Cyclist Nodule:
Please visit our Cancer & Benign Tumor Health Center for more physician-approved health information:
What are some Useful Resources for Additional Information?
American Congress of Obstetricians and Gynecologists (ACOG)
409 12th Street SW, Washington, DC 20024-2188
Phone: (202) 638-5577
Toll-Free: (800) 673-8444
Website: http://www.acog.org
American Cancer Society (ACS)
1599 Clifton Road, NE Atlanta, GA 30329-4251
Toll-Free: (800) 227-2345
TTY: (866) 228-4327
Website: http://www.cancer.org
National Cancer Institute (NCI)
U.S. National Institutes of Health
Public Inquiries Office
Building 31, Room 10A03
31 Center Drive, MSC 8322 Bethesda, MD 20892-2580
Phone: (301) 435-3848
Toll-Free: (800) 422-6237
TTY: (800) 332-8615
Email: cancergovstaff@mail.nih.gov
Website: http://www.cancer.gov
References and Information Sources used for the Article:
http://file.scirp.org/pdf/ASM20120100002_37971387.pdf (accessed on 11/05/2016)
https://www.ncbi.nlm.nih.gov/pubmed/11153363 (accessed on 11/05/2016)
http://link.springer.com/article/10.1007/s00256-009-0731-9 (accessed on 11/05/2016)
Helpful Peer-Reviewed Medical Articles:
Makhanya, N. Z., Velleman, M., & Suleman, F. E. (2014). A case of cyclist's nodule in a female patient. South African Journal of Sports Medicine, 26(3), 93-94.
Peters, K. T., Luyten, P., & Monstrey, S. (2014). Biker's Nodule: A Case Report and Review of the Literature. Acta Chirurgica Belgica, 114(6), 414-416.
Stoneham, A., Thway, K., Messiou, C., & Smith, M. (2016). Cyclist's nodule: no smooth ride. BMJ case reports, 2016, bcr2015213087.
Amer, T., Thayaparan, A., Tasleem, A., Aboumarzouk, O., Bleehen, R., & Jenkins, B. (2015). An avid cyclist presenting with a 'third testicle'. Journal of Clinical Urology, 8(6), 429-431.
Coutant-Foulc, P., Lewis, F. M., Berville, S., Janssen, B., Guihard, P., Renaut, J. J., ... & Moyal-Barracco, M. (2014). Unilateral vulval swelling in cyclists: a report of 8 cases. Journal of lower genital tract disease, 18(4), e84-e89.
Trofaier, M. L., Schneidinger, C., Marschalek, J., Hanzal, E., & Umek, W. (2016). Pelvic floor symptoms in female cyclists and possible remedies: a narrative review. International urogynecology journal, 27(4), 513-519.
McCluggage, W. G., & Smith, J. H. (2011). Reactive fibroblastic and myofibroblastic proliferation of the vulva (cyclist's nodule): a hitherto poorly described vulval lesion occurring in cyclists. The American journal of surgical pathology, 35(1), 110-114.
Köhler, P., Utermann, S., Kahle, B., & Hartschuh, W. (2000). Biker's nodule"--perineal nodular induration of the cyclist. Der Hautarzt; Zeitschrift fur Dermatologie, Venerologie, und verwandte Gebiete, 51(10), 763-765.