Colonic Arteriovenous Malformation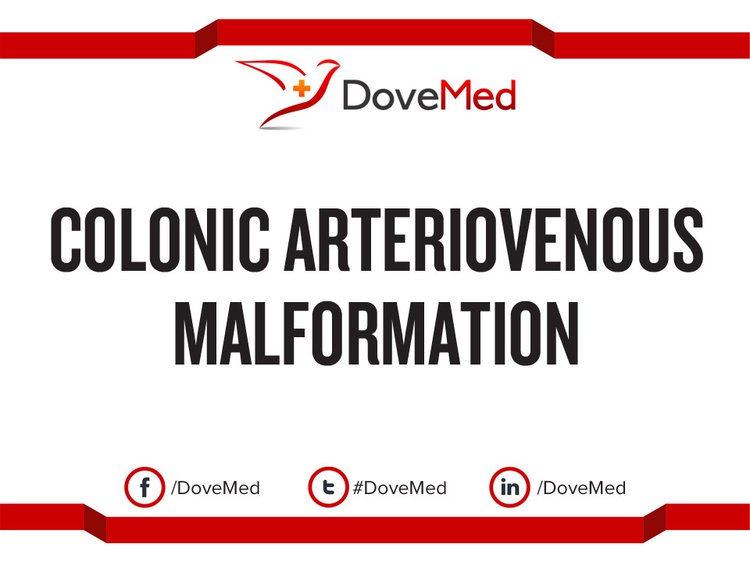 Colonic Arteriovenous Malformation is a benign condition that may have a congenital origin.
What are the other Names for this Condition? (Also known as/Synonyms)
Arteriovenous Malformation of Colon
Arteriovenous Malformation of Large Intestine
Colonic AVM
What is Colonic Arteriovenous Malformation? (Definition/Background Information)
Colonic Arteriovenous Malformation is a benign condition that may have a congenital origin. An arteriovenous malformation (AVM) is an abnormal connection between the veins and arteries resulting in collection of vascular malformation. It can occur anywhere in the body
Colonic AVM can result in gastrointestinal tract bleeding and anemia. The cause of this malformation is generally unknown, but it is linked to Osler-Weber-Rendu syndrome, the use of anticoagulant medications, bleeding disorders, and Heyde syndrome
The diagnosis of Colonic Arteriovenous Malformation may involve various blood tests including stool test for occult blood, and imaging tools such as colonoscopy and angiographic studies, which may help detect active bleeding within the GI tract
Periodic observation may be maintained for asymptomatic cases. Surgical management may be proposed, depending on the signs and symptoms caused by this arteriovenous malformation. Anemia may have to be treated using iron-rich foods and blood transfusions, if required
The prognosis of an individual with Colonic Arteriovenous Malformation is typically excellent with suitable treatment. However, the prognosis also depends upon the severity of the condition
Who gets Colonic Arteriovenous Malformation? (Age and Sex Distribution)
Colonic Arteriovenous Malformation are usually present at birth or following birth (congenital manifestation). However, the symptoms due to the malformation may occur at any age in one's life
Both males and females are affected
There is no known predilection towards any ethnic or racial group; the condition is seen worldwide
What are the Risk Factors for Colonic Arteriovenous Malformation? (Predisposing Factors)
The risk factors for Colonic Arteriovenous Malformation include the following:
Osler-Weber-Rendu syndrome - a rare hereditary disorder
Taking blood thinners or anticoagulants (anti-platelet medications)
Bleeding disorders such as von Willebrand factor (vWF) deficiency
Prolonged constipation
Chronic renal failure patients on dialysis
Heyde syndrome; in which there is GI bleeding due to angiodysplasia in individuals with aortic stenosis and acquired von Willebrand factor disease (2A deficiency)
It is important to note that having a risk factor does not mean that one will get the condition. A risk factor increases one's chances of getting a condition compared to an individual without the risk factors. Some risk factors are more important than others.
Also, not having a risk factor does not mean that an individual will not get the condition. It is always important to discuss the effect of risk factors with your healthcare provider.
What are the Causes of Colonic Arteriovenous Malformation? (Etiology)
The exact cause of Colonic Arteriovenous Malformation is unknown, but studies indicate that it is a congenital malformation
The condition arises owing to malformations in arteries and veins of the large intestine (colon). It is associated with AVMs in other parts of the body
What are the Signs and Symptoms of Colonic Arteriovenous Malformation?
The signs and symptoms of Colonic Arteriovenous Malformation may appear anytime during one's life and may include:
The presence of a single tumor; multiple AVMs are rarely observed
The tumors are over 5 mm in size (they are typically large enough to be spotted through imaging/diagnostic studies)
Gastrointestinal tract bleeding, which can be mild or profuse
Profuse bleeding can cause black tarry stools (melena)
Chronic bleeding can result in anemia with symptoms including pale skin, lethargy and/or fatigue, poor appetite, lightheadedness, irritability and headaches
In some cases, the condition may be asymptomatic (presenting no significant signs and symptoms).
How is Colonic Arteriovenous Malformation Diagnosed?
Colonic Arteriovenous Malformation is diagnosed with the help of the following tests and exams:
Complete physical exam with comprehensive evaluation of medical history
Complete blood count (CBC): This measures the red blood cell count and hemoglobin levels in blood. Low levels of hemoglobin and/or RBC count can indicate iron deficiency
Fecal occult blood test (FOBT):

This test is used to check if there is bleeding in the gastrointestinal tract
The test is usually positive, when there is active bleeding; the test can be negative, when the individual is not bleeding (silent period)

Tests such as partial thromboplastin time (PTT) and prothrombin time (PT), to check for blood coagulation
Colonoscopy:

A colonoscopy is a test that allows the physician to look at the inner lining of the colon and rectum
A typical colonoscopy involves using a thin, flexible tube (called a colonoscope), with an attached video camera, to view the colon and rectum

Capsule endoscopy (enteroscopy) and colonoscopy: Also, known as pill endoscopy and colonoscopy, it is a diagnostic tool in which a small capsule/pill with an attached camera is swallowed. As the pill goes through the small/large intestines, the camera visualizes the lining of the bowel to detect site of the bleeding
Selective GI angiography
Multiphase CT angiography: It is another technique, which can help detect an active bleeding
Radioactive scintigraphy can also help detect active bleeding in the GI tract
Many clinical conditions may have similar signs and symptoms. Your healthcare provider may perform additional tests to rule out other clinical conditions to arrive at a definitive diagnosis.
What are the possible Complications of Colonic Arteriovenous Malformation?
The complications from Colonic Arteriovenous Malformation could include:
Chronic and recurrent bleeding
Emotional trauma due to chronic bleeding episodes
Severe and acute bleeding can even be life-threatening
Chronic blood loss can lead to iron deficiency anemia
Anemia can also cause impairment in intellectual functioning, behavioral problems, etc.
Damage to vital nerves, blood vessels, and surrounding structures during surgery
How is Colonic Arteriovenous Malformation Treated?
The treatment measures for Colonic Arteriovenous Malformation may include the following:
Endoscopic cautery using techniques such as argon plasma coagulation
Arterial embolization
Medications to help with coagulation, such as antifibrinolytics, and treatment using estrogen hormone
If the individual has severe anemia (or iron-deficiency anemia), then the following treatment may be provided:

Blood transfusions for severe blood loss
Use of iron supplements and iron-rich diet (that include meats, spinach, eggplant, dried fruits, poultry, eggs, and iron-fortified cereals)

If conservative measures fail, or if the bleeding is severe, then surgery to resect a portion of the intestine (partial bowel resection) may be undertaken
Post-operative care is important: Minimum activity level is to be ensured until the surgical wound heals
Follow-up care with regular screening and check-ups are important
Individuals with asymptomatic Colonic AVMs may not need treatment. Such individuals may be monitored by the healthcare provider on a regular basis.
Note: Estrogen therapy can have unwanted side effects, and so, a risks v/s benefits analysis must be conducted before commencing therapy.
How can Colonic Arteriovenous Malformation be Prevented?
Current medical research has not established a method of preventing Colonic Arteriovenous Malformation formation
However, if the condition is caused or aggravated by hard stools, then taking steps to avoid chronic constipation may be beneficial
Early diagnosis and treatment will help prevent complications due to Colonic AVM, such as severe bleeding incidences
What is the Prognosis of Colonic Arteriovenous Malformation? (Outcomes/Resolutions)
The prognosis of Colonic Arteriovenous Malformation is generally excellent with adequate and appropriate treatment
However, the prognosis also depends upon the severity of bleeding episodes, the age and overall health of the individual
Individuals with increased blood pressure have higher chances of bleeding for AVM
Additional and Relevant Useful Information for Colonic Arteriovenous Malformation:
Gastrointestinal angiodysplasia is not similar to a Colonic Arteriovenous Malformation, because a GI angiodysplasia is usually small and many in numbers. It is also not possible to generally identify angiodysplasia via an endoscopy, unlike a Colonic AVM.
What are some Useful Resources for Additional Information?
American College of Gastroenterology (ACG)
4900 B South, 31st St. Arlington, VA 22206
Phone: (703) 820-7400
Fax: (703) 931-4520
Website: http://www.acg.gi.org
American Gastroenterological Association (AGA)
4930 Del Ray Avenue Bethesda, MD 20814
Phone: (301) 654-2055
Fax: (301) 652-3890
Email: member@gastro.org
Website: http://www.gastro.org
References and Information Sources used for the Article:
http://patients.gi.org/topics/small-bowel-bleeding/ (accessed on 04/28/2017)
https://www.ncbi.nlm.nih.gov/pmc/articles/PMC4531932/ (accessed on 04/28/2017)
https://www.ncbi.nlm.nih.gov/pubmed/15018179 (accessed on 04/28/2017)
https://medlineplus.gov/ency/article/000238.htm (accessed on 04/28/2017)
Helpful Peer-Reviewed Medical Articles:
Sun, Z., Adam, M. A., & Mantyh, C. R. (2016). Colonic Arteriovenous Malformations. In Gastrointestinal Bleeding (pp. 159-167). Springer International Publishing.
Lee, H. H., Kwon, H. M., Gil, S., Kim, Y. S., Cho, M., Seo, K. J., ... & Cho, Y. S. (2017). Endoscopic resection of asymptomatic, colonic, polypoid arteriovenous malformations: Two case reports and a literature review. Saudi Journal of Gastroenterology: Official Journal of the Saudi Gastroenterology Association, 23(1), 67.
Kamo, M., Yagihashi, K., Okamoto, T., Nakamura, K., Fujita, Y., & Kurihara, Y. (2016). High-Flow Vascular Malformation in the Sigmoid Mesentery Successfully Treated with a Combination of Transarterial and Transvenous Embolization. Cardiovascular and interventional radiology, 39(12), 1774-1778.
Noor, M., Cooper, K., Lujan, H., & Pena, C. (2016). Arteriovenous malformation of the inferior mesenteric artery presenting as ischemic colitis. Vascular Medicine, 21(6), 555-557.
Liu, K. L., Lee, C. W., Wang, H. P., & Lin, M. T. (2014). Pre-operative localization and embolization for jejunal arteriovenous malformation with massive haemorrhage. The British journal of radiology.
Beg, S., & Ragunath, K. (2017). Review on gastrointestinal angiodysplasia throughout the gastrointestinal tract. Best Practice & Research Clinical Gastroenterology.
Kalmar, P. I., Petnehazy, T., Wießpeiner, U., Beer, M., Hauer, A. C., Till, H., & Riccabona, M. (2014). Large, segmental, circular vascular malformation of the small intestine (in a female toddler with hematochezia): unusual presentation in a child. BMC pediatrics, 14(1), 55.
Murphy, A. J., Lillis, A. P., Kozakewich, H. P., Alomari, A. I., Kim, H. B., & Fox, V. L. (2017). Ileal angiodysplasia causing chronic, occult gastrointestinal bleeding in a 14-year-old boy. Journal of Pediatric Surgery Case Reports, 16, 46-49.
Parikh, S. P., Rosenberg, E., Portalatin, M. E., Fakhoury, E., & Madlinger, R. V. (2015). Appendicitis presenting concurrently with cecal arteriovenous malformation in a child. APSP journal of case reports, 6(3).