Chordoma
Last updated May 18, 2018
Approved by: Krish Tangella MD, MBA, FCAP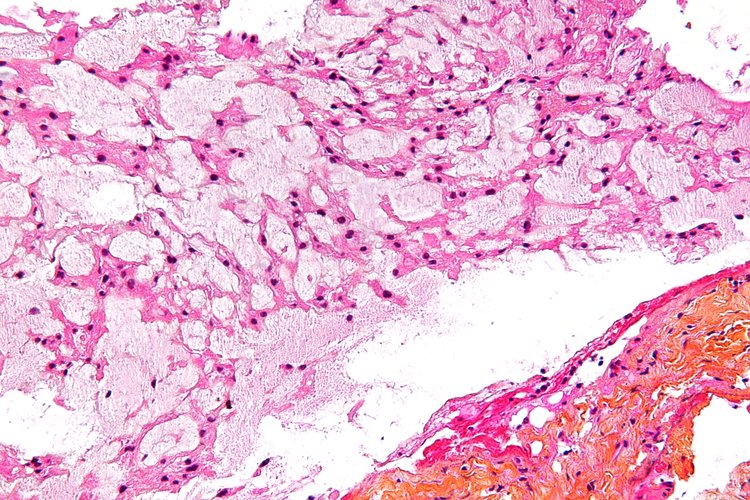 High magnification microscopic pathology image showing Chordoma. HPS stain.
---
What are the other Names for this Condition? (Also known as/Synonyms)
Notochordoma
Skull Base Chordoma
Spinal Chordoma 
What is Chordoma? (Definition/Background Information)
A Chordoma is a rare, slow-growing, malignant tumor. The tumor arises from cells called the 'notochordal remnants', situated at the sides of the vertebral column. Notochord is the embryonic structure from which the brain and spinal cord develop, during fetal development
Chordomas comprise less than 1% of central nervous system (CNS) tumors. They are commonly observed in 3 locations:

50% of them are reported in the sacrococcygeal region (bottom of the spine)
The next common site is the brainstem (the posterior part, where the spinal cord joins the cerebrum/brain)
The least common site is the spinal axis cervical region
Rarely, Chordomas may also occur in extra-axial locations (away from the vertebral column midline)

Individuals with a positive family history of this condition have a higher risk of developing these malignant tumors, later in one's life
Generally, mid-to-elderly adults are seen with this infrequent CNS tumor. Depending on the location of these slow-growing tumors, they can cause local bone destruction and extend deep into the soft tissues
The treatment of choice for Chordoma that affects the brain and central nervous system is a complete surgical removal of the tumor, which reduces the risk of recurrence
The prognosis depends on many factors, such as the individual's age, site and size of the tumor; though largely, the prognosis of Chordoma is poor
Who gets Chordoma? (Age and Sex Distribution)
Chordomas are rare tumors; only 1 in 500 central nervous system (CNS) tumors, are Chordomas. This implies that each year about 1 in a million individuals may be affected by this malignant condition
They are usually observed in middle-aged to elderly adults and have a wide age range of presentation (27-80 years); with an average age of diagnosis at 60 years. However, it is found that:

Intracranial chordomas are diagnosed at around 48 years (average age of individuals)
Sacrococcygeal chordomas are diagnosed at around 56 years
Spinal axial chordomas are diagnosed at around 46 years

The age distribution depends on the site of the tumor. Intracranial chordomas are diagnosed earlier than their spinal counterparts; since, intracranial chordomas show signs and symptoms much earlier
Chordomas is observed with a higher incidence in men (2:1 male-female ratio); although, for skull base tumors, the male-female ratio is almost 1:1
Children are also affected by Chordoma, though the incidence is much less. It is estimated that only about 5% of all Chordoma cases are seen in children
What are the Risk Factors for Chordoma? (Predisposing Factors)
Chordoma risk factors may include:
The presence of a genetic syndrome, called tuberous sclerosis complex, increases the risk
Individuals with a family history of the condition are at an increased great risk of developing Chordomas; however, most tumor occurrences are sporadic 
It is important to note that having a risk factor does not mean that one will get the condition. A risk factor increases ones chances of getting a condition compared to an individual without the risk factors. Some risk factors are more important than others.
Also, not having a risk factor does not mean that an individual will not get the condition. It is always important to discuss the effect of risk factors with your healthcare provider. 
What are the Causes of Chordoma? (Etiology)
Brain and spinal chordomas occur, when the embryonic remnants of the notochord outside the dura mater (outermost covering of the meninges), get transformed into a malignant Chordoma
During development of the embryo, the notochord is surrounded by the vertebral column. In adults, the remnants of the notochord are represented by a structure, called nucleus pulposus, which is present inside the vertebral body. If by any chance, these remnants are present outside the dura mater, covering the spinal cord and brain, they are prone for malignant transformations into Chordoma
A genetic basis, as the cause of development of Chordoma is reported. Many of these tumors occur sporadically without a family history
Genetic defects reported are: Partial losses in chromosomes 3, 4, 10, and 13; gains in chromosome 7; and certain rearrangements in chromosome 1. These mutations are implicated as the causes of this CNS tumor
Deficiencies in the DNA mismatch repair gene have also been demonstrated in Chordomas. According to the US National Institute of Health, transformations or changes in the T gene have been associated with Chordoma
What are the Signs and Symptoms of Chordoma?
The signs and symptoms of Chordoma are based on the location of the tumor. The signs and symptoms of different Chordoma types are explained:
Sacral and other spinal chordomas:
Lower back pain
Radiating pain to the legs
Rectal and urinary incontinence
A palpable mass may be observed at these regions
Chordomas along the cervical vertebrae (neck region) may be present with:

Hoarseness of voice
Swallowing difficulties
Pharyngeal bleeding
Intracranial chordomas:
Double vision
Headache
Damage to 6th nerve, called sixth nerve  palsy (dysfunction of cranial nerve VI or abducens nerve) that primarily affects the vision
Damage to 7th nerve, called facial nerve palsy (dysfunction of a branch of trigeminal nerve) affecting facial movement
Infrequently, these tumors may present with:

Nasal cavity, which is filled with cerebrospinal fluid (termed as CSF rhinorrhea), due to CSF leakage from the brain into the nose
Bleeding from the nose
Nasal obstruction causing breathing problems
A type of Chordoma, called chondroid chordoma, is known to grow much more slowly, compared to other types of Chordomas. 
How is Chordoma Diagnosed?
The location of the Chordoma may determine the kind of diagnostic tests that are required. A diagnosis of Chordoma may involve:
Physical examination, evaluation of the individual's medical history
MRI and CT scans of the affected region: These are required for finding the location of the tumor and to assess the local spread/invasion of the tumor
Fine needle aspiration cytology (FNAC) biopsy - the specimen is examined under a microscope by a pathologist to arrive at a definitive diagnosis
A tissue biopsy of the tumor: A tissue biopsy is performed and sent to a laboratory for a pathological examination. A pathologist examines the biopsy under a microscope. After putting together the clinical findings, special studies on tissues (if needed) and with microscope findings, the pathologist arrives at a definitive diagnosis. Examination of the biopsy under a microscope by a pathologist is considered to be the gold standard, in arriving at a conclusive diagnosis
Sometimes, the pathologist may perform special studies, which may include immunohistochemical stains, histochemical stains, molecular testing, and very rarely, electron microscopic studies
Differential diagnosis, to eliminate other tumor types are often considered, before arriving at a definitive diagnosis
Many clinical conditions may have similar signs and symptoms. Your healthcare provider may perform additional tests to rule out other clinical conditions to arrive at a definitive diagnosis. 
What are the possible Complications of Chordoma?
Complications depend on the tumor site and the surgery type that is performed. Following are the potential complications of Chordoma:
A subtotal resection of tumor has lesser complications than a radical resection
Tumor recurrence on an incomplete surgical removal of the tumor
In case of sacrococcygeal tumors, bowel and bladder dysfunction may occur
A distant metastasis of the tumors may take place, in very rare cases
How is Chordoma Treated?
The treatment of Chordoma may include:
Surgical resection is the main stay of treatment. A complete surgical removal of the tumor with clean margins, decreases the chance of recurrence
Sub-total resection may be the only option, either due to inaccessibility of the tumor, or due to proximity to delicate anatomical structures. In such cases, the recurrence rate is high
Adjuvant radiation therapy may be used to increase the time interval for recurrence
Chemotherapy with Imatinib mesylate is under trial. It has shown promising results in stabilizing tumor growth and shrinking tumor size
Post-operative care is important: A minimum activity level is to be ensured, until the surgical wound heals
Follow-up care with regular screening and check-ups are important 
How can Chordoma be Prevented?
Currently, there are no specific methods or guidelines to prevent Chordoma
Active research for Chordoma is currently being performed to explore the possibilities for treatment and prevention
Regular medical screening at periodic intervals with scans and physical examinations are important 
What is the Prognosis of Chordoma? (Outcomes/Resolutions)
Chordomas grow in size and erode the surrounding soft tissue and underlying bone. Thus, these tumors exhibit a malignant behaviour through locally aggressive growth patterns
The prognosis of Chordoma is defined by the following:

Tumor size
Site of the tumor
Type of Chordoma
And, whether the tumor can be completely resected/surgically removed. Tumors that can be removed completely have better prognosis, than partially resectable tumors

Typically, the survival rate at 5 years is estimated to be at 50%; for 10 years, the survival rate is around 35%
Some of the factors that may greatly improve Chordoma outcomes are:

Age of the individual (younger the age, better is the prognosis)
Possibility of a complete surgery
Possibility of radiation therapy for incompletely resected tumors

Rarely, metastasis due to Chordoma has been reported; metastatic Chordomas have poorer prognosis 
Additional and Relevant Useful Information for Chordoma:
The US National Cancer Institute is conducting a Familial Chordoma Study, to research the genes involved in the development of Chordoma. In the US, about 300 cases of Chordoma are diagnosed each year
There are 2 benign conditions that resemble Chordoma. These include:

Ecchordosis physaliphora: These are well-defined, gelatinous, and tumor-like that is found around the brainstem
Intraosseous benign notochordal cell tumors: These are benign lesions found on the vertebra, similar to Chordoma
What are some Useful Resources for Additional Information?
American Cancer Society (ACS)
1599 Clifton Road, NE Atlanta, GA 30329-4251
Toll-Free: (800) 227-2345
TTY: (866) 228-4327
Website: http://www.cancer.org 

National Cancer Institute (NCI)
U.S. National Institutes of Health
Public Inquiries Office
Building 31, Room 10A03
31 Center Drive, MSC 8322 Bethesda, MD 20892-2580
Phone: (301) 435-3848
Toll-Free: (800) 422-6237
TTY: (800) 332-8615
Email: cancergovstaff@mail.nih.gov
Website: http://www.cancer.gov 

American Childhood Cancer Organization
10920 Connecticut Ave, Suite A, Kensington, MD 20895
Phone: (301) 962-3520
Toll-free: (800) 366-2223
Fax: (301) 962-3521
Email: staff@acco.org
Website: http://www.candlelighters.org 

Children's Brain Tumor Foundation
274 Madison Avenue, Suite 1004 New York, NY 10016
Phone: (212) 448-1595
Toll-free: (866) 228-4673
Fax: (212) 448-1022
Email: info@cbtf.org
Website: http://www.cbtf.org 

Genetic and Rare Diseases (GARD) Information Center
PO Box 8126 Gaithersburg, MD 20898-8126
Toll-Free: (888) 205-2311
TTY: (888) 205-3223
International Telephone Access Number: (301) 251-4925
Fax: (301) 251-4911
Website: http://rarediseases.info.nih.gov

Chordoma Support Group
451 Caesar Avenue Oakville Ontario, L6J 3Z1 Canada
Phone: (905) 845-0372
Email: chordomamanagers@gmail.com
Website: http://www.chordomasupport.org 

Chordoma Foundation
PO Box 2127 Durham, NC 27701 USA
Phone: (919) 809-6779
Toll-Free: (888) 502-6109
Fax: (866) 367-3910
Email: josh@chordoma.org
Website: http://www.chordoma.org
References and Information Sources used for the Article:
http://www.mayoclinic.org/chordoma (accessed on September 5, 2014)

http://www.chordomafoundation.org (accessed on September 5, 2014)

http://radiopaedia.org/articles/chordoma (accessed on September 5, 2014)

http://www2.massgeneral.org/chordoma/aboutchordoma.htm (accessed on September 5, 2014)
Helpful Peer-Reviewed Medical Articles:
Brandal P, Bjerkehagen B, Danielsen H, Heim S. Chromosome 7 abnormalities are common in chordomas. Cancer Genet Cytogenet. Jul 1 2005;160(1):15-21.

Di Maio S, Temkin N, Ramanathan D, Sekhar LN. Current comprehensive management of cranial base chordomas: 10-year meta-analysis of observational studies. J Neurosurg. Dec 2011;115(6):1094-105.

Fernandez-Miranda JC, Gardner PA, Snyderman CH, Devaney KO, Mendenhall WM, Suárez C, et al. Clival chordomas: A pathological, surgical, and radiotherapeutic review. Head Neck. Jun 26 2013

Mima M, Demizu Y, Jin D, et al. Particle therapy using carbon ions or protons as a definitive therapy for patients with primary sacral chordoma. Br J Radiol. Jan 2014;87(1033):20130512.

Williams BJ, Raper DM, Godbout E, Bourne TD, Prevedello DM, Kassam AB, et al. Diagnosis and treatment of chordoma. J Natl Compr Canc Netw. Jun 1 2013;11(6):726-31.

McMaster, M. L., Goldstein, A. M., Bromley, C. M., Ishibe, N., & Parry, D. M. (2001). Chordoma: incidence and survival patterns in the United States, 1973–1995. Cancer Causes & Control, 12(1), 1-11.

Bergh, P., Kindblom, L. G., Gunterberg, B., Remotti, F., Ryd, W., & Meis‐Kindblom, J. M. (2000). Prognostic factors in chordoma of the sacrum and mobile spine. Cancer, 88(9), 2122-2134.

Boriani, S., Bandiera, S., Biagini, R., Bacchini, P., Boriani, L., Cappuccio, M., ... & Weinstein, J. N. (2006). Chordoma of the mobile spine: fifty years of experience. Spine, 31(4), 493-503.

Walcott, B. P., Nahed, B. V., Mohyeldin, A., Coumans, J. V., Kahle, K. T., & Ferreira, M. J. (2012). Chordoma: current concepts, management, and future directions. The lancet oncology, 13(2), e69-e76.

Erdem, E., Angtuaco, E. C., Van Hemert, R., Park, J. S., & Al-Mefty, O. (2003). Comprehensive review of intracranial chordoma. Radiographics, 23(4), 995-1009.
Reviewed and Approved by a member of the DoveMed Editorial Board
First uploaded: Sept. 10, 2014
Last updated: May 18, 2018