Arteriovenous Hemangioma (AVH)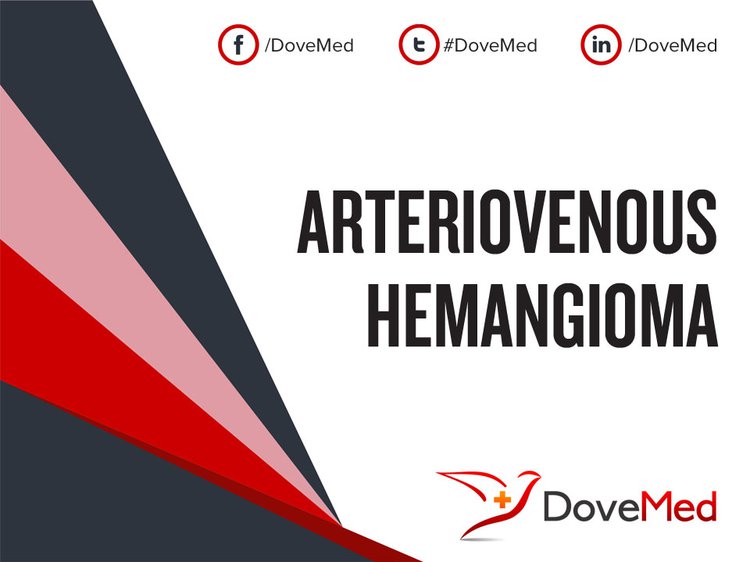 An Arteriovenous Hemangioma (AVH) is a benign vascular abnormality involving a complex grid of interconnecting arterial and venous structures.
What are the other Names for this Condition? (Also known as/Synonyms)
Arteriovenous Malformation
AVH (Arteriovenous Hemangioma)
AV Malformation
What is Arteriovenous Hemangioma? (Definition/Background Information)
An Arteriovenous Hemangioma (AVH) is a benign vascular abnormality involving a complex grid of interconnecting arterial and venous structures. It is an acquired condition
The incidence of occurrence of Arteriovenous Hemangioma is generally rare
AVH may appear just beneath the skin, or deep inside the body tissues. It is normally found in the head, neck, spinal cord region, of children and young adults
Sometimes skin discoloration is observed, if AVH forms below the skin (termed as a superficial AVH). Most do not experience any symptoms
Periodic observation is maintained for asymptomatic cases. Surgical management may be proposed, depending on the signs and symptoms caused by the tumor
Prognosis of an individual with AVH is normally good
Who gets Arteriovenous Hemangioma? (Age and Sex Distribution)
Arteriovenous Hemangioma usually affects young adults and children
Both males and females are affected. Though, it has a slight predilection for males
There is no known predilection towards any ethnic/racial group
What are the Risk Factors for Arteriovenous Hemangioma? (Predisposing Factors)
The risk of Arteriovenous Hemangioma is linked to the following factors:
It is thought that an inflammatory stimuli, such as an infection or injury, may trigger an existing vascular malformation to develop to form AVH
Certain endocrine hormones have been mentioned as trigger factors for AVH formation
AVHs are seen in association with disorders such as, hereditary hemorrhagic telangiectasia and von Hippel-Landau disease
Factors such as injury, sepsis, pregnancy, and puberty are known to play a role in increasing the size of AVH
It is important to note that having a risk factor does not mean that one will get the condition. A risk factor increases ones chances of getting a condition compared to an individual without the risk factors. Some risk factors are more important than others.
Also, not having a risk factor does not mean that an individual will not get the condition. It is always important to discuss the effect of risk factors with your healthcare provider.
What are the Causes of Arteriovenous Hemangioma? (Etiology)
The exact cause of Arteriovenous Hemangioma formation is unidentified. It is suggested that AVH might be linked to abnormal blood vessel proliferations due to hormonal effect, trauma, infection, or just a birth defect
The origin of AVH could be congenital; associated with fetal (or embryonic) developmental defects
What are the Signs and Symptoms of Arteriovenous Hemangioma?
The presentations are based on the location of AVH. The signs and symptoms of Arteriovenous Hemangioma include:
In many individuals, AVH remain asymptomatic
Some tumors grow at a slow rate and some do not change in their size. Superficial ones (those appearing just beneath the skin) may show reddish-blue skin discoloration
If the AVH is found within the brain then the presentations are: Epileptic seizures, headaches, difficulty in communication, physical coordination, walking, and in performing normal daily activities
Prominent veins are visible on the forehead and scalp in AVH located within the brain
In children, large head size is seen, if they are associated with certain syndromes
Inflammation is felt due to a soft tumor mass; the swelling is due to blocked blood flow
How is Arteriovenous Hemangioma Diagnosed?
Arteriovenous Hemangioma is diagnosed by:
Physical exam with evaluation of medical history
CT, MRI scan of the affected region
Angiography; an imaging technique to study blood vessels
Tissue biopsy: Histopathological studies conducted on a biopsy specimen; if the malformation is at an accessible location. The biopsy is examined by a pathologist under a microscope
Many clinical conditions may have similar signs and symptoms. Your healthcare provider may perform additional tests to rule out other clinical conditions to arrive at a definitive diagnosis.
What are the possible Complications of Arteriovenous Hemangioma?
The complications from Arteriovenous Hemangioma could include:
Hemorrhaging of AVH, occurring spontaneously and going unnoticed. This may lead to a stroke, depending on the location of the malformation
Severe headaches and seizures; progressive neurological problems
Heart failure in children
Blood loss during invasive treatment methods may be heavy; blood may accumulate outside the blood vessels into surrounding soft tissues (hematoma)
Recurrence of AVH after surgery, if they are deep-seated. Superficial lesions generally do not recur
Damage to vital nerves, blood vessels, and surrounding structures during surgery
How is Arteriovenous Hemangioma Treated?
Treatment measures for Arteriovenous Hemangioma include:
If there are no symptoms, then non-operative measures are adopted; and periodic observations maintained
Embolization is used to provide temporary relief from the symptoms, and reduce blood loss during a surgical procedure
Wide surgical excision of Arteriovenous Hemangioma, for removal of the entire lesion. If it is not fully removed, then it might recur
When AVH is at an inaccessible location, or is unsafe for surgical intervention; the use of radiotherapy, drugs and medications may be considered
Post-operative care is important: Minimum activity level is to be ensured until the surgical wound heals
Follow-up care with regular screening and check-ups are important
How can Arteriovenous Hemangioma be Prevented?
Current medical research has not established a way of preventing Arteriovenous Hemangioma formation.
What is the Prognosis of Arteriovenous Hemangioma? (Outcomes/Resolutions)
Most Arteriovenous Hemangioma malformations are asymptomatic. They may not require any treatment, or they may be addressed symptomatically (avoiding surgery)
Prognosis is generally very good when the lesions are small and superficial; their recurrence risk is also low when surgically excised
It is medically challenging and risky to remove the malformation located deep inside the body. Besides, if the surgical excision does not completely remove the malformation, there is a chance that these might recur
Additional and Relevant Useful Information for Arteriovenous Hemangioma:
Most Arteriovenous Hemangiomas are found while examining or treating an individual for some other health condition. This is medically termed as an 'incidental finding'.
What are some Useful Resources for Additional Information?
American Cancer Society (ACS)
1599 Clifton Road, NE Atlanta, GA 30329-4251
Toll-Free: (800) 227-2345
TTY: (866) 228-4327
Website: http://www.cancer.org
National Cancer Institute (NCI)
U.S. National Institutes of Health
Public Inquiries Office
Building 31, Room 10A03
31 Center Drive, MSC 8322 Bethesda, MD 20892-2580
Phone: (301) 435-3848
Toll-Free: (800) 422-6237
TTY: (800) 332-8615
Email: cancergovstaff@mail.nih.gov
Website: http://www.cancer.gov
References and Information Sources used for the Article:
http://www.strokeassociation.org/STROKEORG/AboutStroke/TypesofStroke/HemorrhagicBleeds/What-Is-an-Arteriovenous-Malformation-AVM_UCM_310099_Article.jsp (accessed on 12/8/12)
http://www.ninds.nih.gov/disorders/avms/avms.htm (accessed on 12/8/12)
http://www.lpch.org/DiseaseHealthInfo/HealthLibrary/craniofacial/vascmalf.html (accessed on 12/8/12)
Pathology & Genetics: Tumours of Soft Tissue and Bone; WHO Classification of Tumours; Edited by Christopher D.M. Fletcher, K. Krishnan Unni, Fredrik Mertens; IARC Press, Lyon, 2002
Helpful Peer-Reviewed Medical Articles:
Sylla, P., Deutsch, G., Luo, J., Recavarren, C., Kim, S., Heimann, T. M., & Steinhagen, R. M. (2008). Cavernous, arteriovenous, and mixed hemangioma-lymphangioma of the rectosigmoid: rare causes of rectal bleeding--case series and review of the literature. [Case Reports Review]. Int J Colorectal Dis, 23(7), 653-658. doi: 10.1007/s00384-008-0466-4
Akiyama, M., & Inamoto, N. (2001). Arteriovenous haemangioma in chronic liver disease: clinical and histopathological features of four cases. British Journal of Dermatology, 144(3), 604-609.
Nazzi, V., Messina, G., Dones, I., Ferroli, P., & Broggi, G. (2008). Surgical removal of intramuscular arteriovenous hemangioma of the upper left forearm compressing radial nerve branches.
Kara, M., Dİkmen, E., Dİzbay Sak, S., & Kavukçu, Ş. (2000). Intercostal arteriovenous hemangioma. European journal of cardio-thoracic surgery, 18(5), 622-624.
Perumal, V., & Francisco, C. J. (2010). Arteriovenous hemangioma of the foot—A case report. Foot and Ankle Surgery, 16(3), e61-e62.
Ishikawa, M., & Oashi, K. (2017). Case of hypophysitis caused by nivolumab. The Journal of dermatology, 44(1), 109-110.
Grunwald, M. H., Cagnano, E., Barki, Y., & Halevy, S. (2003). Multiple agminated superficial arteriovenous haemangioma on the scalp. Journal of the European Academy of Dermatology and Venereology, 17(5), 596-597.
Piñeyro, F., Del Pozo, J., Pérez-Varela, L., Alvarez, A., Rodríguez-Lojo, R., & Barja, J. (2010). Arteriovenous haemangioma in liver disease. Treatment with carbon dioxide laser vaporization in five cases. Journal of Cosmetic and Laser Therapy, 12(3), 151-154.