Acute Cholecystitis
Last updated April 3, 2018
Approved by: Maulik P. Purohit MD, MPH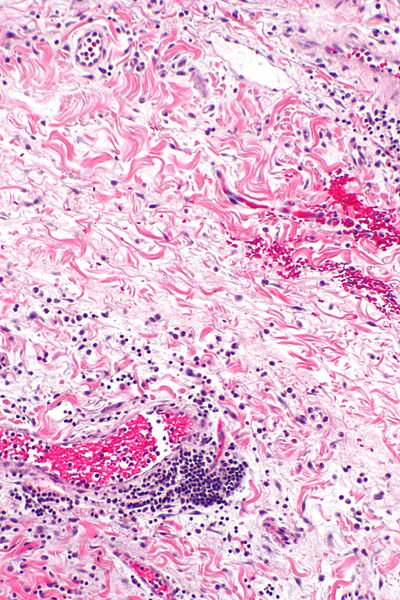 Intermediate magnification micrograph of acute cholecystitis. H&E stain.
---
What are the other Names for this Condition? (Also known as/Synonyms)
Acute Cholecystitis NOS (Disorder)
Emphysematous (Acute) Cholecystitis
What is Acute Cholecystitis? (Definition/Background Information)
Acute Cholecystitis is inflammation of the gallbladder, which is an organ located close to the liver. The gallbladder stores bile, which is an enzyme used to digest fat.
Who gets Acute Cholecystitis? (Age and Sex Distribution)
Acute Cholecystitis is more common after the age of 40 years
Women are more prone to the condition than men
Obese individuals
All racial and ethnic groups are prone to this disorder; however, it is more prevalent in native Americans and Hispanics
What are the Risk Factors for Acute Cholecystitis? (Predisposing Factors)
The risk factors for Acute Cholecystitis include:
A high-fat diet
Obesity
Older age group individuals
It is important to note that having a risk factor does not mean that one will get the condition. A risk factor increases ones chances of getting a condition compared to an individual without the risk factors. Some risk factors are more important than others.
Also, not having a risk factor does not mean that an individual will not get the condition. It is always important to discuss the effect of risk factors with your healthcare provider.
What are the Causes of Acute Cholecystitis? (Etiology)
Most incidents of Acute Cholecystitis are caused by gallstones, which obstruct the bile duct. Obstruction causes stasis (an obstruction of normal flow) of the bile in the gallbladder, which is then prone to infection
Other reasons for the disorder are severe illnesses and cancer of the gallbladder
What are the Signs and Symptoms of Acute Cholecystitis?
Signs and symptoms of Acute Cholecystitis include:
Fever
Sharp cramping or dull pain over the right upper quadrant of the abdomen, which may sometimes spread to the back
Nausea and vomiting
Clay-colored stool
Yellowing of the skin and eyes (jaundice)
How is Acute Cholecystitis Diagnosed?
A diagnosis of Acute Cholecystitis would involve:
Physical examination with evaluation of medical history; abdominal tenderness is felt on touch
Investigations:
Blood amylase and lipase tests
Complete blood count may show a higher-than-normal white blood cell count
Liver function tests
Imaging tests that can show gallstones or an inflammation include:
Abdomen ultrasound
Abdomen x-ray
CT scan of the abdomen
Oral cholecystogram
Radionucleotide scan of gallbladder
Gallbladder scan (HIDA scan): This test looks for a blocked gallbladder or bile ducts. A radioactive chemical is injected, which passes through the blood into the bile ducts. Pictures taken by a special camera, along the chemical flow path, aids in the detection of any bile duct or gallbladder blockages
Many clinical conditions may have similar signs and symptoms. Your healthcare provider may perform additional tests to rule out other clinical conditions to arrive at a definitive diagnosis.
What are the possible Complications of Acute Cholecystitis?
The possible complications due to Acute Cholecystitis include:
Pus in the gallbladder (termed as empyema)
Gangrene (tissue death) in the gallbladder
Injury to the bile ducts draining the liver (an occasional complication of cholecystectomy)
Pancreatitis (inflammation of the pancreas)
Peritonitis (inflammation of the lining of the abdomen)
Severe Acute Cholecystitis may result in gallbladder rupture, which may be fatal, if it is not treated promptly
How is Acute Cholecystitis Treated?
Treatment measures for Acute Cholecystitis include the following:
Non-surgical management:
The individual is administered intravenous fluids, till the infection can be controlled. Oral intake of foods are discontinued until such time
Use of antibiotics to treat the infection; acetaminophen is given to reduce fever
Pain-killing medications are used to control pain
Surgical management: This may be required for gallstone-attributed Acute Cholecystitis, after the acute phase is treated.
Some surgeons perform cholecystectomy (removal of gallbladder), if the patient presents within 48 hours of onset of infection
Emergency surgery is indicated when there are complications, like perforation of the gallbladder, gangrene, pancreatitis, and inflammation of the common bile duct
In severely affected patients, a tube may be placed through the skin to drain the gallbladder, until they get better and their condition improves such that, it is conducive to surgery
How can Acute Cholecystitis be Prevented?
Acute Cholecystitis may be prevented by the removal of gallbladder (cholecystectomy)and gallstones. This will prevent further attacks.
What is the Prognosis of Acute Cholecystitis? (Outcomes/Resolutions)
When the acute phase is treated correctly, the prognosis is very good. Patients, who have their gallbladder removed for gallstones, have a very good prognosis too, as there will not be any recurrence of Acute Cholecystitis.
Additional and Relevant Useful Information for Acute Cholecystitis:
The following DoveMed website link is a useful resource for additional information:
What are some Useful Resources for Additional Information?
American Gastroenterological Association (AGA)
4930 Del Ray Avenue Bethesda, MD 20814
Phone: (301) 654-2055
Fax: (301) 654-5920
Email: member@gastro.org
Website: http://www.gastro.org

American College of Gastroenterology (ACG)
4900 B South, 31st St. Arlington, VA 22206
Phone: (703) 820-7400
Fax: (703) 931-4520
Website: http://www.acg.gi.org
References and Information Sources used for the Article:
http://www.ncbi.nlm.nih.gov/pubmedhealth/PMH0001458/ (accessed on 8/29/12)

http://www.mayoclinic.com/health/pseudogout/DS00717 (accessed on 8/29/12)
Helpful Peer-Reviewed Medical Articles:
Kiewiet, J. J., Leeuwenburgh, M. M., Bipat, S., Bossuyt, P. M., Stoker, J., & Boermeester, M. A. (2012). A systematic review and meta-analysis of diagnostic performance of imaging in acute cholecystitis. Radiology, 264(3), 708-720. doi: 10.1148/radiol.12111561

Shakespear, J. S., Shaaban, A. M., & Rezvani, M. (2010). CT findings of acute cholecystitis and its complications. AJR Am J Roentgenol, 194(6), 1523-1529. doi: 10.2214/AJR.09.3640

Tonolini, M., Ravelli, A., Villa, C., & Bianco, R. (2012). Urgent MRI with MR cholangiopancreatography (MRCP) of acute cholecystitis and related complications: diagnostic role and spectrum of imaging findings. Emerg Radiol, 19(4), 341-348. doi: 10.1007/s10140-012-1038-z

Tulchinsky, M., Colletti, P. M., & Allen, T. W. (2012). Hepatobiliary scintigraphy in acute cholecystitis. Semin Nucl Med, 42(2), 84-100. doi: 10.1053/j.semnuclmed.2011.10.005

Yamashita, Y., Noritomi, T., Matsuoka, N., Sinya, T., Sugi, Y., Higa, K., . . . Nitahara, K. (2012). [Surgical treatment of acute cholecystitis]. Masui, 61(9), 944-950; discussion 951-942.

Barie, P. S., & Eachempati, S. R. (2015). Acute acalculous cholecystitis. In Acute Cholecystitis (pp. 187-196). Springer International Publishing.

Dultz, L. A., Todd, S. R., & Eachempati, S. R. (2015). Damage Control Techniques in Acute Cholecystitis. In Acute Cholecystitis (pp. 147-158). Springer International Publishing.

Törnqvist, B., Waage, A., Zheng, Z., Ye, W., & Nilsson, M. (2015). Severity of Acute Cholecystitis and Risk of Iatrogenic Bile Duct Injury During Cholecystectomy, a Population-Based Case–Control Study. World journal of surgery, 1-8.
Reviewed and Approved by a member of the DoveMed Editorial Board
First uploaded: Sept. 10, 2013
Last updated: April 3, 2018