Who Needs Breast Cancer Gene Test? Experts Report Only High Risk Women Need To Be Tested
Last updated Aug. 15, 2015
Approved by: Maulik P. Purohit MD, MPH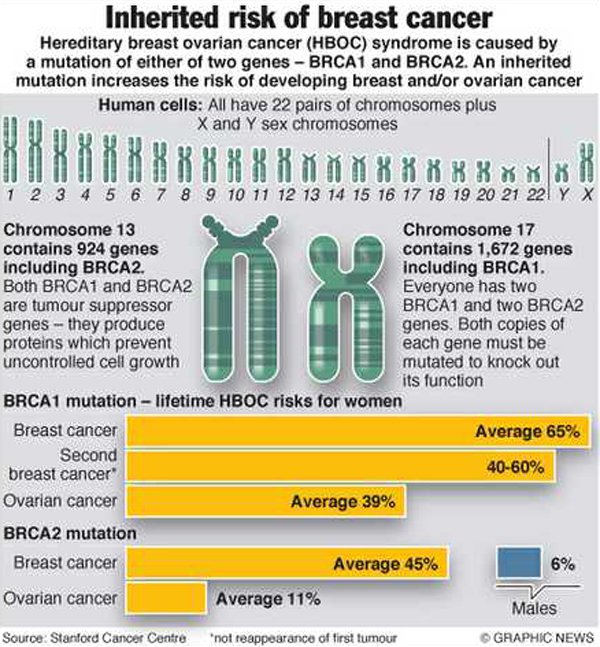 The Inherited Risk of Breast and Ovarian Cancer. This infographic shows the chromosomal mutations and the risk they can pose.
---
The United States Preventive Services Task Force (USPSTF) restated its previous recommendation from 2005, in the Annals of Internal Medicine, that only a limited subset of women with a family history of breast cancer should be tested for mutations of the BRCA1 and BRCA2 gene that can increase the risk of cancer. Nine of 10 women do not need to receive genetic testing of the two genes to see if they are at risk of ovarian or breast cancer.
Dr. Virginia Moyer told HealthDay News, "Not all people who have positive family histories should be tested. It's not at all simple or straightforward."
After film star Angelina Jolie's announcement to undergo a double mastectomy in May 2013 because she carried the BRCA1 gene, as many as six million women in the United States planned to receive medical advice about preventive mastectomy or ovary removal, according to a Harris Interactive/HealthDay poll. Concern has also increased since American Cancer Society stated that on average, mutations of the BRCA genes could increase breast cancer risks by 45 to 65 percent.
The problem with these mutations is that there are so many mutations in the BRCA gene. Not all mutations increase risk of breast cancer and require more research.
"The test is not something that comes back positive or negative. The test comes back a whole lot of different ways, and that has to be interpreted," Moyer said. "There are a variety of mutations. Often you get what appears to be a negative test but we call it an 'uninformative' negative because it just doesn't tell you anything. A woman would walk away from that with no idea, but worried, and that's not helpful."
The task force added that 90 percent of American women do not have a family history associated with the BRCA mutations and few have a mutation that can lead to breast cancer. "Only two or three women in a thousand have these mutations. Doing this is not going to prevent most breast cancers," Moyer said. It is suggested that any woman interesting in BRCA screening should meet with a certified genetic counselor before receiving screening. 
DoveMed References:
http://www.dovemed.com/common-procedures/procedures-laboratory/brca-1-and-brca-2/
http://www.dovemed.com/diseases-conditions/breast-cancer/
Additional Resources:
Reviewed and Approved by a member of the DoveMed Editorial Board
First uploaded: Dec. 26, 2013
Last updated: Aug. 15, 2015