Brazilian Wasp Venom Selectively Kills Cancer Cells By Increasing Their Leakiness
Last updated Sept. 11, 2015
Approved by: Maulik P. Purohit MD, MPH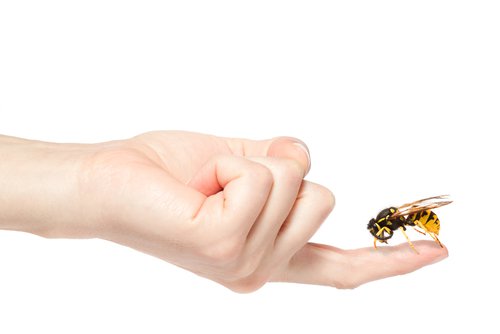 "Cancer therapies that attack the lipid composition of the cell membrane would be an entirely new class of anticancer drugs. This could be useful in developing new combination therapies, where multiple drugs are used simultaneously to treat a cancer by attacking different parts of the cancer cells at the same time."
---
A team of researchers from Brazil and the United Kingdom reports that Brazilian wasp venom is able to selectively kill cancer cells, leaving the normal, healthy cells intact. The venom is able to achieve this by interacting with two re-organized lipids on the surface of the abnormal cancer cells.
Bee and wasp venom have been reported to be rich in bioactive components such as enzymes, peptides, low molecular weight compounds, etc. The therapeutic effect/s of the components in venom is being explored so that they can be applied to creating medicines.
Compared to bee venom, wasp venom is relatively unexplored. Wasp venom has two major peptides – mastoparan and bradykinins. Mastoparan is a membrane-active peptide and is reported to possess anti-microbial, anti-viral, and cell-penetrating properties. The anti-microbial action of mastoparan is through disrupting cell membranes. Tumor-inhibitory properties of wasp venom have also been reported, although the mechanism of action is unclear.
The study being discussed here was undertaken in order to understand the mechanism of how wasp venom brings about selective death of cancer cells. The interaction of the peptide mastoparan, known as polybia-MP1, with cell membrane lipids was investigated for this purpose. Two phospholipids, phosphotidylethanolamine (PE) and phosphotidylserine (PS) are differentially localized in cancer cells when compared to healthy cells. Whereas PS and PE face the inside of normal cells, they are rooted in the outer membrane of cancer cells, facing the outside. The researchers tapped this property of cancer cells to test synthetic MP1 on them.
The research team created model membranes in the laboratory, which contained PE, PS, or PE/PS phospholipids and tested the effect of MP1 on the membranes. Imaging techniques were used to capture the effect of MP1 on membranes in the presence and absence of PS and PE. The results from the study show that:
PS phospholipid increases binding of MP1 to the membrane 7-8 fold.

PE phospholipid significantly increases pore size (holes) in the membrane, by 20-30 fold.

PS and PE work synergistically to enhance membrane leakiness.
One of the authors, João Ruggiero Neto of São Paulo State University in Brazil says in the Public release, "Formed in only seconds, these large pores are big enough to allow critical molecules such as RNA and proteins to easily escape cells. The dramatic enhancement of the permeabilization induced by the peptide in the presence of PE and the dimensions of the pores in these membranes was surprising."
Because malignant cancer cells are reported to have increased PS and PE on their outer membrane, the study gains in significance. MP1 could be a potential chemotherapeutic agent to kill cancer cells selectively. The study also elucidates the possible mechanism of action of MP1.
The senior co-author of the study, Paul Beales, says in the Public release, "Cancer therapies that attack the lipid composition of the cell membrane would be an entirely new class of anticancer drugs. This could be useful in developing new combination therapies, where multiple drugs are used simultaneously to treat a cancer by attacking different parts of the cancer cells at the same time."
Written By Mangala Sarkar, Ph.D.
Primary References
Leite, N., Aufderhorst-Roberts, A., Palma, M., Connell, S., Neto, J., & Beales, P. (2015). PE and PS Lipids Synergistically Enhance Membrane Poration by a Peptide with Anticancer Properties. Biophysical Journal, 109(5), 936-947.
Brazilian wasp venom kills cancer cells by opening them up. (n.d.). Retrieved September 9, 2015, from http://www.eurekalert.org/pub_releases/2015-09/cp-bwv082515.php
Additional References
Moreno, M., & Giralt, E. (2015). Three Valuable Peptides from Bee and Wasp Venoms for Therapeutic and Biotechnological Use: Melittin, Apamin and Mastoparan. Toxins, 7(4), 1126-1150.
Cabrera, M., Costa, S., Souza, B., Palma, M., Ruggiero, J., & Neto, J. (2008). Selectivity in the mechanism of action of antimicrobial mastoparan peptide Polybia-MP1. European Biophysics Journal, 37(6), 879-891.
Zwaal, R., Comfurius, P., & Bevers, E. (2005). Surface exposure of phosphatidylserine in pathological cells. Cellular and Molecular Life Sciences, 62, 971-988.
Stafford, J., & Thorpe, P. (2011). Increased exposure of phosphatidylethanolamine on the surface of tumor vascular endothelium. Neoplasia, 13, 299-308. 
Reviewed and Approved by a member of the DoveMed Editorial Board
First uploaded: Sept. 11, 2015
Last updated: Sept. 11, 2015