Press release
Elderly Patients With Glioblastoma Live Longer With Chemoradiation Using Temozolomide
Last updated June 6, 2016
Approved by: Maulik P. Purohit MD, MPH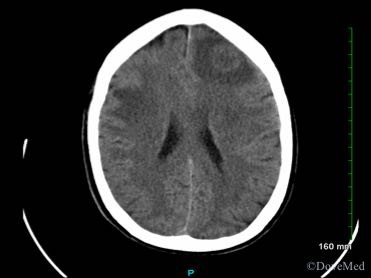 "Glioblastoma is frequently diagnosed in older individuals, and these are important data showing that our best therapies can work and be tolerable for elderly patients," said Brian Alexander, MD, MPH, ASCO Expert in brain cancers. "It's good to have an option to offer patients that we know can have a positive impact, though still physicians and their patients need to weigh the benefits of this approach carefully."
---
CHICAGO – A Canadian-led randomized phase III trial found that adding temozolomide (Temodar) chemotherapy during short-course radiation therapy, followed by monthly maintenance doses of temozolomide, significantly improved survival of elderly patients with glioblastoma, reducing the risk of death by 33%.
These data will be presented in ASCO's Plenary Session, which features four abstracts deemed to have the greatest potential to impact patient care, out of the more than 5,000 abstracts featured as part of the ASCO Annual Meeting.
This is the first study to test the combination of temozolomide and radiation therapy in older adults, who account for half of all patients with this disease. While side effects were slightly greater among patients receiving temozolomide, overall quality of life was similar in both patient groups.
"Although glioblastoma disproportionately affects older patients, there are no clear guidelines for treating these patients, and practice varies globally," said lead study co-author James R. Perry, MD, FRCPC, The Crolla Family Endowed Chair in Brain Tumour Research at the Odette Cancer and Sunnybrook Health Sciences Centres in Toronto, Canada. "This study provides the first evidence from a randomized clinical trial that chemotherapy in combination with a shorter radiation schedule significantly extends survival without a detriment to quality of life."
About the Study
This international phase III trial was led by the Canadian Cancer Trials Group (CCTG) with collaboration from the European Organization for the Research and Treatment of Cancer (EORTC) and the Trans-Tasmin Radiation Oncology Group (TROG).
Investigators enrolled 562 patients 65 years and older who were newly diagnosed with glioblastoma. The median patient age was 73 years and two-thirds were older than 70 years. The patients were randomly assigned to either short-course radiation therapy (40Gy in 15 fractions over 3 weeks) with concurrent and adjuvant temozolomide or radiation therapy alone.
Key Findings
Chemoradiation (treatment that combines chemotherapy with radiation therapy) extended the median overall survival from 7.6 months with radiation therapy alone to 9.3 months. In addition, tumor growth was slower in the temozolomide group, with median progression-free survival of 5.3 months vs. 3.9 months.
"Although the difference in median survival seems modest, temozolomide significantly increased the chances of surviving two or three years. For an individual patient, that can mean being able to be part of another family holiday or celebration," said Dr. Perry. The 1-year and 2-year survival rates were 37.8% and 10.4% with radiation plus temozolomide versus 22.2% and 2.8% with radiation therapy alone.
The benefit of temozolomide was greater among 165 patients with MGMT promoter methylation, a genetic abnormality linked to better response to chemotherapy and longer survival in this disease. In this subset of patients, the median overall survival was 13.5 months with temozolomide and 7.7 months with radiation therapy alone. Patients who received temozolomide had a 47% lower risk of death than those who received radiation therapy alone.
Quality-of-life analyses using standardized questionnaires EORTC QLQ-C30 and BN20 showed no differences in physical, cognitive, emotional, and social functioning between the two groups. However, patients who received temozolomide had more nausea, vomiting, and constipation than those who received radiation therapy alone.
About Gliobastoma
Glioblastoma is the most common primary brain tumor in adults and among the top five causes of death due to cancer. An estimated 12,120 people will be diagnosed with glioblastoma in the United States this year.1 Glioblastoma occurs primarily in older people; the average age at diagnosis is 64 years.
This study received funding from the Canadian Cancer Society Research Institute (grant #015469 and #021039) and by an unrestricted grant from Schering-Plough/Merck Inc.
View the full abstract.
Materials:
The above post is reprinted from materials provided by American Society of Clinical Oncology (ASCO). Note: Materials may be edited for content and length.

Disclaimer: DoveMed is not responsible for the adapted accuracy of news releases posted to DoveMed by contributing universities and institutions.
Reviewed and Approved by a member of the DoveMed Editorial Board
First uploaded: June 6, 2016
Last updated: June 6, 2016