Elastic Gastric Device Aims To Expand Options For Diagnosis, Monitoring, And Drug Delivery
Last updated Dec. 11, 2015
Approved by: Maulik P. Purohit MD, MPH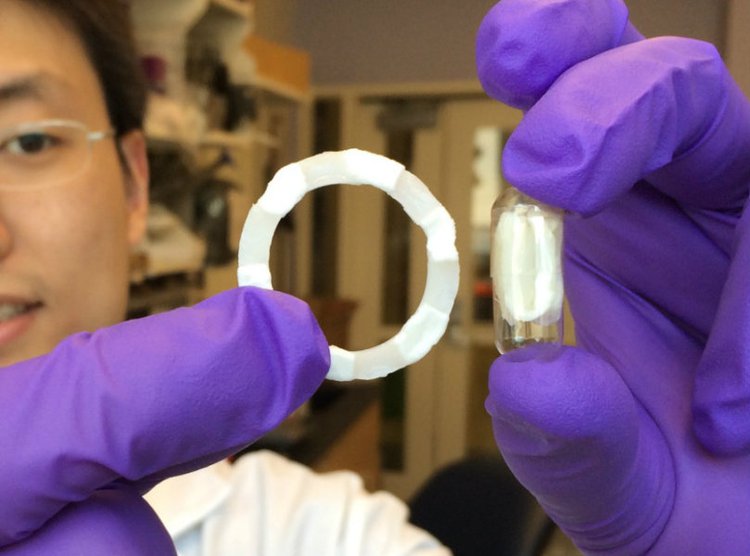 Lead author Shiyi Zhang with the polymer ring that folds into a swallowable capsule.
---
Researchers funded in part by the NIBIB have developed a device engineered for stability in the stomach, allowing for potential extended drug release or physiological monitoring and subsequent degradation in the small intestine for safe passage out of the body. Elastic qualities of the material used to make the device allow it to be squeezed into a capsule so it can be swallowed and then expand to reside in the stomach, where it could release a medication over time. In addition, the system could provide simplified and safe delivery of ingestible devices and electronic sensors that have a range of functions including weight control, prolonged drug release, and disease diagnosis and monitoring.
The team engineered the capsule to be responsive to pH levels so it remains stable in the acidic stomach environment but degrades in the neutral pH of the small intestine. From there it is easily passed out of the body, as demonstrated in experiments in pigs. This engineering feat is significant because a single pill releasing a medication over several weeks has the potential to provide a remedy to the problem of patient failure to adhere to long-term therapies, which costs the US $100 billion in avoidable hospitalizations every year.
There are currently a number of medical devices designed to reside in the stomach for applications that include long-term drug delivery and weight-loss. For weight-loss, intra-gastric balloons are inserted in the stomach for several months to curb appetite. However, intra-gastric balloons and long acting drug release devices must be eventually removed, and if they break and/or move into the intestines they may cause life-threatening blockages.
In work published in the October issue of Nature Materials, senior authors Giovanni Traverso, MBBCh, Ph.D., at Massachusetts General Hospital, Robert Langer, Ph.D, Massachusetts Institute of Technology, and their colleagues report on a polymer gel bioengineered for efficient long-term delivery to the stomach, while eliminating the potential dangers of creating intestinal blockages.
"The potential uses of this system are enormous," says Traverso. "Our team has developed a system that opens the 'gastrointestinal frontier,' enabling simple, long term delivery of medications that can be engineered to be released for days, weeks or months in the stomach."
Langer elaborates on the practical applications of the system. "Medications only work if people take them. The failure of patients to follow instructions for taking their medications is staggering, with adherence in developed nations reaching only 50%. It is even lower in patients taking multiple medications and in developing countries with poor access to healthcare. This technology directly addresses that issue. For example, a week long course of antibiotics could be given in one visit to the doctor with the patient swallowing a single pill that releases the drug for a week and then harmlessly dissolves."
The researchers also point out that single-administration delivery systems for malaria and other infectious diseases could significantly improve treatment of these prevalent diseases in remote or developing areas with limited healthcare access.
"The combined expertise of the research team in gastroenterology and bioengineering is an excellent example of how interdisciplinary collaborations can result in technologies that break new ground," adds Jessica Tucker, Ph.D. Director of the NIBIB Program for Delivery Systems and Devices for Drugs and Biologics. "The gastric and elastic qualities of this new polymer system have the potential to solve multiple problems that have been barriers to simple and safe oral delivery of medications for extended periods. The technology is also a significant step towards eventual delivery of ingestible electronics to the stomach for real-time collection of metabolic data in patients."
The above post is a redistributed news release provided by National Institute of Biomedical Imaging and Bioengineering. Note: Materials may be edited for content and length. 
Disclaimer: DoveMed is not responsible for the adapted accuracy of news releases posted to DoveMed by contributing universities and institutions.
Primary Resource:
Zhang, S., Bellinger, A. M., Glettig, D. L., Barman, R., Lee, Y. A. L., Zhu, J., ... & Maitland, D. J. (2015). A pH-responsive supramolecular polymer gel as an enteric elastomer for use in gastric devices. Nature materials. 

Reviewed and Approved by a member of the DoveMed Editorial Board
First uploaded: Dec. 11, 2015
Last updated: Dec. 11, 2015