Eczema Linked To Reduced Cancer Risk?
Last updated July 25, 2015
Approved by: Maulik P. Purohit MD, MPH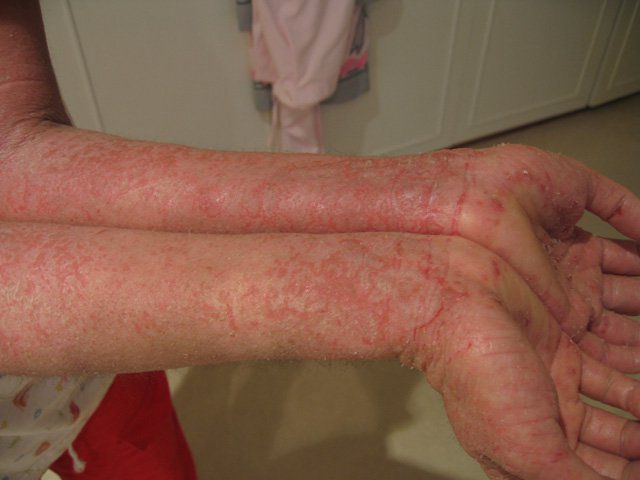 The symptoms of Eczema include dry, itchy skin and rashes.
---
According to the National Eczema Association, eczema, also known as atopic dermatitis, affects up to 31.6 million people in the United States. Symptoms include dry, itchy skin and rashes. Unfortunately, the intense itchiness of eczema leads sufferers to scratch the affected areas causing the skin to break, in some cases drawing blood.
In contrast, new research has shown that eczema could reduce the risk of skin cancer. Published in the journal eLife, researchers from King's College London in the UK, say that eczema triggers an immune reaction that sheds potentially cancerous cells from the skin, thwarting tumor formation.
The researchers the team genetically engineered mice to have skin defects commonly found in humans with eczema. They did this by removing structural proteins in the outer layers of their skin, causing them to have an abnormal skin barrier. These "knockout" mice along with a control group of typical, "wild-type" mice were then treated with two known carcinogens.
Approximately 16 weeks later, the researchers found that the number of benign tumors in defected mice was six times lower than the number found in the normal mice. The knockout mice displayed a considerably stronger inflammatory reaction in response to one of the carcinogen treatments, particularly shedding cells from the skin that could have become cancerous. The researchers propose this response may be what offered the knockout mice protection from developing more tumors.
Professor Fiona Watt of the Centre for Stem Cells and Regenerative Medicine at King's College says, "We are excited by our findings as they establish a clear link between cancer susceptibility and an allergic skin condition in our experimental model. They also support the view that modifying the body's immune system is an important strategy in treating cancer.
I hope our study provides some small consolation to eczema sufferers - that this uncomfortable skin condition may actually be beneficial in some circumstances."
Worldwide, there are between 2 and 3 million cases of non-melanoma skin cancers and around 132,000 cases of melanoma skin cancers each year. One in every three cancer diagnoses is a skin cancer.
Additional Reference:
Epidermal barrier defects link atopic dermatitis with altered skin cancer susceptibility
Reviewed and Approved by a member of the DoveMed Editorial Board
First uploaded: May 9, 2014
Last updated: July 25, 2015