Ebola Virus Can Reside in the Eyes Months After a Person is Declared Ebola-Free
Last updated May 9, 2015
Approved by: Maulik P. Purohit MD, MPH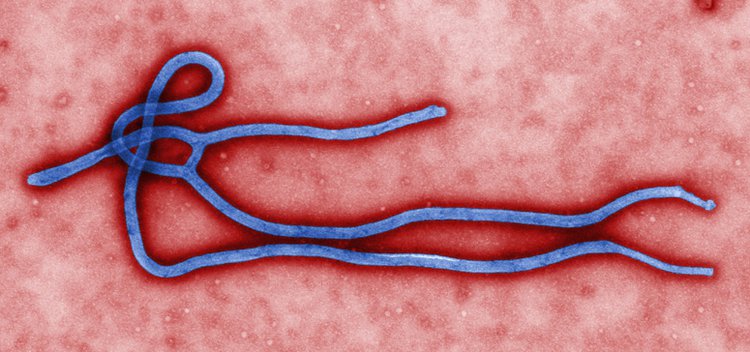 Image of the Ebola Virus.
---
According to a New York Times report, Dr. Ian Crozier, who had contracted Ebola while working in Sierra Leone as a World Health Organization (WHO) volunteer, was cured of the disease in October 2014. By "being cured of the disease," it means that no Ebola virus particles were detected in the patient's blood. However, within two months, he was back at Emory University Hospital with left eye pain, reduced vision, and pressure in that eye.
The doctors at Emory tested the inside of Dr. Crozier's left eye to find uveitis, which is an inflammation of the middle layer of the eye called uvea. To the attending doctor's surprise, this part of Dr. Crozier's eye was "teeming with Ebola." Despite being infected in the uvea, Dr. Crozier's eye surface and tears did not have any virus particles, indicating that he was not infective.
This finding has also been published online in the New England Journal of Medicine. Dr. Ian Crozier, who has not been identified in the study, is one of the authors of the research article.
The color of Dr. Crozier's infected eye changed, and the vision kept getting worse. Dr. Crozier said to New York Times that he feared blindness. The doctors at Emory University Hospital tried an experimental anti-viral drug on Dr. Crozier with permission from the US Food and Drug Administration (FDA), which returned his eye to normalcy and restored his vision.
Eye problems are the most common health problems the Ebola survivors have reported in the recent outbreak in West Africa. According to some doctors in the Ebola affected areas, for many survivors, eye problems are so debilitating that they interfere with their daily lives (although months have passed since their recovery). The symptoms include blurred vision, intense pain, eye pressure, blind spots in vision, etc.
Ebola virus has been detected in the semen of patients up to 82 days after symptom onset. Additionally, similar to Dr. Crozier, many survivors of Ebola report muscle weakness, joint pain, and hearing problems as well. With this current finding that it could lurk in the inner eye, Ebola survivors face an uphill task of getting back to normalcy.
Dr. Crozier headed back to West Africa in April 2015 to examine Ebola survivors' eyes. He said to New York Times, "Maybe we can change the natural history of the disease for survivors," and that, "I want to start that conversation."
According to the WHO, there are 18 confirmed cases of Ebola in the week of May 3, 2015, with Guinea and Sierra Leone reporting 9 cases each. With the epidemic slowly coming to an end, attention needs to be diverted to rebuilding the health and lives of survivors in affected areas who are still suffering from effects of the deadly infection.
Written by Mangala Sarkar Ph.D.
Primary References:
Grady, D. (2015, May 7). After Nearly Claiming His Life, Ebola Lurked in a Doctor's Eye. Retrieved May 8, 2015, from http://www.nytimes.com/2015/05/08/health/weeks-after-his-recovery-ebola-lurked-in-a-doctors-eye.html?smid=tw-nytimes&_r=0
Varkey, J., Shantha, J., Crozier, I., Kraft, C., Lyon, G., Mehta, A., . . . Yeh, S. (2015). Persistence of Ebola Virus in Ocular Fluid during Convalescence. The New England Journal of Medicine. DOI: 10.1056/NEJMoa1500306
Additional References:
Uveitis. (n.d.). Retrieved May 8, 2015, from http://www.mayoclinic.org/diseases-conditions/uveitis/basics/definition/con-20026602
Interim Advice on Sexual Transmission of Ebola Virus Disease. (n.d.). Retrieved May 8, 2015, from http://www.who.int/reproductivehealth/topics/rtis/ebola-virus-semen/en/
Ebola Situation Reports. (n.d.). Retrieved May 8, 2015, from http://apps.who.int/ebola/en/ebola-situation-reports
Reviewed and Approved by a member of the DoveMed Editorial Board
First uploaded: May 9, 2015
Last updated: May 9, 2015