Widal Blood Test
Last updated Jan. 28, 2019
Approved by: Maulik P. Purohit MD, MPH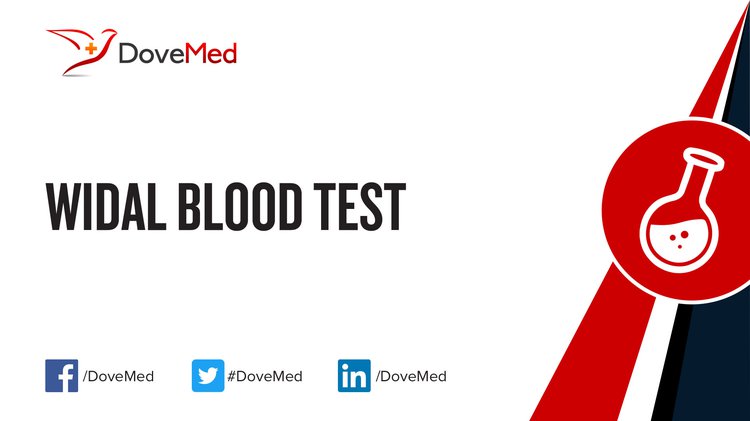 The Widal Blood Test is used to quickly and inexpensively diagnose enteric or typhoid fever.
---
What are the other Names for this Test? (Equivalent Terms)
Salmonella Antibodies Blood Test
Typhoid Fever Antibodies Blood Test
What is Widal Blood Test? (Background Information)
The Widal Blood Test is used to quickly and inexpensively diagnose enteric or typhoid fever. Enteric fever is caused by a species of bacteria called Salmonella enterica or Salmonella enterica serovar Typhi
Enteric fever may result 8-48 hours after infection by S. enterica and last 2-5 days. It usually clears away without significant medical intervention. However, it can also cause life-threatening complications
The Widal Blood Test works as follows:

An individual's blood sample is combined with bacterial recognition sites, called antigens
If the mixture forms clumps, then the individual's blood contains antibodies that specifically recognize the sites on the bacterium     

Antibodies are bodily defense proteins present in blood. They are very specific for their targets, or antigens. Large amounts of antibodies specific to the same antigen indicates that the individual has been exposed to that specific antigen
Consequently, if a blood sample clumps upon exposure to S. enterica antigens, then that individual's blood contains bacterium-specific antibodies, which indicates that he/she has been exposed to the bacterium
However, if the individual has been vaccinated, they will contain S. enterica antibodies and yield a false positive on a Widal Test. The test also does not distinguish between a current infection and a past infection, and may cross-react with different species of Salmonella
Note: Blood, stool, urine, or bone marrow cultures can be used to more definitively detect a Salmonella enterica infection.
What are the Clinical Indications for performing the Widal Blood Test?
Following are the clinical indications for performing the Widal Blood Test:
Fever, chills
Fatigue
Headache
Abdominal pain
Diarrhea
Constipation
Weight loss
Rash spots 2-4 mm in diameter, called "rose spots"
How is the Specimen Collected for Widal Blood Test?
Following is the specimen collection process for Widal Blood Test:
Sample required: Blood
Process of obtaining blood sample in adults:
A band is wrapped around the arm, 3-4 inches above the collection site (superficial vein that lies within the elbow pit)
The site is cleaned with 70% alcohol in an outward spiral, away from the zone of needle insertion
The needle cap is removed and is held in line with the vein, pulling the skin tight
With a small and quick thrust, the vein is penetrated using the needle
The required amount of blood sample is collected by pulling the plunger of the syringe out slowly
The wrap band is removed, gauze is placed on the collection site, and the needle is removed
The blood is immediately transferred into the blood container, which has the appropriate preservative/clot activator/anti-coagulant
The syringe and the needle are disposed into the appropriate "sharp container" for safe and hygienic disposal
Preparation required: No special preparation is needed prior to the test.
What is the Significance of the Widal Blood Test Result?
A positive Widal Blood Test may indicate:
Infection with S. enterica
Vaccination against S. enterica
Enteric fever, or typhoid fever, if the associated symptoms are present
The laboratory test results are NOT to be interpreted as results of a "stand-alone" test. The test results have to be interpreted after correlating with suitable clinical findings and additional supplemental tests/information. Your healthcare providers will explain the meaning of your tests results, based on the overall clinical scenario.
Additional and Relevant Useful Information:
The Widal Blood Test is rarely used in developed countries (Europe and United States); but, it is commonly performed in developing nations of Africa, South America, and the Indian subcontinent
Certain medications that you may be currently taking may influence the outcome of the test. Hence, it is important to inform your healthcare provider of the complete list of medications (including any herbal supplements) you are currently taking. This will help the healthcare provider interpret your test results more accurately and avoid unnecessary chances of a misdiagnosis.
Typhoid fever is a bacterial infection caused by a micro-organism Salmonella typhi
The following article link will help you understand typhoid fever:
https://www.dovemed.com/diseases-conditions/typhoid-fever/
Please visit our Laboratory Procedures Center for more physician-approved health information:
https://www.dovemed.com/common-procedures/procedures-laboratory/
References and Information Sources used for the Article:
Lab Tests Online (2013, September 25). Retrieved July 7, 2015 from http://labtestsonline.org/understanding/analytes/widal/

Madigan, M. T. (2012). Brock biology of microorganisms (13th ed.). San Francisco, CA: Benjamin Cummings.
Reviewed and Approved by a member of the DoveMed Editorial Board
First uploaded: July 10, 2015
Last updated: Jan. 28, 2019