Neutrophil Blood Tests for Dysfunction
Last updated June 11, 2019
Approved by: Krish Tangella MD, MBA, FCAP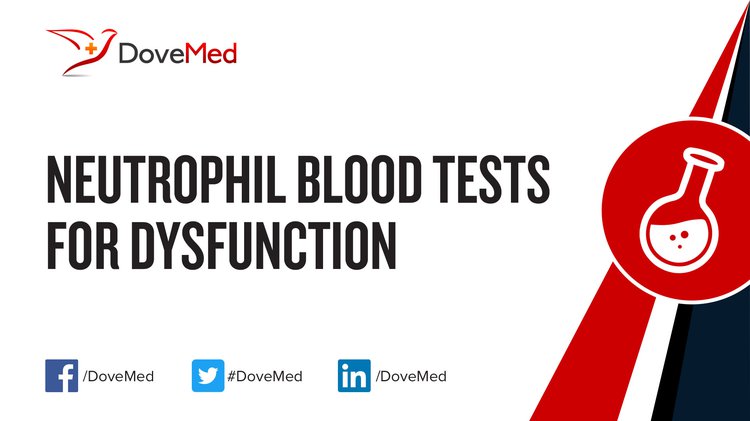 The Neutrophil Blood Tests for Dysfunction include tests for structure of neutrophils, as well as to assess their function.
---
What are other Names for this Test? (Equivalent Terms)
Blood Assays for Suspected Congenital Neutrophil Dysfunction Syndromes
What is Neutrophil Blood Tests for Dysfunction? (Background Information)
Neutrophil Blood Tests for Dysfunction are tests that assess the function of neutrophils, a type of white blood cell that provides rapid and generalized immunity
Genetic abnormalities in neutrophils may impair their ability to fight infection and combat disease. Genetically abnormal neutrophils have difficulty adhering, moving, engulfing foreign cells, and releasing chemicals
The Neutrophil Blood Tests for Dysfunction include tests for structure of neutrophils, as well as to assess their function.
What are the Clinical Indications for performing the Neutrophil Blood Tests for Dysfunction?
Following are the clinical indications for performing the Neutrophil Blood Tests for Dysfunction:
Following up to genetic tests for acquired neutrophil disorders
Following up to testing for lymphocyte, immunoglobulin, and/or complement function
Frequent and persistent infection
Prolonged swollen lymph nodes
How is the Specimen Collected for Neutrophil Blood Tests for Dysfunction?
Following is the specimen collection process for Neutrophil Blood Tests for Dysfunction:
Sample required: Blood 
Process of obtaining a blood sample in adults:
A band is wrapped around the arm, 3-4 inches above the collection site (superficial vein that lies within the elbow pit)
The site is cleaned with 70% alcohol in an outward spiral, away from the zone of needle insertion
The needle cap is removed and is held in line with the vein, pulling the skin tight
With a small and quick thrust, the vein is penetrated using the needle
The required amount of blood sample is collected by pulling the plunger of the syringe out slowly
The wrap band is removed, gauze is placed on the collection site, and the needle is removed
The blood is immediately transferred into the blood container, which has the appropriate preservative/clot activator/anti-coagulant
The syringe and the needle are disposed into the appropriate "sharp container" for safe and hygienic disposal
Preparation required: No special preparation is needed prior to the test.
What is the Significance of the Neutrophil Blood Tests for Dysfunction Result?
The following are a sampling of the Neutrophil Blood Tests for Dysfunction:
NBT slide test: A negative result points to a diagnosis of chronic granulomatous disease
Decreased chemotaxis and giant granules may point to a diagnosis of Chediak-Higashi syndrome
Reduced Mo-1, chemotaxis, and bacterial killing may point to a diagnosis of leukocyte adhesion deficiency
Decreased myeloperoxidase may point to a diagnosis of primary myeloperoxidase deficiency (MYD)
Reduced chemotaxis and antilactoferrin stain for neutrophils may point to a diagnosis of specific granule deficiency
The laboratory test results are NOT to be interpreted as results of a "stand-alone" test. The test results have to be interpreted after correlating with suitable clinical findings and additional supplemental tests/information. Your healthcare providers will explain the meaning of your tests results, based on the overall clinical scenario.
Additional and Relevant Useful Information:
The conditions tested for by the Neutrophil Blood Tests for Dysfunction are relatively rare, and so the tests are performed
Abnormalities with neutrophils may stem from problems with other aspects of the immune system, such as lymphocytes and complement. This must be taken into account before specific tests for neutrophils are undertaken
Certain medications that you may be currently taking may influence the outcome of the test. Hence, it is important to inform your healthcare provider of the complete list of medications (including any herbal supplements) you are currently taking. This will help the healthcare provider interpret your test results more accurately and avoid unnecessary chances of a misdiagnosis.
Please visit our Laboratory Procedures Center for more physician-approved health information:
http://www.dovemed.com/common-procedures/procedures-laboratory/
References and Information Sources used for the Article:
Kee, J. L. (2010). Laboratory and diagnostic tests with nursing implications (8th ed.). Upper Saddle River, NJ: Pearson.

Martini, F., Nath, J. L., & Bartholomew, E. F. (2012). Fundamentals of anatomy & physiology (9th ed.). San Francisco: Benjamin Cummings.

Williamson, M. A., Snyder, L. M., & Wallach, J. B. (2011). Wallach's interpretation of diagnostic tests (9th ed.). Philadelphia: Wolters Kluwer/Lippincott Williams & Wilkins.
Helpful Peer-Reviewed Medical Articles:
Lara, P. N., Ely, B., Quinn, D. I., Mack, P. C., Tangen, C., Gertz, E., ... & Thompson, I. M. (2014). Serum biomarkers of bone metabolism in castration-resistant prostate cancer patients with skeletal metastases: results from SWOG 0421. Journal of the National Cancer Institute, dju013.

Berman, E., Girotra, M., Cheng, C., Chanel, S., Maki, R., Shelat, M., ... & Farooki, A. (2013). Effect of long term imatinib on bone in adults with chronic myelogenous leukemia and gastrointestinal stromal tumors. Leukemia research, 37(7), 790-794.

Politis, D. (2014). Finite element analysis of tendon's collagen network in three dimensions (Doctoral dissertation, Rutgers University-Graduate School-New Brunswick).

Cundy, T., & Reid, I. R. (2012). Reprint: Paget's disease of bone. Clinical biochemistry, 45(12), 970-975.

Shiga, T., Moriyoshi, Y., & Nagahara, H. (2014). Bone turnover markers and risk factors associated with osteoporosis and decreased bone mass. Ningen Dock International, 1, 000-000.

Kalamajski, S., Bihan, D., Bonna, A., Rubin, K., & Farndale, R. W. (2016). Fibromodulin interacts with collagen cross-linking sites and activates lysyl oxidase. Journal of Biological Chemistry, 291(15), 7951-7960.

Chiba, D., Wada, K., Tanaka, T., Kumagai, G., Sasaki, E., Takahashi, I., ... & Ishibashi, Y. (2015). Serum pentosidine concentration is associated with radiographic severity of lumbar spondylosis in a general Japanese population. Journal of bone and mineral metabolism, 1-8.
Reviewed and Approved by a member of the DoveMed Editorial Board
First uploaded: Aug. 21, 2016
Last updated: June 11, 2019