Myeloperoxidase Blood Test
Last updated June 11, 2019
Approved by: Krish Tangella MD, MBA, FCAP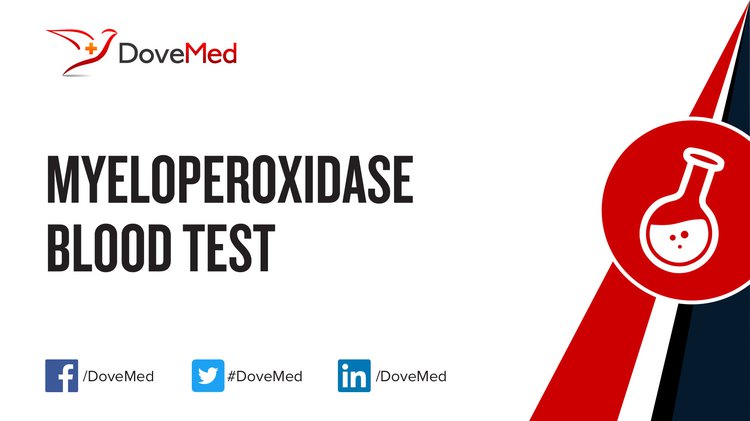 The Myeloperoxidase Blood Test helps determine the levels of MPO in blood. It is used to evaluate infection and inflammation.
---
What are other Names for this Test? (Equivalent Terms)
What is Myeloperoxidase Blood Test? (Background Information)
Myeloperoxidase (MPO) is an enzyme released by white blood cells that fights microbial infections. Its levels increase during inflammation
MPO destroys pathogens by creating a chemical compound called hypochlorous acid. Hypochlorous acid is not only produced in the body to kill pathogens, but the same chemical is used routinely in daily life as a disinfectant. For example, hypochlorous acid is an important component of bleach disinfectant
During infection and inflammation, MPO levels are elevated. This is because white blood cells produce MPO in abundance to fight pathogens
The Myeloperoxidase Blood Test helps determine the levels of MPO in blood. It is used to evaluate infection and inflammation
What are the Clinical Indications for performing the Myeloperoxidase Blood Test?
Following are the clinical indications for performing the Myeloperoxidase Blood Test:
Following up to, and in conjunction with, an electrocardiogram (EKG or ECG) and/or cardiac biomarkers tests
Chest pain
Fever
Abnormal heart rate
Fatigue and headache
Redness
How is the Specimen Collected for Myeloperoxidase Blood Test?
Following is the specimen collection process for Myeloperoxidase Blood Test:
Sample required: Blood 
Process of obtaining a blood sample in adults:
A band is wrapped around the arm, 3-4 inches above the collection site (superficial vein that lies within the elbow pit)
The site is cleaned with 70% alcohol in an outward spiral, away from the zone of needle insertion
The needle cap is removed and is held in line with the vein, pulling the skin tight
With a small and quick thrust, the vein is penetrated using the needle
The required amount of blood sample is collected by pulling the plunger of the syringe out slowly
The wrap band is removed, gauze is placed on the collection site, and the needle is removed
The blood is immediately transferred into the blood container, which has the appropriate preservative/clot activator/anti-coagulant
The syringe and the needle are disposed into the appropriate "sharp container" for safe and hygienic disposal
Preparation required: No special preparation is needed prior to the test.
What is the Significance of the Myeloperoxidase Blood Test Result?
A high value (greater than 539 pM) for the Myeloperoxidase Blood Test may point to a diagnosis of the following conditions:
Atherosclerotic plaque instability
Inflammation
Myocardial infarction
The laboratory test results are NOT to be interpreted as results of a "stand-alone" test. The test results have to be interpreted after correlating with suitable clinical findings and additional supplemental tests/information. Your healthcare providers will explain the meaning of your tests results, based on the overall clinical scenario.
Additional and Relevant Useful Information:
The MPO enzyme possesses the same chemical group contained by the hemoglobin, which is the red-colored protein in red blood cells. This is the reason why secretions rich in MPO, such as pus and mucus, are slightly colored
Certain medications that you may be currently taking may influence the outcome of the test. Hence, it is important to inform your healthcare provider of the complete list of medications (including any herbal supplements) you are currently taking. This will help the healthcare provider interpret your test results more accurately and avoid unnecessary chances of a misdiagnosis.
The following DoveMed website link is a useful resource for additional information:
https://www.dovemed.com/common-procedures/procedures-laboratory/ancampopr3-antibodies-test/
Please visit our Laboratory Procedures Center for more physician-approved health information:
http://www.dovemed.com/common-procedures/procedures-laboratory/
References and Information Sources used for the Article:
Kee, J. L. (2010). Laboratory and diagnostic tests with nursing implications (8th ed.). Upper Saddle River, NJ: Pearson.

Martini, F., Nath, J. L., & Bartholomew, E. F. (2012). Fundamentals of anatomy & physiology (9th ed.). San Francisco: Benjamin Cummings.

Williamson, M. A., Snyder, L. M., & Wallach, J. B. (2011). Wallach's interpretation of diagnostic tests (9th ed.). Philadelphia: Wolters Kluwer/Lippincott Williams & Wilkins.
Helpful Peer-Reviewed Medical Articles:
Bilello, J. A., Thurmond, L. M., Smith, K. M., Pi, B., Rubin, R., Wright, S. M., ... & Papakostas, G. I. (2015). MDDScore: confirmation of a blood test to aid in the diagnosis of major depressive disorder. The Journal of clinical psychiatry, 76(2), 199-206.

Selek, S., Altindag, A., Saracoglu, G., & Aksoy, N. (2015). Oxidative markers of Myeloperoxidase and Catalase and their diagnostic performance in bipolar disorder. Journal of affective disorders, 181, 92-95.

Koeth, R. A., Kalantar-Zadeh, K., Wang, Z., Fu, X., Tang, W. W., & Hazen, S. L. (2013). Protein carbamylation predicts mortality in ESRD. Journal of the American Society of Nephrology, 24(5), 853-861.

Olza, J., Aguilera, C. M., Gil-Campos, M., Leis, R., Bueno, G., Martínez-Jiménez, M. D., ... & Gil, A. (2012). Myeloperoxidase is an early biomarker of inflammation and cardiovascular risk in prepubertal obese children. Diabetes care, 35(11), 2373-2376.

Kataoka, Y., Shao, M., Wolski, K., Uno, K., Puri, R., Tuzcu, E. M., ... & Nicholls, S. J. (2014). Myeloperoxidase levels predict accelerated progression of coronary atherosclerosis in diabetic patients: insights from intravascular ultrasound. Atherosclerosis, 232(2), 377-383.

Koda, R., Nagahori, K., Kitazawa, A., Imanishi, Y., Yoshino, A., Kawamoto, S., ... & Takeda, T. (2016). Myeloperoxidase Antineutrophil Cytoplasmic Antibody (MPO-ANCA) Associated Crescentic and Necrotizing Glomerulonephritis (GN) with Membranoproliferative GN Features. Internal Medicine, 55(15), 2043-2048.
Reviewed and Approved by a member of the DoveMed Editorial Board
First uploaded: Aug. 21, 2016
Last updated: June 11, 2019