Molecular Testing for Thyroid Gland Amyloidosis
Last updated Feb. 10, 2020
Approved by: Krish Tangella MD, MBA, FCAP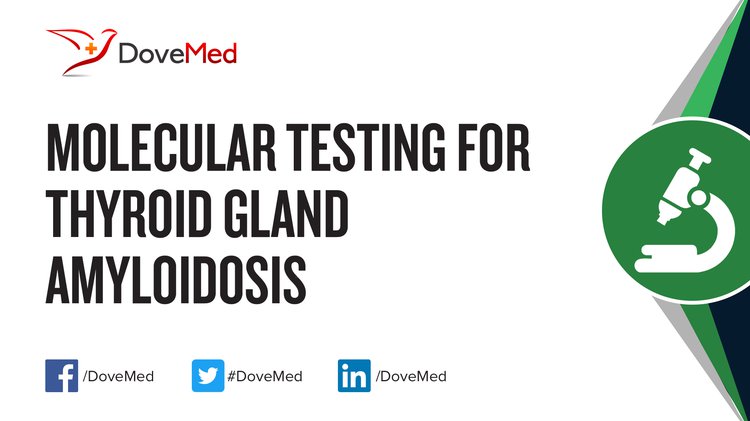 Molecular Testing for Thyroid Gland Amyloidosis is helpful in aiding in a diagnosis of the amyloidosis disorder.
---
What are other Names for this Test? (Equivalent Terms)
Gene Mutation Analysis for Thyroid Gland Amyloidosis
Test for Molecular Diagnosis of Thyroid Gland Amyloidosis
What is Molecular Testing for Thyroid Gland Amyloidosis? (Background Information)
Molecular Testing for Thyroid Gland Amyloidosis is helpful in aiding in a diagnosis of the amyloidosis disorder. The lab test results may also be subsequently useful in taking appropriate treatment decisions
Amyloidosis is a group of disorders in which the 'amyloid protein' builds up in many organs and tissues of the body. These protein aggregates form abnormally and can build-up locally in a single organ or throughout the body organs
Thyroid Gland Amyloidosis may be associated with medullary thyroid carcinoma and systemic AA amyloidosis. Thyroid Gland Amyloidosis can also occur in AL subtype of amyloidosis other than the AA subtype. Older adults are more susceptible to developing this condition
Medullary thyroid carcinoma is caused by mutation(s) in the RET gene, which codes for a protein involved in cellular signaling
Molecular Testing for Thyroid Gland Amyloidosis may be required in the following cases:
To check if the underlying condition causing amyloidosis or medullary thyroid cancer is inherited
In order to understand the type of amyloidosis an individual is affected with
Or, for discerning the type of amyloid protein causing Thyroid Gland Amyloidosis
A positive or negative test result should always be interpreted in the context of the individual's overall signs and symptoms.
Molecular testing, in general, can be performed using a variety of methods. Some of these methods include:
In situ hybridization techniques, such as fluorescence in situ hybridization (FISH)
Immunohistochemistry (IHC)
Next-generation sequencing (NGS)
Methylation profiling
Polymerase chain reaction (PCR)
Comparative genomic hybridization (CGH)
Karyotyping including spectral karyotyping
mRNA analysis
Tissue microarrays (TMAs)
Laser microdissection (MLD): Mass spectrophotometric (MS) analysis of amyloid deposits to differentiate between AL, AA, or calcitonin proteins
Comparative histochemical analysis, in which an array of antibodies is used to accurately detect AA amyloid fibrils
Southern blot test
Northern blot test
Western blot test
Eastern blot test
The methodology used in testing for Thyroid Gland Amyloidosis may vary from one laboratory to another.
Note: Molecular testing has limitations depending on the method being used, and genetic mutational abnormalities being tested. This can affect the results on a case-by-case basis. Consultation with your healthcare provider will help in determining the right test and right molecular method, based on individual circumstances.
What are the Clinical Indications for performing the Molecular Testing for Thyroid Gland Amyloidosis?
Molecular Testing for Thyroid Gland Amyloidosis may be undertaken in the following situations: 
To assist (and in some cases, confirm) the initial diagnosis of Thyroid Gland Amyloidosis
To check for or ascertain a family history of amyloidosis
To distinguish other conditions that have similar features (signs and symptoms)
To help determine treatment options
How is the Specimen Collected for Molecular Testing for Thyroid Gland Amyloidosis?
The type and source and specimen sample requirements will depend on the preference of the individuals and the preference of the testing lab. Thus, it may vary from one individual to another and from one lab to another. Therefore, it is important to contact the testing lab for exact specimen requirements, before initiating the collecting and testing process.
In individuals with a preliminary diagnosis of Thyroid Gland Amyloidosis, the following samples may be required for molecular testing at the protein level:
Blood, for checking elevated SAA levels
Biopsy sample of affected tissue, to stain with Congo Red and visualize areas of amyloid deposits under a fluorescent microscope
Laser dissection of amyloid deposits identified from tissue samples 
Trypsin digestion of dissected tissue (containing amyloid protein) sample to process the peptides for mass spectrometry
When an individual need to be screened for gene mutation(s) the following is the specimen collection process for molecular testing for gene mutation(s) that are known to cause amyloidosis, heritable conditions that may lead to amyloidosis, or medullary thyroid cancer, and consequently, Thyroid Gland Amyloidosis:
Sample on which the test is performed may include:

Peripheral blood in individuals showing signs and symptoms suspected of Thyroid Gland Amyloidosis
Bone marrow biopsy specimen
For mitochondrial DNA testing, usually a muscle biopsy or a liver biopsy is preferred
In case of expectant mothers, prenatal testing through amniotic fluid and chorionic villi sampling
Fetal cord blood
Fresh tissue from biopsy 
Fresh tissue from autopsy sample 
Fresh tissue from fetal demise
Buccal brushes: Using the kit that is provided by the testing laboratory, buccal brushes can be used to collect the specimen, by scraping the inner cheek lining (buccal mucosa)
Oral rinse specimens
Body fluids such as saliva, tears, and semen
Dried blood spots: This specimen type is usually requested in situations where the collection and/or shipping of whole blood is not practical
In some cases, hair samples (with attached roots), finger nails, and buccal swabs, may be acceptable
Formalin-fixed paraffin-embedded solid tumor tissue (FFPE tumor tissue), often referred to as paraffin block of the tumor
Products of conception sample from aborted pregnancy
Amyloid deposits from affected thyroid gland, extracted by laser microdissection

Process of obtaining the sample: As outlined by the laboratory testing facility
Preparation required: As outlined by the laboratory testing facility
Important Information:
Limitations of specimen while testing for Thyroid Gland Amyloidosis
For blood specimens: Individuals, who have received platelet transfusions, red blood transfusion, or white blood (leukocyte) transfusion, should wait at least 4 weeks before providing a blood specimen
The following specimens may not be acceptable in individuals who have received heterologous bone marrow transplant (in the past):

Peripheral blood samples
Oral rinse specimens 
Bone marrow biopsy specimens

Testing for amyloidosis should not be performed on a transplanted organ/specimen, since the genetic material belongs to the donor and not to the individual being tested
Formalin-fixed paraffin-embedded solid tumor tissue: In many cases, FFPE tissue blocks are usually not acceptable. Please contact the testing lab to ascertain, if it is an acceptable sample specimen
In some cases, a different source of specimen may be acceptable to the laboratory performing the test
Occasionally, additional samples may be required to either repeat the test or to perform follow-up testing.
Turnaround time for test results
Depending on the location of testing, it may take from 2 to 8 weeks from the time of sample collection, to obtain the test results
Sample storage information
Many hospitals preserve the paraffin blocks for at least 7 years. In general, older paraffin blocks (over 5 years) may affect the detection of specific mutations, due to degradation of the tissue specimen over time
Cost of Molecular Testing for Thyroid Gland Amyloidosis:
The cost of the test procedure depends on a variety of factors, such as the type of your health insurance, annual deductibles, co-pay requirements, whether your healthcare provider/facility is in-network or out-of-network of your insurance company 
In many cases, an estimate may be provided before the test is conducted. The final amount may depend upon the findings during the test procedure and post-operative care, if required
What is the Significance of the Molecular Testing for Thyroid Gland Amyloidosis Result?
The significance of Molecular Testing for Thyroid Gland Amyloidosis is explained below:
A positive test result, either at the gene or protein level, helps aid, and in some cases, confirm the diagnosis of Thyroid Gland Amyloidosis
The test results can help in the following manner:
Exclude other conditions presenting similar signs and symptoms
Differentiate between various subtypes of amyloidosis
Determine the prognosis of the patient
In management of the condition following birth of the child, if the condition is diagnosed prenatally
In making treatment decisions
Individuals showing a positive test result during pregnancy may benefit from genetic counseling
If a causative gene mutation for a condition that can lead to amyloidosis or mutation(s) in RET gene is identified in a family, then genetic counseling may be recommended to help assess the risk, before planning for a child
The laboratory test results are NOT to be interpreted as results of a "stand-alone" test. The test results have to be interpreted after correlating with suitable clinical findings and additional supplemental tests/information. Your healthcare providers will explain the meaning of your tests results, based on the overall clinical scenario.
Additional and Relevant Useful Information:
Many laboratories may not have the capability to perform this test. Only highly-specialized labs with advanced facilities and testing procedures may offer this test
Ongoing research may discover additional gene mutations for this condition. This may further contribute towards diagnosis and treatment. Please consult with your healthcare provider for updates
Certain medications may influence the outcome of the test. Hence, it is important to inform your healthcare provider of the complete list of medications (including any herbal supplements) you are currently taking. This will help the healthcare provider interpret your test results more accurately and avoid any possibility of a misdiagnosis.
Please visit our Laboratory Procedures Center for more physician-approved health information:
http://www.dovemed.com/common-procedures/procedures-laboratory/
References and Information Sources used for the Article:
https://ghr.nlm.nih.gov/primer/testing/genetictesting (accessed on 08/30/2018) 

https://www.cdc.gov/mmwr/preview/mmwrhtml/rr5806a1.htm (accessed on 08/30/2018)

http://www.nature.com/gim/journal/v10/n5/full/gim200852a.html (accessed on 08/30/2018)

http://pediatrics.aappublications.org/content/106/6/1494 (accessed on 08/30/2018)

https://www.bu.edu/amyloid/diagnostics/ (accessed on 08/30/2018)

http://www.orpha.net/consor/cgi-bin/ClinicalLabs_Search.php?lng=EN&data_id=115201&search=ClinicalLabs_Search_Simple&data_type=Test&title=Molecular-Diagnosis-of-Amyloidosis---NGS-Panel--7-genes-&MISSING%20CONTENT=Molecular-Diagnosis-of-Amyloidosis---NGS-Panel--7-genes- (accessed on 08/30/2018)

http://www.mayomedicallaboratories.com/test-catalog/Clinical+and+Interpretive/83674 (accessed on 08/30/2018017)

https://books.google.com/books?id=oYvxJLEe3V8C&pg=PA179&lpg=PA179&dq=molecular+testing+amyloidosis&source=bl&ots=TyPY3JUrqf&sig=CTqaKe9CJChAwprqzvQamR-djmY&hl=en&sa=X&ved=0ahUKEwiclJz8p-vVAhVMxmMKHcXOC-0Q6AEIYDAJ#v=onepage&q=molecular%20testing%20amyloidosis&f=false (accessed on 08/30/2017)

https://www.hindawi.com/journals/bmri/2011/754109/ (accessed on 08/30/2018)

https://ghr.nlm.nih.gov/gene/RET#conditions (accessed on 08/30/2018)
Helpful Peer-Reviewed Medical Articles:
Carrano, A. V.,et al. Measurement and purification of human chromosomes by flow cytometry and sorting.Proceedings of the National Academy of Sciences76, 1382–1384 (1979)

Drets, M. E., & Shaw, M. W. Specific banding patterns of human chromosomes.Proceedings of the National Academy of Sciences68, 2073–2077 (1971)

Druker, B. J. Perspectives on the development of a molecularly targeted agent.Cancer Cell1, 31–36 (2002)

Parra, I., & Windle, B. High resolution visual mapping of stretched DNA by fluorescent hybridization.Nature Genetics5, 17–21 (1993) doi:10.1038/ng0993-17

Pinkel, D.,et al.High resolution analysis of DNA copy number variation using comparative genomic hybridization to microarrays.Nature Genetics20, 207–211 (1998) doi:10.1038/2524

Speicher, M. R.,et al. Karyotyping human chromosomes by combinatorial multi-fluor FISH.Nature Genetics12, 368–375 (1996) doi:10.1038/ng0496-368

Picken, M. M. (2010). Amyloidosis—where are we now and where are we heading?. Archives of pathology & laboratory medicine, 134(4), 545-551.

Loo, D., Mollee, P. N., Renaut, P., & Hill, M. M. (2011). Proteomics in Molecular Diagnosis: Typing of Amyloidosis. Journal of Biomedicine and Biotechnology, 2011, 754109. http://doi.org/10.1155/2011/754109

Leung, N., Nasr, S. H., & Sethi, S. (2012). How I treat amyloidosis: the importance of accurate diagnosis and amyloid typing. Blood, 120(16), 3206-3213.

Ando, Y., Coelho, T., Berk, J. L., Cruz, M. W., Ericzon, B. G., Ikeda, S. I., ... & Said, G. (2013). Guideline of transthyretin-related hereditary amyloidosis for clinicians. Orphanet journal of rare diseases, 8(1), 31.

Kastner, D. L., Aksentijevich, I., & Goldbach-Mansky, R. (2010). Autoinflammatory disease reloaded: a clinical perspective. Cell, 140(6), 784-790.

Taccaliti, A., Silvetti, F., Palmonella, G., & Boscaro, M. (2011). Genetic Alterations in Medullary Thyroid Cancer: Diagnostic and Prognostic Markers. Current Genomics, 12(8), 618–625. http://doi.org/10.2174/138920211798120835
Reviewed and Approved by a member of the DoveMed Editorial Board
First uploaded: Feb. 10, 2020
Last updated: Feb. 10, 2020