Mercury Test
Last updated July 23, 2019
Approved by: Maulik P. Purohit MD, MPH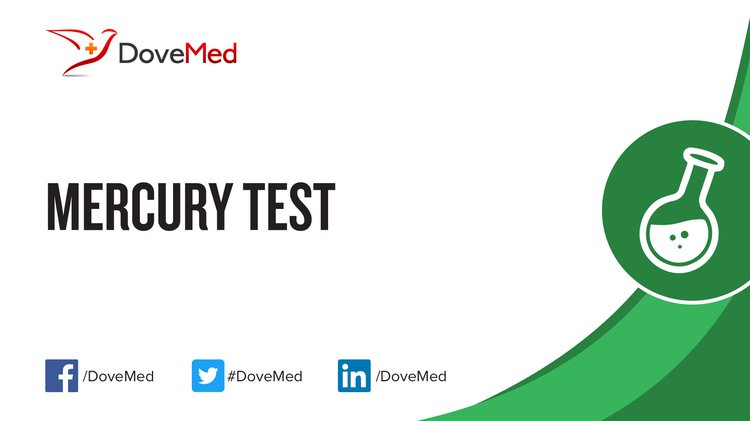 Mercury Testing is used to examine the levels of mercury in blood, urine, and rarely, in hair.
---
What are the other Names for this Test? (Equivalent Terms)
Blood Mercury Test
Hg Test
Urine Mercury Test
What is Mercury Test? (Background Information)
Mercury (Hg) is a heavy metal that exists in elemental, organic, and inorganic forms
Elemental mercury may be used in dental fillings and is found in batteries and thermometers
The inorganic form may be used in antiseptics or skin-lightening creams. The most common form of organic mercury 'methyl mercury' is found in fish, such as sharks and king mackerel
Mercury exposure can be toxic; the toxicity depending on how much mercury is absorbed by the body. This is influenced by the exposure time, amount, and form of mercury. The organs, mainly affected by mercury, are the kidneys and the brain
Mercury Testing is used to examine the levels of mercury in blood, urine, and rarely, in hair.
Blood can be tested to detect methyl mercury. Although, other forms of mercury may also be tested in blood, their amounts decrease by 50%, every 3 days
Urine sample may be used to detect inorganic and organic forms of mercury
Hair testing is a complex procedure and used infrequently. It can be used to detect mercury exposure in the past
What are the Clinical Indications for performing the Mercury Test?
The clinical indications for Mercury Testing include:
Symptoms of acute mercury poisoning, such as:

Burning sensation in the mouth and lungs
Difficulty breathing, fast heartbeat
Nausea, vomiting, and diarrhea
Decrease in urine production

Symptoms of long-term exposure to mercury, such as:

Problems with vision, hearing, smell and taste
Mood disturbances
Tremors and difficulty walking

Monitoring individuals with occupational exposure to mercury, or such other hazardous materials
How is the Specimen Collected for Mercury Test?
Sample required: Blood/urine/hair
Process:
Blood sample is drawn through a needle inserted into the vein (arm)
A urine sample may be collected randomly, or over a 24-hour period, with refrigeration in between the collections
Preparation required: None
What is the Significance of the Mercury Test Result?
The normal levels of mercury, called the reference range for mercury, may vary slightly from lab to lab. Hence, most lab reports come with a reference range, which is used in that particular centre. A physician interprets the results based on the reference values provided.
Normally, the blood level of mercury is below 10 ng/mL (nanogram/milliliter); it varies between 0-9 ng/mL
Elevated levels, found on testing, indicate mercury exposure. Elevated blood levels suggest that the exposure has occurred in relatively recent times
An estimate of past exposure to inorganic and organic forms of mercury can be obtained, from a 24-hour urine sample
The laboratory test results are NOT to be interpreted as results of a "stand-alone" test. The test results have to be interpreted after correlating with suitable clinical findings and additional supplemental tests/information. Your healthcare providers will explain the meaning of your tests results, based on the overall clinical scenario.
Additional and Relevant Useful Information:
The U.S. FDA recommends that pregnant or nursing mothers and women planning to have children avoid eating seafood, such as sharks, king mackerel, swordfish, and tilefish, in view of the high mercury levels that may be found in them. However, salmon, shrimp, or canned light tuna, may be consumed
Contrast material, such as gadolinium (used as contrast for MRI scans) and iodine (used as contrast for CT scans) may interfere with tests for metals
Certain medications that you may be currently taking may influence the outcome of the test. Hence, it is important to inform your healthcare provider, the complete list of medications (including any herbal supplements) you are currently taking. This will help the healthcare provider interpret your test results more accurately and avoid unnecessary chances of a misdiagnosis.
References and Information Sources used for the Article:
http://labtestsonline.org/understanding/analytes/mercury/ (accessed on 02/26/2014)

http://www.mayomedicallaboratories.com/test-catalog/Clinical+and+Interpretive/8618 (accessed on 02/26/2014)
Reviewed and Approved by a member of the DoveMed Editorial Board
First uploaded: March 4, 2014
Last updated: July 23, 2019