Melanin Urine Test
Last updated June 11, 2019
Approved by: Krish Tangella MD, MBA, FCAP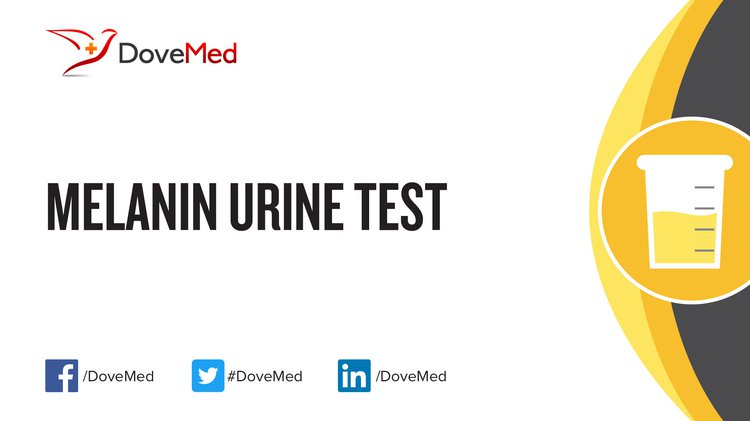 The Melanin Urine Test helps determine the levels of melanin in urine. It is used to diagnose melanoma.
---
What are other Names for this Test? (Equivalent Terms)
What is Melanin Urine Test? (Background Information)
Melanin is a dark-colored pigment that gives color to skin, eyes, and hair. The cells that produce melanin are called melanocytes. Melanin levels are drastically elevated in individuals who have melanoma, a dangerous type of skin cancer
Melanin appears through the urine after being converted from melanogens; compounds produced in abundance with melanoma
Melanogens are excreted in the urine, and after being exposed to air for many hours are converted to melanin. Because melanin is dark-colored, the urine turns deep brown to black after significant levels of melanogens are converted to melanin
The Melanin Urine Test helps determine the levels of melanin in urine. It is used to diagnose melanoma
What are the Clinical Indications for performing the Melanin Urine Test?
Following are the clinical indications for performing the Melanin Urine Test:
Following up to a biopsy of mole showing a potential cancer
New mole on the skin or altered appearance of an existing mole
Skin darkening
How is the Specimen Collected for Melanin Urine Test?
Following is the specimen collection process for Melanin Urine Test:
Sample required: Urine
Process of obtaining a sample in adults: Urination into a sterile container over a 24-hour period or collection of a random urine sample.
Preparation required: It is recommended to drink 6 to 8 glasses of water or other fluids prior to the test.
What is the Significance of the Melanin Urine Test Result?
Appearance of melanin in the urine is interpreted as a positive value for Melanin Urine Test. This may point to a diagnosis of malignant melanoma
The laboratory test results are NOT to be interpreted as results of a "stand-alone" test. The test results have to be interpreted after correlating with suitable clinical findings and additional supplemental tests/information. Your healthcare providers will explain the meaning of your tests results, based on the overall clinical scenario.
Additional and Relevant Useful Information:
Individuals with a dark complexion possess melanocytes that make melanin in significantly higher quantities than individuals with a light complexion
Certain medications that you may be currently taking may influence the outcome of the test. Hence, it is important to inform your healthcare provider of the complete list of medications (including any herbal supplements) you are currently taking. This will help the healthcare provider interpret your test results more accurately and avoid unnecessary chances of a misdiagnosis.
Please visit our Laboratory Procedures Center for more physician-approved health information:
http://www.dovemed.com/common-procedures/procedures-laboratory/
References and Information Sources used for the Article:
Kee, J. L. (2010). Laboratory and diagnostic tests with nursing implications (8th ed.). Upper Saddle River, NJ: Pearson.

Martini, F., Nath, J. L., & Bartholomew, E. F. (2012). Fundamentals of anatomy & physiology (9th ed.). San Francisco: Benjamin Cummings.

Nelson, D. L., Nelson, D. L., Lehninger, A. L., & Cox, M. M. (2008). Lehninger principles of biochemistry (5th ed.). New York, NY: W.H. Freeman.
Helpful Peer-Reviewed Medical Articles:
Wennig, R. (2000). Potential problems with the interpretation of hair analysis results. Forensic science international, 107(1), 5-12.

Kidwell, D. A., Smith, F. P., & Shepherd, A. R. (2015). Ethnic hair care products may increase false positives in hair drug testing. Forensic science international, 257, 160-164.

Karlsson, C., Rehman, F., Damdazic, R., Atkins, A. L., Schank, J. R., Gehlert, D. R., ... & Heilig, M. (2016). The melanin-concentrating hormone-1 receptor modulates alcohol-induced reward and DARPP-32 phosphorylation. Psychopharmacology, 1-9.

Jenkins, A. J. (2013). Forensic drug testing. Principles of forensic toxicology, 2.

Karlsson, C., Zook, M., Ciccocioppo, R., Gehlert, D. R., Thorsell, A., Heilig, M., & Cippitelli, A. (2012). Melanin-concentrating hormone receptor 1 (MCH1-R) antagonism: reduced appetite for calories and suppression of addictive-like behaviors. Pharmacology Biochemistry and Behavior, 102(3), 400-406.

Baltazar, L. M., Werneck, S. M. C., Soares, B. M., Ferreira, M. V. L., Souza, D. G., Pinotti, M., ... & Cisalpino, P. S. (2015). Melanin protects Paracoccidioides brasiliensis from the effects of antimicrobial photodynamic inhibition and antifungal drugs. Antimicrobial agents and chemotherapy, 59(7), 4003-4011.

Tang, M. H., Chong, C. Y., Ching, D. C., & Mak, T. W. (2015). Clinical testing for ketamine. Ketamine: Use and Abuse, 341.

Hassan, L., Pinon, A., Limami, Y., Seeman, J., Fidanzi-Dugas, C., Martin, F., ... & Liagre, B. (2016). Resistance to ursolic acid-induced apoptosis through involvement of melanogenesis and COX-2/PGE 2 pathways in human M4Beu melanoma cancer cells. Experimental Cell Research.
Reviewed and Approved by a member of the DoveMed Editorial Board
First uploaded: June 6, 2016
Last updated: June 11, 2019