Mean Corpuscular Volume Blood Test
Last updated Nov. 1, 2018
Approved by: Maulik P. Purohit MD, MPH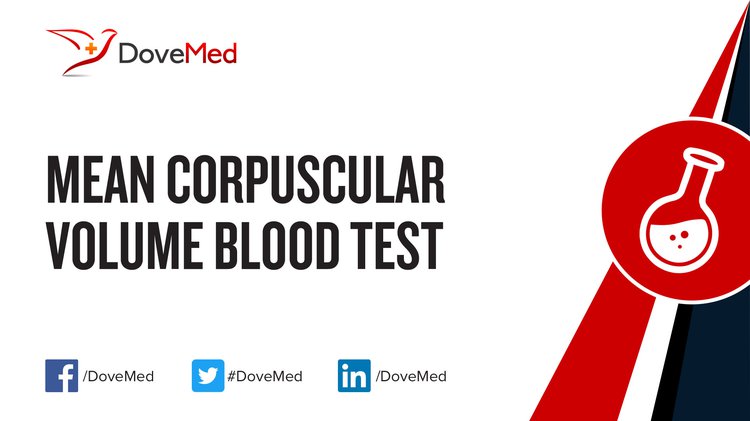 The Mean Corpuscular Volume Blood Test determines the average volume of red blood cells.
---
What are other Names for this Test? (Equivalent Terms)
What is Mean Corpuscular Volume Blood Test? (Background Information)
Mean corpuscular volume refers to the average volume of red blood cells. It is measured in fL (femtoliters) or 10-15 liters. Red blood cell volume is useful in determining anemias or red blood cell deficiencies
Red blood cells (RBCs) are the principle 'gas' transport vehicles of the body. They supply tissues with oxygen and carry carbon dioxide away to the lungs for excretion
The number and physical characteristics of red blood cells in the blood can change, especially during illness. For example, defective RBCs may be produced or the body may be attacking its own RBCs. Thus, RBC tests can yield abundant health information
A group of tests, together called complete blood count tests, measures different aspects of blood. This includes RBCs, as well as white blood cells and other components
The Mean Corpuscular Volume Blood Test determines the average volume of red blood cells. It may be measured directly or calculated as the proportion of red blood cells per blood volume (the hematocrit, or Hct) divided by the number of red blood cells
What are the Clinical Indications for performing the Mean Corpuscular Volume Blood Test?
Following are the clinical indicators for performing the Mean Corpuscular Volume Blood Test: 
Routine screening, as part of a complete blood test (CBC)
Fatigue; pale appearance (palor)
Enlargement of the spleen (splenomegaly)
Difficulty adapting to altitude changes
Monitoring the effects or progression of certain conditions such as:
Chronic blood loss, such as after trauma
Burns
Chronic obstructive pulmonary disease (COPD)
Bone marrow disorders such as polycythemia vera
Kidney disorder
Liver disorder
Bone marrow disorder
Medications and chemotherapy
How is the Specimen Collected for Mean Corpuscular Volume Blood Test?
Following is the specimen collection process for Mean Corpuscular Volume Blood Test:
Sample required: Blood 
Process of obtaining a blood sample in adults:
A band is wrapped around the arm, 3-4 inches above the collection site (superficial vein that lies within the elbow pit)
The site is cleaned with 70% alcohol in an outward spiral, away from the zone of needle insertion
The needle cap is removed and is held in line with the vein, pulling the skin tight
With a small and quick thrust, the vein is penetrated using the needle
The required amount of blood sample is collected by pulling the plunger of the syringe out slowly
The wrap band is removed, gauze is placed on the collection site, and the needle is removed
The blood is immediately transferred into the blood container, which has the appropriate preservative/clot activator/anti-coagulant
The syringe and the needle are disposed into the appropriate "sharp container" for safe and hygienic disposal
Preparation required: No special preparation is needed prior to the test.
What is the Significance of the Mean Corpuscular Volume Blood Test Result?
The significance of the Mean Corpuscular Volume Blood Test result is explained:
A high value (greater than 101 fL) for the Mean Corpuscular Volume Blood Test may point to a diagnosis of:

Liver disease and cirrhosis
Pernicious anemia
Macrocytic anemias
Myelodysplastic syndromes
Hypothyroidism
Hemolysis with high reticulocyte count

A low value (less than 82 fL) for the Mean Corpuscular Volume Blood Test may point to a diagnosis of:

Iron deficiency anemia
Thalassemia
Hereditary sideroblastic anemia
Lead poisoning
Anemia of chronic illness and other hemoglobinopathies
The laboratory test results are NOT to be interpreted as results of a "stand-alone" test. The test results have to be interpreted after correlating with suitable clinical findings and additional supplemental tests/information. Your healthcare providers will explain the meaning of your tests results, based on the overall clinical scenario.
Additional and Relevant Useful Information:
Certain factors interfere with the Mean Corpuscular Volume Blood Test. These include pregnancy, alcohol consumption, high altitudes, and hydration status
The MCV Blood Test is part of the red blood cell indices blood test
Certain medications that you may be currently taking may influence the outcome of the test. Hence, it is important to inform your healthcare provider of the complete list of medications (including any herbal supplements) you are currently taking. This will help the healthcare provider interpret your test results more accurately and avoid unnecessary chances of a misdiagnosis.
What are some Useful Resources for Additional Information?
References and Information Sources used for the Article:
Kee, J. L. (2010). Laboratory and diagnostic tests with nursing implications (8th ed.). Upper Saddle River, NJ: Pearson.

Martini, F., Nath, J. L., & Bartholomew, E. F. (2012). Fundamentals of anatomy & physiology (9th ed.). San Francisco: Benjamin Cummings.

Williamson, M. A., Snyder, L. M., & Wallach, J. B. (2011). Wallach's interpretation of diagnostic tests (9th ed.). Philadelphia: Wolters Kluwer/Lippincott Williams & Wilkins.
Helpful Peer-Reviewed Medical Articles:
Rae, W., Burke, G., & Pinto, A. (2016). A study of the utility of azathioprine metabolite testing in myasthenia gravis. Journal of neuroimmunology, 293, 82-85.

Christensen, R. D., Baer, V. L., Gerday, E., Sheffield, M. J., Richards, D. S., Shepherd, J. G., ... & Oh, W. (2014). Whole-blood viscosity in the neonate: effects of gestational age, hematocrit, mean corpuscular volume and umbilical cord milking. Journal of Perinatology, 34(1), 16-21.

Gamaldo, A. A., Ferrucci, L., Rifkind, J., Longo, D. L., & Zonderman, A. B. (2013). Relationship between mean corpuscular volume and cognitive performance in older adults. Journal of the American Geriatrics Society, 61(1), 84-89.

Yokoyama, A., Mizukami, T., & Yokoyama, T. (2015). Genetic polymorphisms of alcohol dehydrogense-1B and aldehyde dehydrogenase-2, alcohol flushing, mean corpuscular volume, and aerodigestive tract neoplasia in Japanese drinkers. In Biological Basis of Alcohol-Induced Cancer (pp. 265-279). Springer International Publishing.

Cahalan, S. M., Lukacs, V., Ranade, S. S., Chien, S., Bandell, M., & Patapoutian, A. (2015). Piezo1 links mechanical forces to red blood cell volume. Elife, 4, e07370.

Martins, J., Carlos, B., Carina, A., Glória, A., Catarina, V., Alberto, S., ... & Adelino, C. (2015). 0243: Complete blood count in risk stratification of acute coronary syndromes: a routine blood test, many analytical parameters, which is the best?. Archives of Cardiovascular Diseases Supplements, 7(1), 16.

Bouguen, G., Sninsky, C., Tang, K. L., Colombel, J. F., D'Haens, G., Kornbluth, A., ... & Molenda, M. (2015). Change in erythrocyte mean corpuscular volume during combination therapy with azathioprine and infliximab is associated with mucosal healing: a post hoc analysis from SONIC. Inflammatory bowel diseases, 21(3), 606-614.

Villalta‐García, P., López‐Herránz, M., Mazo‐Pascual, S., Honrubia‐Fernández, T., Jáñez‐Escalada, L., & Fernández‐Pérez, C. (2015). Reliability of blood test results in samples obtained using a 2‐mL discard volume from the proximal lumen of a triple‐lumen central venous catheter in the critically ill patient. Nursing in critical care.
Reviewed and Approved by a member of the DoveMed Editorial Board
First uploaded: June 4, 2016
Last updated: Nov. 1, 2018