Malaria Blood Test
Last updated June 11, 2019
Approved by: Maulik P. Purohit MD, MPH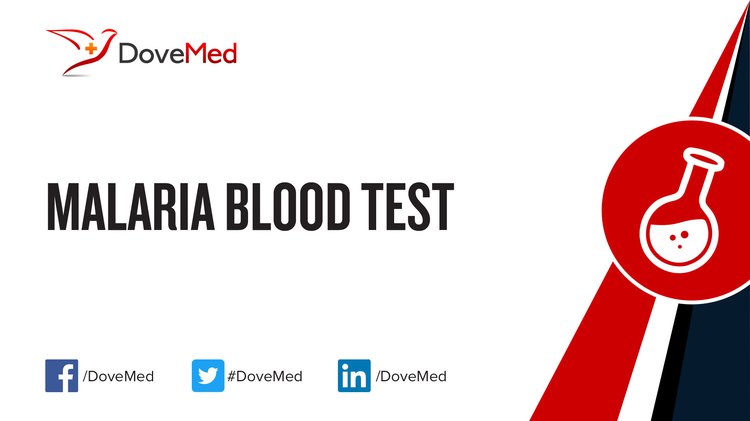 The Malaria Blood Test helps detect Plasmodium in blood. It is used to diagnose malaria.
---
What are other Names for this Test? (Equivalent Terms)
What is Malaria Blood Test? (Background Information)
Malaria is an infectious disease caused by a parasitic protist of the genus Plasmodium. It is transmitted by mosquitoes
The malarial parasite causes disease by attacking and destroying red blood cells. This leads to symptoms of fever and chills
The Malaria Blood Test helps detect Plasmodium in blood. It is used to diagnose malaria
What are the Clinical Indications for performing the Malaria Blood Test?
Following are the clinical indicators for performing the Malaria Blood Test:
Fever and chills
Fatigue
Paroxysm (sudden attack) of fever rigors, chills, and sweats, every 48 or 72 hours
Arthralgia (joint pains)
Headache
Nausea, vomiting, and diarrhea
Muscle ache
How is the Specimen Collected for Malaria Blood Test?
Following is the specimen collection process for Malaria Blood Test:
Sample required: Blood 
Process of obtaining a blood sample in adults:
A band is wrapped around the arm, 3-4 inches above the collection site (superficial vein that lies within the elbow pit)
The site is cleaned with 70% alcohol in an outward spiral, away from the zone of needle insertion
The needle cap is removed and is held in line with the vein, pulling the skin tight
With a small and quick thrust, the vein is penetrated using the needle
The required amount of blood sample is collected by pulling the plunger of the syringe out slowly
The wrap band is removed, gauze is placed on the collection site, and the needle is removed
The blood is immediately transferred into the blood container, which has the appropriate preservative/clot activator/anti-coagulant
The syringe and the needle are disposed into the appropriate "sharp container" for safe and hygienic disposal
Preparation required: No special preparation is needed prior to the test.
What is the Significance of the Malaria Blood Test Result?
A blood smear showing signs of Plasmodium infection is interpreted as a positive result for the Malaria Blood Test. When accompanied by fever and chills, a positive result for the test points to a diagnosis of malaria
The test can also help distinguish between the different types of malarial parasites, which include:

Plasmodium vivax
Plasmodium falciparum
Plasmodium malariae
Plasmodium ovale
The laboratory test results are NOT to be interpreted as results of a "stand-alone" test. The test results have to be interpreted after correlating with suitable clinical findings and additional supplemental tests/information. Your healthcare providers will explain the meaning of your tests results, based on the overall clinical scenario.
Additional and Relevant Useful Information:
Malaria is common in subtropical and tropical regions of the world, such as South America, Africa, and Asia
Certain medications that you may be currently taking may influence the outcome of the test. Hence, it is important to inform your healthcare provider of the complete list of medications (including any herbal supplements) you are currently taking. This will help the healthcare provider interpret your test results more accurately and avoid unnecessary chances of a misdiagnosis.
The following DoveMed website link is a useful resource for additional information:
https://www.dovemed.com/diseases-conditions/malaria/
Please visit our Laboratory Procedures Center for more physician-approved health information:
http://www.dovemed.com/common-procedures/procedures-laboratory/
References and Information Sources used for the Article:
Kee, J. L. (2010). Laboratory and diagnostic tests with nursing implications (8th ed.). Upper Saddle River, NJ: Pearson.

Martini, F., Nath, J. L., & Bartholomew, E. F. (2012). Fundamentals of anatomy & physiology (9th ed.). San Francisco: Benjamin Cummings.

Williamson, M. A., Snyder, L. M., & Wallach, J. B. (2011). Wallach's interpretation of diagnostic tests (9th ed.). Philadelphia: Wolters Kluwer/Lippincott Williams & Wilkins.
Helpful Peer-Reviewed Medical Articles:
720rs.Poon, L. L., Wong, B. W., Ma, E. H., Chan, K. H., Chow, L. M., Abeyewickreme, W., ... & Peiris, J. M. (2006). Sensitive and inexpensive molecular test for falciparum malaria: detecting Plasmodium falciparum DNA directly from heat-treated blood by loop-mediated isothermal amplification. Clinical chemistry, 52(2), 303-306.

Palmer, C. J., Lindo, J. F., Klaskala, W. I., Quesada, J. A., Kaminsky, R., Baum, M. K., & Ager, A. L. (1998). Evaluation of the OptiMAL test for rapid diagnosis of Plasmodium vivax and Plasmodium falciparum malaria. Journal of clinical microbiology, 36(1), 203-206.

Premji, Z., Minjas, J. N., & Shiff, C. J. (1994). Laboratory diagnosis of malaria by village health workers using the rapid manual ParaSight™-F test. Transactions of the Royal Society of Tropical Medicine and Hygiene, 88(4), 418.

Sulzer, A. J., Wilson, M., & Hall, E. C. (1969). Indirect fluorescent-antibody tests for parasitic diseases. Y. An evaluation of a thick-smear antigen in the IFA test for malaria antibodies. American journal of tropical medicine and hygiene, 18(2), 199-205.

Kochar, D. K., Das, A., Kochar, S. K., Saxena, V., Sirohi, P., Garg, S., ... & Gupta, V. (2009). Severe Plasmodium vivax malaria: a report on serial cases from Bikaner in northwestern India. The American journal of tropical medicine and hygiene, 80(2), 194-198.

Cheng, Q., Lawrence, G., Reed, C., Stowers, A., Ranford-Cartwright, L., Creasey, A., ... & Saul, A. (1997). Measurement of Plasmodium falciparum growth rates in vivo: a test of malaria vaccines. The American journal of tropical medicine and hygiene, 57(4), 495-500.

Pieroni, P., Mills, C. D., Ohrt, C., Harrington, M. A., & Kain, K. C. (1998). Comparison of the ParaSight™-F test and the ICT Malaria Pf™ test with the polymerase chain reaction for the diagnosis of Plasmodium falciparum malaria in travellers. Transactions of the Royal Society of Tropical Medicine and Hygiene, 92(2), 166-169.
Reviewed and Approved by a member of the DoveMed Editorial Board
First uploaded: June 6, 2016
Last updated: June 11, 2019