Lidocaine Hydrochloride Blood Test
Last updated June 11, 2019
Approved by: Krish Tangella MD, MBA, FCAP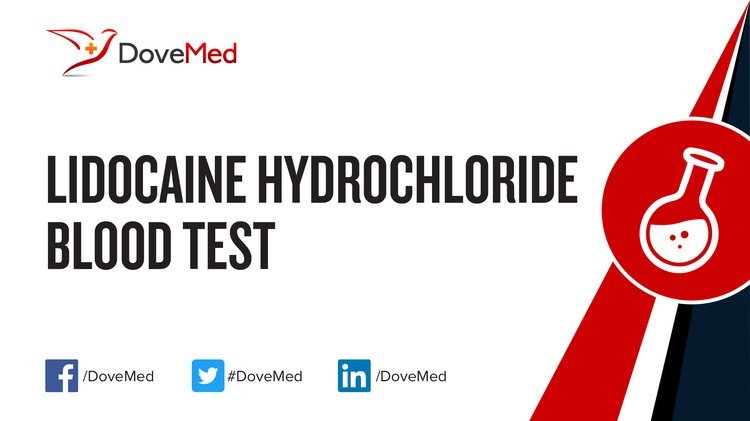 The Lidocaine Hydrochloride Blood Test helps determine the levels of lidocaine in blood.
---
What are other Names for this Test? (Equivalent Terms)
What is Lidocaine Hydrochloride Blood Test? (Background Information)
Lidocaine is an antiarrhythmic drug used to treat acute ventricular arrhythmia, or disordered heartbeat patterns. Lidocaine works by regulating the flow of electrolytes across heart cell membranes, thus stabilizing the heart rate
Specifically, lidocaine makes heart cells harder to electrically stimulate. This increases their electrical stimulation threshold and suppresses their automaticity. This means that lidocaine decreases the ability of the heart muscle cells to cause arrhythmias.
The liver breaks down lidocaine within 20 minutes. For this reason, lidocaine is administered continuously through IV, which lengthens its activity to 4 hours
70% of lidocaine breakdown products are bound to proteins in blood. After 2-4 hours of IV administration, 90% of the drug is excreted in the urine as breakdown products (the rest is excreted as intact lidocaine)
Like other drugs, lidocaine must be kept within a certain range to prevent unwanted effects. If the levels are too high, it may result in toxicity; if the levels are too low, lidocaine may not help treat heart arrhythmias
The Lidocaine Hydrochloride Blood Test helps determine the levels of lidocaine in blood. It is used when adjusting the initial dose, and to ensure that lidocaine levels stay within an acceptable range
What are the Clinical Indications for performing the Lidocaine Hydrochloride Blood Test?
The clinical indications for performing the Lidocaine Hydrochloride Blood Test include monitoring lidocaine therapy.
How is the Specimen Collected for Lidocaine Hydrochloride Blood Test?
Following is the specimen collection process for Lidocaine Hydrochloride Blood Test:
Sample required: Blood
Process of obtaining a blood sample in adults:
A band is wrapped around the arm, 3-4 inches above the collection site (superficial vein that lies within the elbow pit)
The site is cleaned with 70% alcohol in an outward spiral, away from the zone of needle insertion
The needle cap is removed and is held in line with the vein, pulling the skin tight
With a small and quick thrust, the vein is penetrated using the needle
The required amount of blood sample is collected by pulling the plunger of the syringe out slowly
The wrap band is removed, gauze is placed on the collection site, and the needle is removed
The blood is immediately transferred into the blood container, which has the appropriate preservative/clot activator/anti-coagulant
The syringe and the needle are disposed into the appropriate "sharp container" for safe and hygienic disposal
Preparation required: No special preparation is needed prior to the test.
What is the Significance of the Lidocaine Hydrochloride Blood Test Result?
A high value (0.6 mg/mL) for the Lidocaine Hydrochloride Blood Test may indicate lidocaine toxicity, which is marked by:
Lower back pain
Fatigue
Nausea, vomiting, diarrhea
Altered mental status
Abnormal heart rate and abnormal breathing
The laboratory test results are NOT to be interpreted as results of a "stand-alone" test. The test results have to be interpreted after correlating with suitable clinical findings and additional supplemental tests/information. Your healthcare providers will explain the meaning of your tests results, based on the overall clinical scenario.
Additional and Relevant Useful Information:
Lidocaine is a type of cardiovascular medication. Other types of cardiovascular medications include anticoagulants and antihypertensives
Lidocaine is also used as an anesthetic
Certain medications that you may be currently taking may influence the outcome of the test. Hence, it is important to inform your healthcare provider of the complete list of medications (including any herbal supplements) you are currently taking. This will help the healthcare provider interpret your test results more accurately and avoid unnecessary chances of a misdiagnosis.
The following DoveMed website link is a useful resource for additional information:
http://www.dovemed.com/common-procedures/procedures-laboratory/cardiovascular-drugs-blood-test/
Please visit our Laboratory Procedures Center for more physician-approved health information:
http://www.dovemed.com/common-procedures/procedures-laboratory/
References and Information Sources used for the Article:
Kee, J. L. (2010). Laboratory and diagnostic tests with nursing implications (8th ed.). Upper Saddle River, NJ: Pearson.

Martini, F., Nath, J. L., & Bartholomew, E. F. (2012). Fundamentals of anatomy & physiology (9th ed.). San Francisco: Benjamin Cummings.

Williamson, M. A., Snyder, L. M., & Wallach, J. B. (2011). Wallach's interpretation of diagnostic tests (9th ed.). Philadelphia: Wolters Kluwer/Lippincott Williams & Wilkins.
Helpful Peer-Reviewed Medical Articles:
Zhang, J., Zhu, J., Yao, X., Duan, Y., Zhou, X., Yang, M., & Li, X. (2016). Pharmacokinetics of Lidocaine Hydrochloride Metabolized by CYP3A4 in Chinese Han Volunteers Living at Low Altitude and in Native Han and Tibetan Chinese Volunteers Living at High Altitude. Pharmacology, 97(3-4), 107-113.

Ansari, N., Lodha, A., Pandya, A., Sutariya, P. G., & Menon, S. K. (2015). Lab-on-phone citrate-capped silver nanosensor for lidocaine hydrochloride detection from a biological matrix. Analytical Methods, 7(21), 9084-9091.

Dou, Y., Yang, X., Liu, Z., & Zhu, S. (2013). Homocysteine-functionalized silver nanoparticles for selective sensing of Cu 2+ ions and Lidocaine hydrochloride. Colloids and Surfaces A: Physicochemical and Engineering Aspects, 423, 20-26.

Mariano, R. S. G., Uscategui, R. A. R., Nociti, R. P., Santos, V. J. C., Padilha-Nakaghi, L. C., Barros, F. F. P. C., ... & Teixeira, P. P. M. (2015). Intraperitoneal lidocaine hydrochloride for prevention of intraperitoneal adhesions following laparoscopic genitourinary tract surgery in ewes. Veterinarni Medicina, 60(8), 403-406.

Ridderikhof, M. L., Leenders, N., Goddijn, H., Schep, N. W., Lirk, P., Goslings, J. C., & Hollmann, M. W. (2016). Anesthesia with topical lidocaine hydrochloride gauzes in acute traumatic wounds in triage, a pilot study. International emergency nursing.

Uzeda, M. J., Moura, B., Louro, R. S., da Silva, L. E., & Calasans-Maia, M. D. (2014). A Randomized Controlled Clinical Trial to Evaluate Blood Pressure Changes in Patients Undergoing Extraction under Local Anesthesia With Vasopressor Use. Journal of Craniofacial Surgery, 25(3), 1108-1110.

Mittal, M., Sharma, S., Kumar, A., Chopra, R., & Srivastava, D. (2015). Comparison of Anesthetic Efficacy of Articaine and Lidocaine During Primary Maxillary Molar Extractions in Children. Pediatric Dentistry, 37(7), 520-524.

Hashimoto, S., Yamashiro, M., Fujita, K., Yasuda, A., & Sunada, K. (2014). Effects of epinephrine on lidocaine pharmacokinetics and blood volume in the dental pulp. Journal of endodontics, 40(9), 1370-1374.
Reviewed and Approved by a member of the DoveMed Editorial Board
First uploaded: June 4, 2016
Last updated: June 11, 2019