Leukoagglutinin Blood Test
Last updated June 2, 2019
Approved by: Krish Tangella MD, MBA, FCAP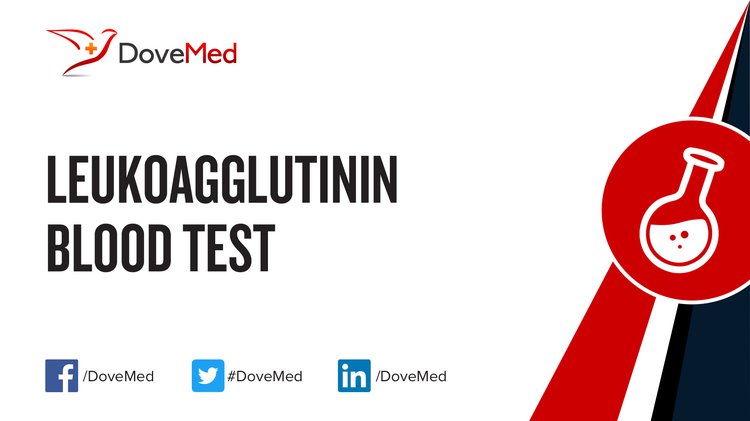 The Leukoagglutinin Blood Test detects leukoagglutinins in the donor's blood by mixing the recipient's blood with the donor's white blood cells and examining them under a microscope for cell damage.
---
What are other Names for this Test? (Equivalent Terms)
Leukoagglutinin Blood Level Test
What is the Leukoagglutinin Blood Test? (Background Information)
Leukoagglutinins are antibodies that target white blood cells (leukocytes) instead of defending the body against foreign invaders. They may cause transfusion reactions after a blood transfusion
If a transfusion reaction occurs due to leukoagglutinins, it is more likely that the leukoagglutinins are present in the blood of the individual receiving a blood transfusion, than in the blood of the donor
Transfusion reactions may occur even though compatible blood is transfused. They are often accompanied by fever and, in severe cases, multi-organ system failure
The Leukoagglutinin Blood Test detects leukoagglutinins in the donor's blood by mixing the recipient's blood with the donor's white blood cells and examining them under a microscope for cell damage. A dye may be added for visualization
What are the Clinical Indications for performing the Leukoagglutinin Blood Test?
The clinical indications for performing the Leukoagglutinin Blood Test include investigating a possible transfusion reaction that may have the following signs and symptoms:
Chills
Fever
Skin flushing
Discolored urine
How is the Specimen Collected for Leukoagglutinin Blood Test?
Following is the specimen collection process for Leukoagglutinin Blood Test:
Sample required: Blood 
Process of obtaining a blood sample in adults:
A band is wrapped around the arm, 3-4 inches above the collection site (superficial vein that lies within the elbow pit)
The site is cleaned with 70% alcohol in an outward spiral, away from the zone of needle insertion
The needle cap is removed and is held in line with the vein, pulling the skin tight
With a small and quick thrust, the vein is penetrated using the needle
The required amount of blood sample is collected by pulling the plunger of the syringe out slowly
The wrap band is removed, gauze is placed on the collection site, and the needle is removed
The blood is immediately transferred into the blood container, which has the appropriate preservative/clot activator/anti-coagulant
The syringe and the needle are disposed into the appropriate "sharp container" for safe and hygienic disposal
Preparation required: No special preparation is needed prior to the test.
What is the Significance of the Leukoagglutinin Blood Test Result?
Microscopic detection of white blood cells that have taken up the dye is interpreted as a positive value for the Leukoagglutinin Blood Test. This may point to a diagnosis of a transfusion reaction
The laboratory test results are NOT to be interpreted as results of a "stand-alone" test. The test results have to be interpreted after correlating with suitable clinical findings and additional supplemental tests/information. Your healthcare providers will explain the meaning of your tests results, based on the overall clinical scenario.
Additional and Relevant Useful Information:
Certain factors, such as pregnancy, may interfere with the results of the Leukoagglutinin Blood Test
Certain medications that you may be currently taking may influence the outcome of the test. Hence, it is important to inform your healthcare provider, the complete list of medications (including any herbal supplements) you are currently taking. This will help the healthcare provider interpret your test results more accurately and avoid unnecessary chances of a misdiagnosis.
Please visit our Laboratory Procedures Center for more physician-approved health information:
http://www.dovemed.com/common-procedures/procedures-laboratory/
References and Information Sources used for the Article:
Kee, J. L. (2010). Laboratory and diagnostic tests with nursing implications (8th ed.). Upper Saddle River, NJ: Pearson.

Martini, F., Nath, J. L., & Bartholomew, E. F. (2012). Fundamentals of anatomy & physiology (9th ed.). San Francisco: Benjamin Cummings.

Williamson, M. A., Snyder, L. M., & Wallach, J. B. (2011). Wallach's interpretation of diagnostic tests (9th ed.). Philadelphia: Wolters Kluwer/Lippincott Williams & Wilkins.
Helpful Peer-Reviewed Medical Articles:
Sobarzo, A., Ochayon, D. E., Lutwama, J. J., Balinandi, S., Guttman, O., Marks, R. S., ... & Lobel, L. (2013). hemagglutinin leukoagglutinin. There were no differences in complete blood count, general medical history, or treatment during infection among persons who had been infected with Ebola virus.

Chan, C. M., Shorr, A. F., & Perkins, J. G. (2012). Factors associated with acute lung injury in combat casualties receiving massive blood transfusions: a retrospective analysis. Journal of critical care, 27(4), 419-e7.

Friedman, M. T., West, K. A., & Bizargity, P. (2016). The Transfusion Reaction. In Immunohematology and Transfusion Medicine (pp. 57-62). Springer International Publishing.

Warkentin, T. E., Greinacher, A., & Bux, J. (2015). The transfusion‐related acute lung injury controversy: lessons from heparin‐induced thrombocytopenia. Transfusion, 55(5), 1128-1134.

Gupta, M., Kumar, R., Gupta, S., Kaur, A., & Gupta, M. (2015). Acute transfusion reactions encountered in patients at a tertiary care centre in Punjab. NATIONAL MEDICAL JOURNAL OF INDIA, 28(1), 8-11.

García, M. A., Bautista, L., & Palomino, F. (2012). Should blood donors be routinely screened for irregular antibodies?. 49 REVIEW, 28(2), 60.

Sibinga, C. S., Das, P. C., & Engelfriet, C. P. (Eds.). (2012). White Cells and Platelets in Blood Transfusion: Proceedings of the Eleventh Annual Symposium on Blood Transfusion, Groningen 1986, Organized by the Red Cross Blood Bank Groningen-Drenthe (Vol. 19). Springer Science & Business Media.

Brand, A., Doxiadis, I. N., & Roelen, D. L. (2013). On the role of HLA antibodies in hematopoietic stem cell transplantation. Tissue Antigens, 81(1), 1-11.
Reviewed and Approved by a member of the DoveMed Editorial Board
First uploaded: June 4, 2016
Last updated: June 2, 2019