Leucine Amino Peptidase Blood Test
Last updated Nov. 5, 2018
Approved by: Krish Tangella MD, MBA, FCAP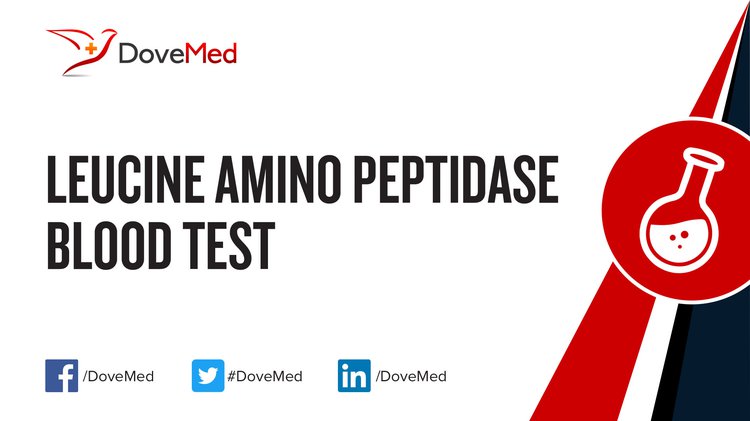 The Leucine Amino Peptidase Blood Test helps determine the levels of LAP in blood. It aids in the diagnosis of hepatobiliary diseases.
---
What are other Names for this Test? (Equivalent Terms)
What is Leucine Amino Peptidase Blood Test? (Background Information)
Leucine amino peptidase (LAP) is an enzyme made by the liver. Levels of LAP in blood tend to mirror those of alkaline phosphatase (ALP), another hormone
ALP is a very useful enzyme for detecting tissue damage, as it is produced by all body tissues. Increased ALP levels in blood imply that tissue damage has occurred to cause ALP to leak into blood
However, bone disease and malabsorption syndrome do not result in elevated ALP levels. They do, however, result in elevated LAP levels
Thus, analyzing the LAP levels and ALP levels helps assess the functioning of liver. LAP should not be used as a stand-alone test for determining liver function. It should be used in combination with other tests to assess liver function
The Leucine Amino Peptidase Blood Test helps determine the levels of LAP in blood. It aids in the diagnosis of hepatobiliary diseases
What are the Clinical Indications for performing the Leucine Amino Peptidase Blood Test?
Following are the clinical indicators for performing the Leucine Amino Peptidase Blood Test:
Nausea, vomiting
Abdominal pain
Rapid weight loss
Discolored urine and/or stools
Yellowing of the whites of the eyes (jaundice)
Itching of skin
How is the Specimen Collected for Leucine Amino Peptidase Blood Test?
Following is the specimen collection process for Leucine Amino Peptidase Blood Test:
Sample required: Blood 
Process of obtaining a blood sample in adults:
A band is wrapped around the arm, 3-4 inches above the collection site (superficial vein that lies within the elbow pit)
The site is cleaned with 70% alcohol in an outward spiral, away from the zone of needle insertion
The needle cap is removed and is held in line with the vein, pulling the skin tight
With a small and quick thrust, the vein is penetrated using the needle
The required amount of blood sample is collected by pulling the plunger of the syringe out slowly
The wrap band is removed, gauze is placed on the collection site, and the needle is removed
The blood is immediately transferred into the blood container, which has the appropriate preservative/clot activator/anti-coagulant
The syringe and the needle are disposed into the appropriate "sharp container" for safe and hygienic disposal
Preparation required: No special preparation is needed prior to the test.
What is the Significance of the Leucine Amino Peptidase Blood Test Result?
The interpretation of the Leucine Amino Peptidase Blood Test result values may vary across laboratories depending on the laboratory methods employed.
A high value, greater than 22 microunits/mL, may point to a diagnosis of:
Liver cancer
Extrahepatic biliary obstruction
Acute liver necrosis
Viral hepatitis
Systemic lupus erythematosus (SLE)
Preeclampsia, between weeks 33 and 39 of pregnancy
Note: A combination of LAP levels and ALP levels can help assess liver disease and bone disease.
The laboratory test results are NOT to be interpreted as results of a "stand-alone" test. The test results have to be interpreted after correlating with suitable clinical findings and additional supplemental tests/information. Your healthcare providers will explain the meaning of your tests results, based on the overall clinical scenario.
Additional and Relevant Useful Information:
Leucine amino peptidase (LAP) was once thought to provide useful information about pancreatic cancers, but this has been disproven
Certain medications that you may be currently taking may influence the outcome of the test. Hence, it is important to inform your healthcare provider, the complete list of medications (including any herbal supplements) you are currently taking. This will help the healthcare provider interpret your test results more accurately and avoid unnecessary chances of a misdiagnosis.
What are some Useful Resources for Additional Information?
References and Information Sources used for the Article:
Kee, J. L. (2010). Laboratory and diagnostic tests with nursing implications (8th ed.). Upper Saddle River, NJ: Pearson.

Martini, F., Nath, J. L., & Bartholomew, E. F. (2012). Fundamentals of anatomy & physiology (9th ed.). San Francisco: Benjamin Cummings.

Williamson, M. A., Snyder, L. M., & Wallach, J. B. (2011). Wallach's interpretation of diagnostic tests (9th ed.). Philadelphia: Wolters Kluwer/Lippincott Williams & Wilkins.
Helpful Peer-Reviewed Medical Articles:
Gough, N. R. (2015). ER trap for blood pressure control. Sci. Signal., 8(383), ec175-ec175.

Pagana, K. D. (2013). Mosby's manual of diagnostic and laboratory tests. Elsevier Health Sciences.

Abouzied, M. M., Eltahir, H. M., Fawzy, M. A., Abdel-Hamid, N. M., Gerges, A. S., El-Ibiari, H. M., & Nazmy, M. H. (2015). Estimation of leucine aminopeptidase and 5-nucleotidase increases alpha-fetoprotein sensitivity in human hepatocellular carcinoma cases. Asian Pacific journal of cancer prevention: APJCP, 16(3), 959.

Okajima, A., Yamaguchi, K., Taketani, H., Hara, T., Ishiba, H., Seko, Y., ... & Mitsuyoshi, H. (2015). Drug‐induced liver injury in a chronic hepatitis C patient treated by peginterferon, ribavirin and simeprevir. Hepatology Research, 45(10).

Petersen, B., Ward, L. S., Bastian, E. D., & Wrobel, S. (2015). U.S. Patent No. 9,222,117. Washington, DC: U.S. Patent and Trademark Office.

Hernández-Guzmán, K., Sahagún-Ruiz, A., Vallecillo, A. J., Cruz-Mendoza, I., & Quiroz-Romero, H. (2016). Construction and evaluation of a chimeric protein made from Fasciola hepatica leucine aminopeptidase and cathepsin L1. Journal of helminthology, 90(01), 7-13.

Prieto, I., Villarejo, A. B., Segarra, A. B., Wangensteen, R., Banegas, I., de Gasparo, M., ... & Ramírez-Sánchez, M. (2015). Tissue distribution of CysAP activity and its relationship to blood pressure and water balance. Life sciences, 134, 73-78.
Reviewed and Approved by a member of the DoveMed Editorial Board
First uploaded: June 4, 2016
Last updated: Nov. 5, 2018