Immunosuppressant Medications Blood Test
Last updated June 2, 2019
Approved by: Krish Tangella MD, MBA, FCAP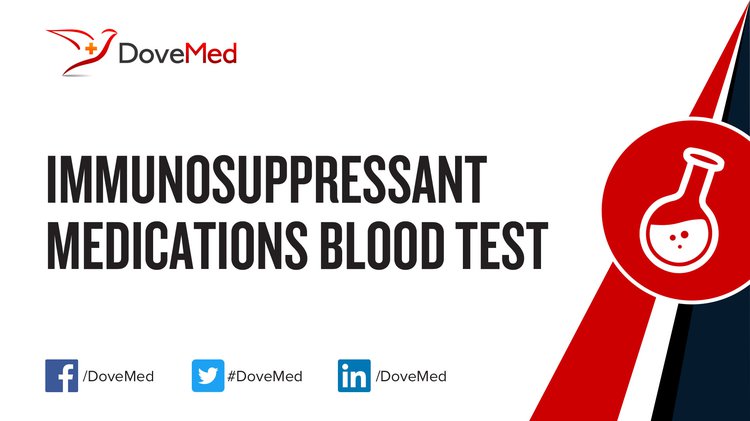 The Immunosuppressants Medications Blood Test helps determine the level of immune suppressant medications in blood.
---
What are other Names for this Test? (Equivalent Terms)
Immune Suppressant Medications Blood Test
What is Immunosuppressant Medications Blood Test? (Background Information)
Immunosuppressant medications are administered to intentionally lower the body's immune system to increase the chances of a successful organ transplant, or to combat disorders involving excessive or inappropriate immune activity
During an organ transplant, the individual is injected with a large dose of immunosuppressant medications to ensure that the body's immune system does not initially reject the organ. Following a successful organ transplant, the individual is put on an immunosuppressant treatment program to prevent an immune reaction and rejection of the organ
Immunosuppressant medications are also given to individuals experiencing certain immune disorders involving abnormal immune activity. Such disorders include systemic lupus erythematosus and eczema
Common immunosuppressant medications include cyclosporin A, sirolimus, and tacrolimus. As an example:

Tacrolimus works by preventing T-lymphocytes, a type of specialized white blood cell, from producing interleukin-2 (IL-2)
IL-2 causes the growth and division of T-lymphocytes. Thus, by preventing its production, tacrolimus suppresses the immune system

Immunosuppressant medications must be kept within a certain range to prevent unwanted effects. If the levels are too high, it may result in toxicity; if the levels are too low, the drug may not be of a therapeutic use
The Immunosuppressants Medications Blood Test helps determine the level of immune suppressant medications in blood. It aids in adjusting the initial dose and in ensuring that levels of immunosuppressant medications stay within an acceptable range
What are the Clinical Indications for performing the Immunosuppressant Medications Blood Test?
The clinical indications for performing the Immunosuppressant Medications Blood Test include monitoring immunosuppressant therapy.
How is the Specimen Collected for Immunosuppressant Medications Blood Test?
Following is the specimen collection process for Immunosuppressant Medications Blood Test:
Sample required: Blood
Process of obtaining a blood sample in adults:
A band is wrapped around the arm, 3-4 inches above the collection site (superficial vein that lies within the elbow pit)
The site is cleaned with 70% alcohol in an outward spiral, away from the zone of needle insertion
The needle cap is removed and is held in line with the vein, pulling the skin tight
With a small and quick thrust, the vein is penetrated using the needle
The required amount of blood sample is collected by pulling the plunger of the syringe out slowly
The wrap band is removed, gauze is placed on the collection site, and the needle is removed
The blood is immediately transferred into the blood container, which has the appropriate preservative/clot activator/anti-coagulant
The syringe and the needle are disposed into the appropriate "sharp container" for safe and hygienic disposal
Preparation required: No special preparation is needed prior to the test.
What is the Significance of the Immunosuppressant Medications Blood Test Result?
The significance of the Immunosuppressant Medications Blood Test result is explained.
A high value for the test may indicate immunosuppressant toxicity, which is marked by:

Seizures
Blurred vision
Nausea
Rapid heart rate

A low value for the test may indicate that more immunosuppressants are needed to achieve a therapeutic dose
The laboratory test results are NOT to be interpreted as results of a "stand-alone" test. The test results have to be interpreted after correlating with suitable clinical findings and additional supplemental tests/information. Your healthcare providers will explain the meaning of your tests results, based on the overall clinical scenario.
Additional and Relevant Useful Information:
Immune suppressing medications may cause certain unwanted side effects as a result of immune system suppression. This includes increased susceptibility to infections
Derivatives of immunosuppressant medications, such as tacrolimus, are used in research applications
Certain medications that you may be currently taking may influence the outcome of the test. Hence, it is important to inform your healthcare provider, the complete list of medications (including any herbal supplements) you are currently taking. This will help the healthcare provider interpret your test results more accurately and avoid unnecessary chances of a misdiagnosis.
The following DoveMed website link is a useful resource for additional information:
https://www.dovemed.com/common-procedures/procedures-laboratory/quantitative-immunoglobulins-test/
Please visit our Laboratory Procedures Center for more physician-approved health information:
http://www.dovemed.com/common-procedures/procedures-laboratory/
References and Information Sources used for the Article:
Daniels, R. (2010). Delmar's manual of laboratory and diagnostic tests: Organized by type of test (2nd ed.). Clifton Park, NY: Delmar Cengage Learning. 

Fegan, A. (2010). Chemically controlled protein assembly: Techniques and applications. Chemical Reviews, 110(6), 3315-36.

Ganong, W. F. (2005). Review of medical physiology. New York: McGraw-Hill Medical.

Kee, J. L. (2010). Laboratory and diagnostic tests with nursing implications (8th ed.). Upper Saddle River, NJ: Pearson.

Kumar, V., Abbas, A. K., Aster, J. C., & Robbins, S. L. (2013). Robbins basic pathology (9th ed.). Philadelphia, PA: Elsevier/Saunders. 

Lab Tests Online (2014, March 12). Retrieved June 17, 2014 from http://labtestsonline.org/understanding/analytes/tacrolimus/
Helpful Peer-Reviewed Medical Articles:
Streit, F., Armstrong, V. W., & Oellerich, M. (2002). Rapid liquid chromatography–tandem mass spectrometry routine method for simultaneous determination of sirolimus, everolimus, tacrolimus, and cyclosporin A in whole blood. Clinical chemistry, 48(6), 955-958.

Ferrara, G., Losi, M., D'Amico, R., Roversi, P., Piro, R., Meacci, M., ... & Mussini, C. (2006). Use in routine clinical practice of two commercial blood tests for diagnosis of infection with Mycobacterium tuberculosis: a prospective study. The Lancet, 367(9519), 1328-1334.

de Mattos, A. M., Olyaei, A. J., & Bennett, W. M. (2000). Nephrotoxicity of immunosuppressive drugs: long-term consequences and challenges for the future. American journal of kidney diseases, 35(2), 333-346.

Kowalski, R., Post, D., Schneider, M. C., Britz, J., Thomas, J., Deierhoi, M., ... & Reardon, E. (2003). Immune cell function testing: an adjunct to therapeutic drug monitoring in transplant patient management. Clinical transplantation, 17(2), 77-88.

D'Haens, G., Baert, F., Van Assche, G., Caenepeel, P., Vergauwe, P., Tuynman, H., ... & Vermeire, S. (2008). Early combined immunosuppression or conventional management in patients with newly diagnosed Crohn's disease: an open randomised trial. The Lancet, 371(9613), 660-667.

Miloh, T., Annunziato, R., Arnon, R., Warshaw, J., Parkar, S., Suchy, F. J., ... & Kerkar, N. (2009). Improved adherence and outcomes for pediatric liver transplant recipients by using text messaging. Pediatrics, 124(5), e844-e850.

Dew, M. A., DiMartini, A. F., Dabbs, A. D. V., Myaskovsky, L., Steel, J., Unruh, M., ... & Greenhouse, J. B. (2007). Rates and risk factors for nonadherence to the medical regimen after adult solid organ transplantation. Transplantation, 83(7), 858-873.

Ramos, H. C., Reyes, J., Abu-Elmagd, K., Zeevi, A., Reinsmoen, N., Tzakis, A., ... & Ebert, F. (1995). Weaning of immunosuppression in long-term liver transplant recipients. Transplantation, 59(2), 212.
Reviewed and Approved by a member of the DoveMed Editorial Board
First uploaded: June 2, 2016
Last updated: June 2, 2019