HER2/neu Receptor Test
Last updated July 23, 2019
Approved by: Krish Tangella MD, MBA, FCAP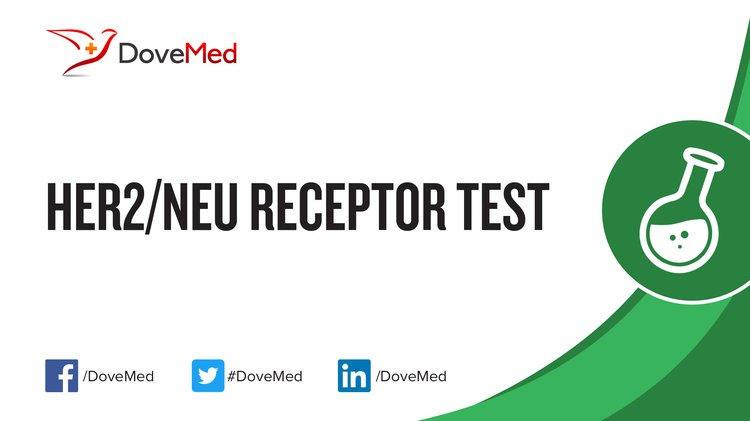 The HER2/neu Blood Test determines the amount of HER2 protein present in circulation.
---
What are the other Names for this Test? (Equivalent Terms)
c-erbB-2 Test
ERBB2 Test
Serum HER2 Quantitative Test
What is HER2/neu Receptor Test? (Background Information)
HER2/neu receptor is a protein, called human epidermal growth factor receptor 2. This protein, under normal circumstances, controls the growth and division of cells in the breast tissue
Increased copies of the HER2/neu gene (termed as amplification), produce increased amounts of HER2/neu protein. This leads to an increased growth and division of the breast tissue, resulting in breast cancer
Breast cancers, which show increased amounts of HER2/neu gene or protein, are said to be HER2/neu positive. They are more aggressive and carry poorer prognosis, than HER2/neu negative breast tumors
The presence of this protein also influences the choice of treatment with respect to breast cancer. HER2/neu positive breast cancers are likely to respond to trastuzumab therapy. This is the rationale behind testing a breast cancer for HER2/neu status
The testing may be performed on a sample of tumor tissue, obtained through needle aspiration, biopsy, or post-surgical removal. The tumors also shed some protein into the blood stream, where they can be measured, to monitor treatment effectiveness
The tests that may be performed on a sample of breast tissue include:

Immunohistochemistry: This test looks at the amount of HER2/neu protein present on the cells
Fluorescence in situ hybridization: This test is done to detect, if increased copies of HER2/neu gene are present. Techniques, such as subtraction probe technology chromogenic in situ hybridization (SPoT-Light HER2 CISH test) and inform dual in situ hybridization (Inform HER2 Dual ISH test) also look for the presence of excess gene copies

The HER2/neu Blood Test determines the amount of HER2 protein present in circulation. During therapy, monitoring the trend in blood level of HER2/neu, helps assess treatment response and also to detect any recurrence
What are the Clinical Indications for performing the HER2/neu Receptor Test?
Following are the clinical indications for performing a HER2/neu Receptor Test:
In all instances of breast cancer, whether newly diagnosed or recurrent; as part of the initial workup
The serum/blood test is ordered after a diagnosis, to determine the baseline concentration. If this is found to be elevated, periodic testing is done during treatment, to monitor the trend in HER2 blood levels
How is the Specimen Collected for HER2/neu Receptor Test?
Following is the specimen collection process for HER2/neu Receptor Test:
Sample required: Breast tissue or blood
Process:
A sample of breast tissue is obtained by inserting a needle into the site of suspected tumor and aspirating a sample of cells (fine needle aspiration cytology or FNAC), or through a surgical biopsy of breast tumor. Biopsy of metastatic breast cancer can also be used for receptor status testing
Blood sample is drawn through a needle inserted into the vein (arm), if testing is performed to determine blood serum levels
Preparation required: No special preparation is needed prior to the test.
What is the Significance of the HER2/neu Receptor Test Result?
The outcomes of HER2/neu Receptor Tests and their significance are as follows:
The immunohistochemistry test results may be:

"0" or "1+", which implies that HER2 protein is not in excess
"2+", which indicates that it is a borderline value
"3+", indicating that it is positive for increased amount of HER2 protein expression

The fluorescence in-situ hybridization test result may be either positive or negative,  for gene amplification (increased copies of HER2/neu gene)
A positive result on either one of the tests is sufficient to make a diagnosis of a HER2/neu positive tumor. While, negative results on both the tests are necessary, to rule out a positive HER2/neu status
During blood testing, if the initial HER2 level was more than 15ng/mL (nanograms per milliliter) and it falls, during the course of therapy, it indicates a treatment success
A persistently elevated level, or an initial decrease followed by rising protein levels, indicates either a treatment failure or tumor recurrence respectively
The laboratory test results are NOT to be interpreted as results of a "stand-alone" test. The test results have to be interpreted after correlating with suitable clinical findings and additional supplemental tests/information. Your healthcare providers will explain the meaning of your tests results, based on the overall clinical scenario.
Additional and Relevant Useful Information:
Some ovarian and bladder cancers may also show an increased amount of HER2/neu protein
Certain medications that you may be currently taking may influence the outcome of the test. Hence, it is important to inform your healthcare provider, the complete list of medications (including any herbal supplements) you are currently taking. This will help the healthcare provider interpret your test results more accurately and avoid unnecessary chances of a misdiagnosis.
References and Information Sources used for the Article:
http://labtestsonline.org/understanding/analytes/her2neu/ (accessed on 05/28/2014)

http://www.nationalbreastcancer.org/breast-cancer-lab-tests (accessed on 05/28/2014)
Reviewed and Approved by a member of the DoveMed Editorial Board
First uploaded: June 11, 2014
Last updated: July 23, 2019