Hepatitis A Blood Test
Last updated Oct. 27, 2018
Approved by: Maulik P. Purohit MD, MPH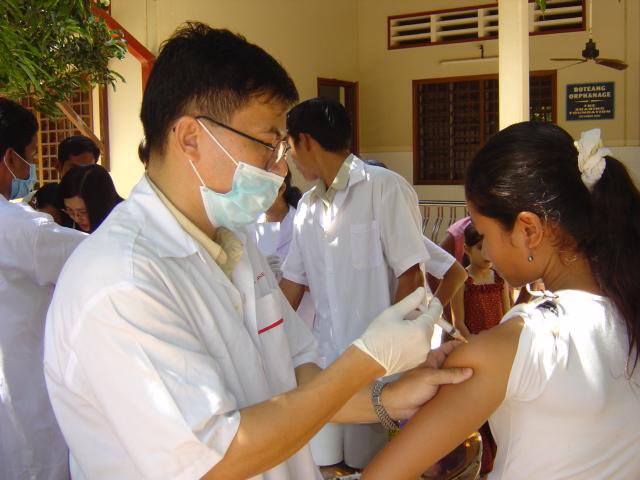 A physician drawing blood that will be tested for Hepatitis antibody or antigen.
---
What are the other Names for this Test? (Equivalent Terms)
HAV-Ab IgM and IgG Blood Test
HAV-Ab IgM Blood Test
HAV-Ab Total Blood Test
What is Hepatitis A Blood Test? (Background Information)
The hepatitis A virus (HAV) infects the liver, causing damage and inflammation (hepatitis). It is transmitted feco-orally (from infected stools to mouth), through consumption of infected food and water
Hepatitis A Blood Testing looks for the presence of antibodies in the blood of individuals, who have been exposed to the hepatitis A virus

The first type of antibody to appear following an exposure to HAV, is IgM. This can be detected in blood, 2-3 weeks following and infection and it persists in blood, for 2-6 months
The IgG type of antibody appears in blood, a few weeks after IgM, and it remains in the body for years

Testing for HAV virus involves estimating the IgM antibodies and the total antibodies to HAV (both IgM and IgG) in individuals:

Who have signs and symptoms of hepatitis A
Who have likely been exposed to the virus (to aid in a diagnosis)
Also to help in ascertaining the need for vaccine in susceptible individuals
What are the Clinical Indications for performing the Hepatitis A Blood Test?
A physician may order Hepatitis A Blood Tests in individuals presenting with signs and symptoms suggestive of hepatitis, such as:
Abdominal pain
Fever
Nausea, vomiting
Jaundice
Dark urine
Pale stools
Certain other indications for testing include:
Asymptomatic individuals with likely exposure to the virus
To determine if the individual is a candidate for vaccination against hepatitis A virus (when no antibodies are detected against HAV in blood, the individual is susceptible to infection)
How is the Specimen Collected for Hepatitis A Blood Test?
Sample required: Blood
Process: Blood sample is obtained through a needle inserted into a vein in the arm.
Preparation required: None
What is the Significance of the Hepatitis A Blood Test Result?
The Hepatitis A Blood Test may have the following outcomes:
IgM positive and total antibodies negative: Indicates acute hepatitis A viral infection
IgM negative and total antibodies positive: Indicates a past infection with HAV, or likely post-vaccination
IgM negative and total antibodies negative: Neither is there an exposure to HAV, nor is the individual vaccinated; hence, there is a susceptibility to infection
The laboratory test results are NOT to be interpreted as results of a "stand-alone" test. The test results have to be interpreted after correlating with suitable clinical findings and additional supplemental tests/information. Your healthcare providers will explain the meaning of your tests results, based on the overall clinical scenario.
Additional and Relevant Useful Information:
Antibodies to hepatitis A virus may be present in about 30% of the adults, over 40 years of age
Certain medications that you may be currently taking may influence the outcome of the test. Hence, it is important to inform your healthcare provider, the complete list of medications (including any herbal supplements) you are currently taking. This will help the healthcare provider interpret your test results more accurately and avoid unnecessary chances of a misdiagnosis.
What are some Useful Resources for Additional Information?
Centers for Disease Control and Prevention (CDC)
1600 Clifton Rd. Atlanta, GA 30333, USA
Phone: (404) 639-3534
Toll-Free: 800-CDC-INFO (800-232-4636)
TTY: (888) 232-6348
Email: cdcinfo@cdc.gov
Website: http://www.cdc.gov
References and Information Sources used for the Article:
http://labtestsonline.org/understanding/analytes/hepatitis-a/ (accessed on 02/17/2014)
Reviewed and Approved by a member of the DoveMed Editorial Board
First uploaded: March 1, 2014
Last updated: Oct. 27, 2018