Gliadin Antibodies Blood Test
Last updated Sept. 13, 2018
Approved by: Krish Tangella MD, MBA, FCAP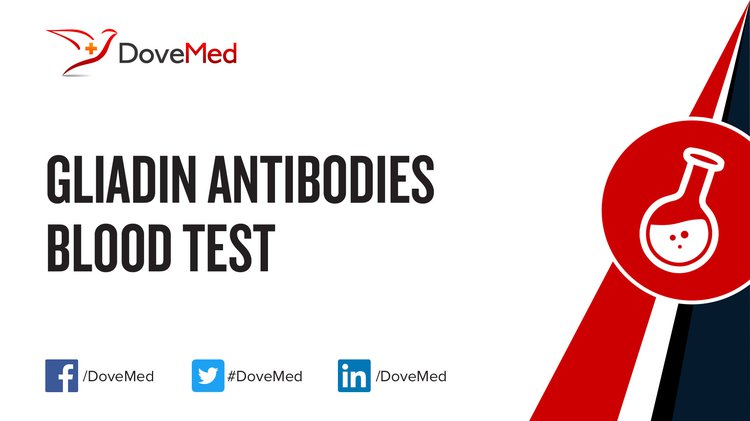 The Gliadin Antibodies Blood Test helps determine the levels of antibodies specific to deamidated gliadin. It is used to diagnose celiac disease and monitor therapy.
---
What are other Names for this Test? (Equivalent Terms)
DGP Blood Test
Gliadin Deamidated Antibodies Blood Test
Gliadin IgG and IgA Blood Test
What is Gliadin Antibodies Blood Test? (Background Information)
Gluten is present in grains including wheat. It gives elasticity and 'rising-ability' to dough made from these grains. Gliadin is one of the two main types of protein found in gluten, the other being glutenin. Unlike glutenin, gliadin dissolves in water
Gliadin is present naturally in a form called amidated gliadin. However, in this form gliadin is difficult to mix with substances, such as milk, which is often desired by the food processing industry
To resolve this problem, natural gliadin is processed using an enzyme to convert it to a 'deamidated' form. However, deamidated gliadin is even more likely than natural gliadin to cause health issues in individuals with gluten intolerance
The immune system produces antibodies (defense proteins) specific to deamidated gliadin, as it does with virtually every foreign substance that interacts with the body. There are several types of antibodies. The clinically most important antibodies are called IgG and IgA
In normal cases, anti-gliadin antibodies are present in low levels. However, in individuals with celiac disease, levels of these antibodies rise, as the body initiates an immune response
The Gliadin Antibodies Blood Test helps determine the levels of antibodies specific to deamidated gliadin. It is used to diagnose celiac disease and monitor therapy
What are the Clinical Indications for performing the Gliadin Antibodies Blood Test?
Following are the clinical indications for performing the Gliadin Antibodies Blood Test:
Abdominal pain
Rapid weight loss
Cramps
Skin conditions, including rash, discoloration, itching, and acne
Fatigue
Diarrhea
Constipation 
How is the Specimen Collected for Gliadin Antibodies Blood Test?
Following is the specimen collection process for Gliadin Antibodies Blood Test:
Sample required: Blood
Process of obtaining blood sample in adults:
A band is wrapped around the arm, 3-4 inches above the collection site (superficial vein that lies within the elbow pit)
The site is cleaned with 70% alcohol in an outward spiral, away from the zone of needle insertion
The needle cap is removed and is held in line with the vein, pulling the skin tight
With a small and quick thrust, the vein is penetrated using the needle
The required amount of blood sample is collected by pulling the plunger of the syringe out slowly
The wrap band is removed, gauze is placed on the collection site, and the needle is removed
The blood is immediately transferred into the blood container, which has the appropriate preservative/clot activator/anti-coagulant
The syringe and the needle are disposed into the appropriate "sharp container" for safe and hygienic disposal
Preparation required: No special preparation is needed prior to the test.
What is the Significance of the Gliadin Antibodies Blood Test Result?
A high (greater than 20 units) value for the Gliadin Antibodies Blood Test may indicate:
Celiac disease
Dermatitis herpetiformis
The laboratory test results are NOT to be interpreted as results of a "stand-alone" test. The test results have to be interpreted after correlating with suitable clinical findings and additional supplemental tests/information. Your healthcare providers will explain the meaning of your tests results, based on the overall clinical scenario.
Additional and Relevant Useful Information:
Individuals with a high level of gliadin antibodies may be advised to follow a gluten-free diet
Currently, the most effective and affordable treatment for celiac disease is following a gluten-free diet
Certain medications that you may be currently taking may influence the outcome of the test. Hence, it is important to inform your healthcare provider of the complete list of medications (including any herbal supplements) you are currently taking. This will help the healthcare provider interpret your test results more accurately and avoid unnecessary chances of a misdiagnosis.
The following DoveMed website link is a useful resource for additional information:
https://www.dovemed.com/diseases-conditions/celiac-disease/
Please visit our Laboratory Procedures Center for more physician-approved health information:
http://www.dovemed.com/common-procedures/procedures-laboratory/
References and Information Sources used for the Article:
Kee, J. L. (2010). Laboratory and diagnostic tests with nursing implications (8th ed.). Upper Saddle River, NJ: Pearson.

Martini, F., Nath, J. L., & Bartholomew, E. F. (2012). Fundamentals of anatomy & physiology (9th ed.). San Francisco: Benjamin Cummings.

Williamson, M. A., Snyder, L. M., & Wallach, J. B. (2011). Wallach's interpretation of diagnostic tests (9th ed.). Philadelphia: Wolters Kluwer/Lippincott Williams & Wilkins.
Helpful Peer-Reviewed Medical Articles:
Gelderman, K. A., Bontkes, H. J., Reijm, M., de MEIJ, T. G. J., Kneepkens, C. M. F., von BLOMBERG, B. M. E., & van HOOGSTRATEN, I. M. W. (2013). Confirmation of high levels of transglutaminase-2 antibodies by deamidated gliadin antibodies in the diagnosis of celiac disease in children: a laboratory perspective. Ned Tijdschr Klin Chem Labgeneesk, 38(4), 190-193.

Korponay-Szabó, I. R. (2014). Autoantibodies and CD: past and future of celiac antibody testing. Journal of pediatric gastroenterology and nutrition, 59, S11-S13.

Jackson, J., Eaton, W., Cascella, N., Fasano, A., Santora, D., Sullivan, K., ... & Demyanovich, H. (2014). Gluten sensitivity and relationship to psychiatric symptoms in people with schizophrenia. Schizophrenia research, 159(2), 539-542.

Rubio-Tapia, A., Hill, I. D., Kelly, C. P., Calderwood, A. H., & Murray, J. A. (2013). ACG clinical guidelines: diagnosis and management of celiac disease. The American journal of gastroenterology, 108(5), 656-676.

Spatola, B. N., Kaukinen, K., Collin, P., Mäki, M., Kagnoff, M. F., & Daugherty, P. S. (2014). Persistence of elevated deamidated gliadin peptide antibodies on a gluten‐free diet indicates nonresponsive coeliac disease. Alimentary pharmacology & therapeutics, 39(4), 407-417.
Reviewed and Approved by a member of the DoveMed Editorial Board
First uploaded: March 30, 2016
Last updated: Sept. 13, 2018