Ghrelin Blood Test
Last updated May 26, 2019
Approved by: Krish Tangella MD, MBA, FCAP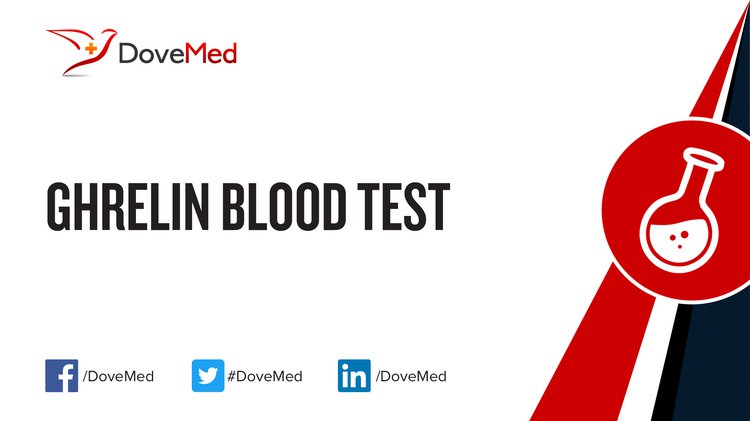 The Ghrelin Blood Test helps determine the levels of ghrelin in blood.
---
What are other Names for this Test? (Equivalent Terms)
What is Ghrelin Blood Test? (Background Information)
Ghrelin is a hormone associated with increased food intake, weight gain, and growth hormone release. It is crucial to regulating energy levels. It is sometimes called the "hungry hormone"
Ghrelin is produced in the stomach and, like all hormones, circulates in blood. Its levels increase during periods of low food intake, such as during fasting, starvation, and anorexia. The levels are decreased in obesity or hyperglycemia too
Receptors on the stomach stimulate ghrelin production, when the stomach is empty and stop production, when they sense that the stomach is stretched. Ghrelin affects the nervous system to stimulate appetite and reward pathways after food is ingested
The Ghrelin Blood Test helps determine the levels of ghrelin in blood. It is used to assess nutrition status and manage metabolic disorders
What are the Clinical Indications for performing the Ghrelin Blood Test?
Following are the clinical indications for performing the Ghrelin Blood Test:
Gastric bypass surgery
Monitoring obesity
Rapid weight loss or weight gain
Suspected anorexia nervosa
How is the Specimen Collected for Ghrelin Blood Test?
Following is the specimen collection process for Ghrelin Blood Test:
Sample required: Blood
Process of obtaining blood sample in adults:
A band is wrapped around the arm, 3-4 inches above the collection site (superficial vein that lies within the elbow pit)
The site is cleaned with 70% alcohol in an outward spiral, away from the zone of needle insertion
The needle cap is removed and is held in line with the vein, pulling the skin tight
With a small and quick thrust, the vein is penetrated using the needle
The required amount of blood sample is collected by pulling the plunger of the syringe out slowly
The wrap band is removed, gauze is placed on the collection site, and the needle is removed
The blood is immediately transferred into the blood container, which has the appropriate preservative/clot activator/anti-coagulant
The syringe and the needle are disposed into the appropriate "sharp container" for safe and hygienic disposal
Preparation required: No special preparation is needed prior to the test.
What is the Significance of the Ghrelin Blood Test Result?
A high value for the Ghrelin Blood Test (greater than 650 pg/mL) may indicate:
The laboratory test results are NOT to be interpreted as results of a "stand-alone" test. The test results have to be interpreted after correlating with suitable clinical findings and additional supplemental tests/information. Your healthcare providers will explain the meaning of your tests results, based on the overall clinical scenario.
Additional and Relevant Useful Information:
Certain factors interfere with the results of the Ghrelin Blood Test and it includes the recent consumption of a meal
The test is not routinely performed in many commercial laboratories
Certain medications that you may be currently taking may influence the outcome of the test. Hence, it is important to inform your healthcare provider of the complete list of medications (including any herbal supplements) you are currently taking. This will help the healthcare provider interpret your test results more accurately and avoid unnecessary chances of a misdiagnosis.
The following DoveMed website link is a useful resource for additional information:
https://www.dovemed.com/diseases-conditions/anorexia-nervosa/
Please visit our Laboratory Procedures Center for more physician-approved health information:
http://www.dovemed.com/common-procedures/procedures-laboratory/
References and Information Sources used for the Article:
Kee, J. L. (2010). Laboratory and diagnostic tests with nursing implications (8th ed.). Upper Saddle River, NJ: Pearson.

Martini, F., Nath, J. L., & Bartholomew, E. F. (2012). Fundamentals of anatomy & physiology (9th ed.). San Francisco: Benjamin Cummings.

Williamson, M. A., Snyder, L. M., & Wallach, J. B. (2011). Wallach's interpretation of diagnostic tests (9th ed.). Philadelphia: Wolters Kluwer/Lippincott Williams & Wilkins.
Helpful Peer-Reviewed Medical Articles:
Geliebter, A., Carnell, S., & Gluck, M. E. (2013). Cortisol and ghrelin concentrations following a cold pressor stress test in overweight individuals with and without night eating. International Journal of Obesity, 37(8), 1104-1108.

Gluck, M. E., Yahav, E., Hashim, S. A., & Geliebter, A. (2014). Ghrelin levels after a cold pressor stress test in obese women with binge eating disorder. Psychosomatic medicine, 76(1), 74-79.

Russo, F., Chimienti, G., Clemente, C., Ferreri, C., Orlando, A., & Riezzo, G. (2015). A possible role for ghrelin, leptin, brain-derived neurotrophic factor and docosahexaenoic acid in reducing the quality of life of coeliac disease patients following a gluten-free diet. European journal of nutrition, 1-12.

Malin, S. K., Samat, A., Wolski, K., Abood, B., Pothier, C. E., Bhatt, D. L., ... & Kashyap, S. R. (2014). Improved acylated ghrelin suppression at 2 years in obese patients with type 2 diabetes: effects of bariatric surgery vs standard medical therapy. International Journal of Obesity, 38(3), 364-370.

Jakubowicz, D., Froy, O., Wainstein, J., & Boaz, M. (2012). Meal timing and composition influence ghrelin levels, appetite scores and weight loss maintenance in overweight and obese adults. Steroids, 77(4), 323-331.

Gibbons, C., Caudwell, P., Finlayson, G., Webb, D. L., Hellström, P. M., Näslund, E., & Blundell, J. E. (2013). Comparison of postprandial profiles of ghrelin, active GLP-1, and total PYY to meals varying in fat and carbohydrate and their association with hunger and the phases of satiety. The Journal of Clinical Endocrinology & Metabolism, 98(5), E847-E855.
Reviewed and Approved by a member of the DoveMed Editorial Board
First uploaded: March 30, 2016
Last updated: May 26, 2019