Digoxin Blood Test
Last updated Sept. 25, 2018
Approved by: Krish Tangella MD, MBA, FCAP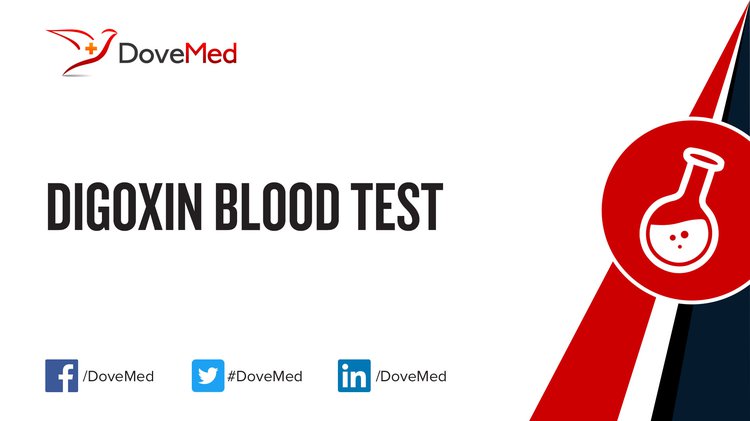 A Digoxin Blood Test is a test to assess the levels of digoxin in blood. It is used when adjusting the initial dose, and to ensure that digoxin levels stay within an acceptable range.
---
What are the other Names for this Test? (Equivalent Terms)
Allocar® Blood Test
Cardioreg® Blood Test
Lenoxin® Blood Test
What is Digoxin Blood Test? (Background Information)
Digoxin is an antiarrhythmic drug used to treat and prevent heart failure and arrhythmias. The brand names for digoxin include Lanoxin®, Allocar®, Cardioreg®, Digacin®, Lanocor®, Lanoxicaps®, Lenoxin®, and Purgoxin®
Digoxin is thought to work by inhibiting the action of heart cell enzymes responsible for electrolyte transport. The result is the accumulation of Ca2+ ions in the heart cells. The increased Ca2+ inside heart muscle cells increases the rate at which they contract, and the force with which they do so. The net result is an increased heart pumping efficiency
Cardiovascular disorders, such as congestive heart failure, decrease the heat's ability to pump blood. Digoxin is employed in such cases to help restore proper heart function
Like every other drug, digoxin must be kept within a certain range to prevent certain unwanted side effects. If levels are too high, toxicity may result; if levels are too low, the drug may not be of therapeutic value
A Digoxin Blood Test is a test to assess the levels of digoxin in blood. It is used when adjusting the initial dose, and to ensure that digoxin levels stay within an acceptable range
What are the Clinical Indications for performing the Digoxin Blood Test?
The clinical indications for performing a Digoxin Blood Test include monitoring digoxin therapy. Monitoring digoxin level helps in keeping effective medication levels in blood and preventing unnecessary side effects. 
How is the Specimen Collected for Digoxin Blood Test?
Following is the specimen collection process for Digoxin Blood Test:
Sample required: Blood
Process: Insertion of a needle into an arm vein.
Preparation required: No special preparation is needed prior to the test. 
What is the Significance of the Digoxin Blood Test Result?
The significance of Digoxin Blood Test is explained:
Excessive digoxin levels may indicate digoxin toxicity. This condition is marked by:

Anorexia
Hyperkalemia
Nausea
Vomiting
Diarrhea
Altered mental status
Visual disturbances 

Decreased digoxin levels may indicate that more digoxin is necessary to achieve a therapeutic dose 
The laboratory test results are NOT to be interpreted as results of a "stand-alone" test. The test results have to be interpreted after correlating with suitable clinical findings and additional supplemental tests/information. Your healthcare providers will explain the meaning of your tests results, based on the overall clinical scenario. 
Additional and Relevant Useful Information:
Possible interventions for digoxin toxicity include transcutaneous pacing, administration of activated charcoal, and administration of Digibind. Digibind helps decrease the side effects of the medication
An electrocardiogram (ECG) is used to monitor heart action. It is of particular importance when monitoring digoxin therapy
Digoxin is included in the World Health Organization's List of Essential Medicines 
Certain medications that you may be currently taking may influence the outcome of the test. Hence, it is important to inform your healthcare provider, the complete list of medications (including any herbal supplements) you are currently taking. This will help the healthcare provider interpret your test results more accurately and avoid unnecessary chances of a misdiagnosis.
References and Information Sources used for the Article:
Lab Tests Online (2013, August 15). Retrieved July 30, 2014 from http://labtestsonline.org/understanding/analytes/digoxin/

RxList. (2012, October 29). Lanoxin. Retrieved from http://www.rxlist.com/script/main/hp.asp

Schnell, Z. B., Van, L. A., & Kranpitz, T. R. (2003). Davis's Comprehensive handbook of laboratory and diagnostic tests: With nursing implications. Philadelphia: F.A. Davis.

World Health Organization. (2013, April). WHO model lists of essential medicines. Retrieved from http://www.who.int/en/
Reviewed and Approved by a member of the DoveMed Editorial Board
First uploaded: Aug. 4, 2014
Last updated: Sept. 25, 2018