C-Reactive Protein Blood Test
Last updated June 2, 2019
Approved by: Maulik P. Purohit MD, MPH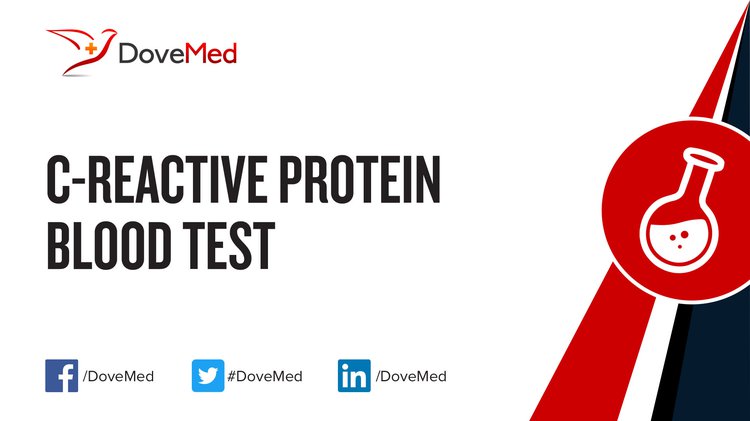 C-Reactive Protein (CRP) Blood Test measures a type of protein that binds with a sugar called C-polysaccharide, which is usually found in bacterial cell wall.
---
What are the other Names for this Test? (Equivalent Terms)
CRP (C-Reactive Protein) Blood Test
High-Sensitivity C-Reactive Protein Blood Test
Ultra-Sensitive C-Reactive Protein Blood Test
What is C-Reactive Protein Blood Test? (Background Information)
C-Reactive Protein (CRP) Blood Test measures a type of protein that binds with a sugar called C-polysaccharide, which is usually found in bacterial cell wall
CRP is produced in liver as an immediate response to harmful stimuli, such as pathogens. As a result, during infection, CRP concentration increases rapidly in blood
Blood CRP concentration quickly responds to medical interventions too. Therefore, the CRP Test is done to assess disease progression and also to check the effectiveness of specific treatments
CRP can be measured by several methods such as ELISA (enzyme-linked immuno-sorbent assay), Turbidimetry, and Nephlometry
High-Sensitivity CRP or Ultra-Sensitive CRP Blood Test has the capability to detect even very low concentrations of CRP in blood. Such CRP tests are used in-conjunction with other tests, like lipid profile, to predict an individual's risk of developing cardiovascular diseases
What are the Clinical Indications for performing the C-Reactive Protein Blood Test?
Following are the clinical indications for performing a C-Reactive Protein Blood Test:
Post-surgical infection
Risk assessment for cardiovascular diseases
Lymph nodes cancer
Intestinal bleeding and swelling
Immune system disorders
Infection involving bones
Effectiveness of a treatment or progression of a disease
How is the Specimen Collected for C-Reactive Protein Blood Test?
Following is the specimen collection process for C-Reactive Protein Blood Test:
Sample required: Blood/heparinized plasma/serum
Process of obtaining blood sample in adults:
A band is wrapped around the arm, 3-4 inches above the collection site (superficial vein that lies within the elbow pit)
The site is cleaned with 70% alcohol in an outward spiral, away from the zone of needle insertion
The needle cap is removed and is held in line with the vein, pulling the skin tight
With a small and quick thrust, the vein is penetrated using the needle
The required amount of blood sample is collected by pulling the plunger of the syringe out slowly
The wrap band is removed, gauze is placed on the collection site, and the needle is removed
The blood is immediately transferred into the blood container, which has the appropriate preservative/clot activator/anti-coagulant
The syringe and the needle are disposed into the appropriate "sharp container" for safe and hygienic disposal
Preparation required: No special preparation is needed prior to the test.
What is the Significance of the C-Reactive Protein Blood Test Result?
The significance of the C-Reactive Protein Blood Test is explained:
CRP is useful to monitor certain disease conditions, like rheumatoid arthritis, infections, or cancer
The American Heart Association (AHA) and US Centers for Disease Control and Prevention (CDC) have made several recommendations concerning the use of CRP Blood Test in cardiovascular risk assessment. The measurements indicate:

<1.0 mg/dL indicates a relatively low risk
1.0-3.0 mg/dL indicates average risk
>3.0 mg/dL indicates high risk

Individuals with higher Hs-CRP concentrations are more likely to develop myocardial infarction and peripheral vascular diseases
The laboratory test results are NOT to be interpreted as results of a "stand-alone" test. The test results have to be interpreted after correlating with suitable clinical findings and additional supplemental tests/information. Your healthcare providers will explain the meaning of your tests results, based on the overall clinical scenario.
Additional and Relevant Useful Information:
High CRP results should not be used alone, but interpreted along with complete clinical history and other tests
CRP should not be performed for any risk assessment, when the individuals have infections and trauma
CRP is non-specific and has limited clinical utility
Individuals with persistently higher CRP results above 10mg/dL should always be evaluated for non-cardiovascular causes
National Institute of Health and Clinical Excellence, UK, has published some guidelines on the use of pre-operative testing of CRP for non-emergency (elective) surgery. The guidelines do not recommend CRP Testing on patients admitted for elective surgery
Certain medications that you may be currently taking may influence the outcome of the test. Hence, it is important to inform your healthcare provider of the complete list of medications (including any herbal supplements) you are currently taking. This will help the healthcare provider interpret your test results more accurately and avoid unnecessary chances of a misdiagnosis.
What are some Useful Resources for Additional Information?
National Institute of Health and Clinical Excellence (NICE)
10 Spring Gardens, London, UK SW1A 2BU
Phone: +44 (0) 300 323 0140
Fax: +44 (0) 300 323 0148
Email: nice@nice.org.uk
Website: http://www.nice.org.uk

Centers for Disease Control and Prevention (CDC)
1600 Clifton Rd. Atlanta, GA 30333, USA
Phone: (404) 639-3534
Toll-Free: 800-CDC-INFO (800-232-4636)
TTY: (888) 232-6348
Email: cdcinfo@cdc.gov
Website: http://www.cdc.gov

American Heart Association (AHA)
7272 Greenville Ave. Dallas, TX 75231
Phone: 1-800-AHA-USA-1, 1-800-242-8721, 1-888-474-VIVE
Email: Review.personal.info@heart.org
Website: http://www.heart.org
References and Information Sources used for the Article:
Pfützner A, Forst T (2006 ) High-sensitivity C-reactive protein as cardiovascular risk marker in patients with diabetes mellitus. 8(1):28-36. Diabetes technology and therapeutics.

Roche/Cobas data sheet retrieved on 24/09/2014 from http://tinyurl.com/mvuqj5l
Reviewed and Approved by a member of the DoveMed Editorial Board
First uploaded: Dec. 2, 2014
Last updated: June 2, 2019