C-Peptide Test
Last updated May 17, 2018
Approved by: Krish Tangella MD, MBA, FCAP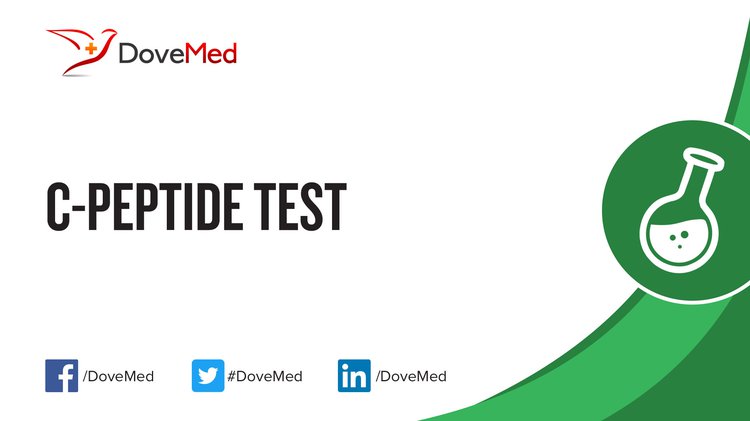 The C-Peptide Test is a blood or urine test that determines the levels of C-peptide in the body. This helps assess insulin production.
---
What are the other Names for this Test? (Equivalent Terms)
Connecting Peptide Insulin Test
Insulin C-Peptide Test
Proinsulin C-Peptide Test 
What is C-Peptide Test? (Background Information)
C-peptide is an inert stretch of amino acids formed during the production of insulin (more specifically, during its activation from proinsulin). This is done by the beta cells of the pancreas. Levels of C-peptide correlate with insulin production; thus, C-peptide serves as a marker for insulin production
C-peptide is only created, when beta cells transform proinsulin to insulin. Injecting an outside source of insulin does not change C-peptide levels. The kidneys are responsible for eliminating C-peptide
The C-Peptide Test is a blood or urine test that determines the levels of C-peptide in the body. This helps assess insulin production
When this test is combined with an insulin test, it helps determine whether the excess insulin is due to native or endogenous insulin, which is made by the body from any insulin that is administered as a medication

An insulin/C-peptide ratio less than 1.0, indicates endogenous insulin secretion
An insulin/C-peptide ratio greater than 1.0, indicates an excess of exogenous insulin 
What are the Clinical Indications for performing the C-Peptide Test?
Following are the clinical indications for performing a C-Peptide Test:
Distinguishing between insulin-dependent (type I) and non-insulin-dependent (type 2) diabetes
Monitoring treatment and progression of insulinoma
Monitoring health of transplanted pancreas
Chronic sweating
Altered mental status
Blurred vision 
How is the Specimen Collected for C-Peptide Test?
Following is the specimen collection process for C-Peptide Test:
Sample required: Blood or urine
Process:
Insertion of a needle into an arm vein, for a blood sample
Collection of urine periodically over 24 hours, for a urine sample
Preparation required: No special preparation is needed prior to the test. 
What is the Significance of the C-Peptide Test Result?
The significance of C-Peptide Test is explained:
Increased C-peptide levels may indicate:

Endogenous hyperinsulinism
Islet cell tumor
Non-insulin-dependent (type 2) diabetes
Oral hypoglycemic medication
Kidney disease or failure
Low blood potassium
Cushing's syndrome
Lack of response to treatment of a tumor

Decreased C-peptide levels may mean:

Factitious hypoglycemia
Insulin-dependent (type 1) diabetes
Response to treatment of a tumor 
The laboratory test results are NOT to be interpreted as results of a "stand-alone" test. The test results have to be interpreted after correlating with suitable clinical findings and additional supplemental tests/information. Your healthcare providers will explain the meaning of your tests results, based on the overall clinical scenario. 
Additional and Relevant Useful Information:
Certain factors may interfere with the results of the C-Peptide Test. These include:

Recent radioactive exposure, as with scans
Obesity

The C-Peptide Test should be performed in the same laboratory each time, in order to ensure accurate results 
Certain medications that you may be currently taking may influence the outcome of the test. Hence, it is important to inform your healthcare provider, the complete list of medications (including any herbal supplements) you are currently taking. This will help the healthcare provider interpret your test results more accurately and avoid unnecessary chances of a misdiagnosis.
References and Information Sources used for the Article:
Lab Tests Online (2014, June 18). Retrieved August 3, 2014 from http://labtestsonline.org/understanding/analytes/c-peptide/

Lebowitz, M. R., & Blumenthal, S. A. (1993). The molar ratio of insulin to C-peptide. An aid to the diagnosis of hypoglycemia due to surreptitious (or inadvertent) insulin administration. Archives of Internal Medicine, 153(5), 650-5.

Martini, F., Nath, J. L., & Bartholomew, E. F. (2012). Fundamentals of anatomy & physiology (9th ed.). San Francisco: Benjamin Cummings.

Schnell, Z. B., Van, L. A., & Kranpitz, T. R. (2003). Davis's Comprehensive handbook of laboratory and diagnostic tests: With nursing implications. Philadelphia: F.A. Davis.
Reviewed and Approved by a member of the DoveMed Editorial Board
First uploaded: Aug. 11, 2014
Last updated: May 17, 2018