Activated Coagulation Time Test
Last updated July 23, 2019
Approved by: Krish Tangella MD, MBA, FCAP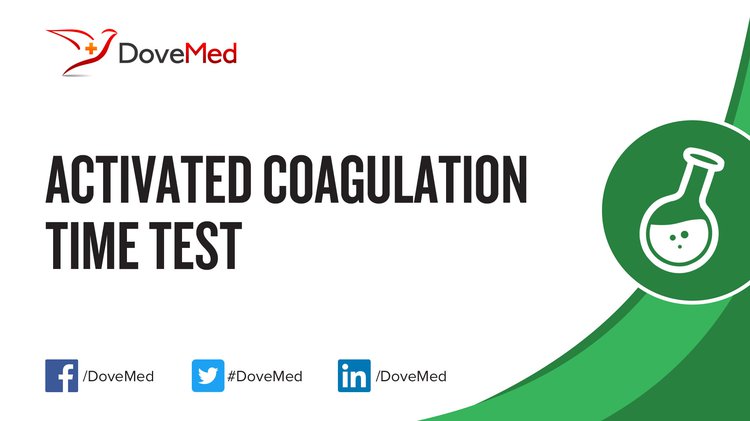 A Activated Coagulation Time Test is used to monitor heparin levels with higher doses.
---
What are the other Names for this Test? (Equivalent Terms)
ACT Test
Activated Clotting Time Test 
What is Activated Coagulation Time Test? (Background Information)
Activated coagulation time (ACT) is used to monitor the effectiveness of high dose unfractionated (standard) heparin therapy
Major surgeries can result in the activation of a series of steps in the body, involving platelets and coagulation that result in clot formation. This can cause blockage of blood vessels in the body
Heparin is used as an anticoagulant to help prevent and treat clotting of blood, especially before and after major surgeries and procedures, like vascular surgeries, cardiac bypass, coronary angioplasty, dialysis, etc.
It is very important to monitor the levels of heparin, before, during, and after major surgeries, as heparin can not only prevent clot formation, but adversely, high levels of heparin in the body can also cause bleeding
Heparin levels are usually monitored with the help of partial thromboplastin time (PTT) test. A PTT test is based on a clotting reaction. However, when higher doses of heparin are used, PTT tests no longer remain effective, as blood does not clot with high doses of heparin
Instead, an Activated Coagulation Time Test is used to monitor heparin levels with higher doses. This test can also be used, when rapid results are required, as it can also be performed by the patient's bedside. This promotes rapid monitoring and changes in the dosage level of heparin infusion 
What are the Clinical Indications for performing the Activated Coagulation Time Test?
Following are the clinical indications for performing an Activated Coagulation Time Test:
An ACT Test is performed by the bedside, whenever high doses of heparin are ordered
The test is performed before, during, and after certain surgeries, for which high doses of heparin are required to prevent clot formation. The test is repeated, till the heparin dose has been reduced, or heparin is neutralized and the patient is stable
The ACT Test may also be performed along with a PTT test, in patients on direct thrombin inhibitor therapy
In some cases of lupus anticoagulant (where a PTT test cannot be used), or bleeding episodes, an Activated Coagulation Time Test can be ordered to monitor heparin levels 
How is the Specimen Collected for Activated Coagulation Time Test?
Following is the specimen collection process for Activated Coagulation Time Test:
Sample required: Blood
Process: Insertion of a needle into an arm vein.
Preparation required: No special preparation is needed prior to the test. 
What is the Significance of the Activated Coagulation Time Test Result?
Activated Coagulation Time Test value (measured in seconds), signifies the time to form blood clot. Thus, the degree of clotting inhibition is measured due to heparin effect. The goal is to keep ACT levels, above a certain value, in order to prevent clot formation
The lower levels of ACT, called the reference ranges, before, during and after surgery, as well as the sensitivity of the test, depends on the method of testing used. This varies from one hospital to another
The heparin dose is adjusted according to the ACT Test values and the health condition of the patient
For a cardiopulmonary bypass surgery, the ACT values are usually maintained above 400-500 seconds. The values for other surgeries or clinical indications may be lower
The normal reference range for ACT is within 70-180 seconds 
The laboratory test results are NOT to be interpreted as results of a "stand-alone" test. The test results have to be interpreted after correlating with suitable clinical findings and additional supplemental tests/information. Your healthcare providers will explain the meaning of your tests results, based on the overall clinical scenario. 
Additional and Relevant Useful Information:
Certain medications that you may be currently taking may influence the outcome of the test. Hence, it is important to inform your healthcare provider, the complete list of medications (including any herbal supplements) you are currently taking. This will help the healthcare provider interpret your test results more accurately and avoid unnecessary chances of a misdiagnosis.
References and Information Sources used for the Article:
http://circ.ahajournals.org/content/91/5/1568.full (accessed on 07/13/2014)

http://www.practical-haemostasis.com/Miscellaneous/Miscellaneous%20Tests/act.html (accessed on 07/13/2014)
Reviewed and Approved by a member of the DoveMed Editorial Board
First uploaded: July 19, 2014
Last updated: July 23, 2019