17-Hydroxyprogesterone Test
Last updated Nov. 27, 2018
Approved by: Krish Tangella MD, MBA, FCAP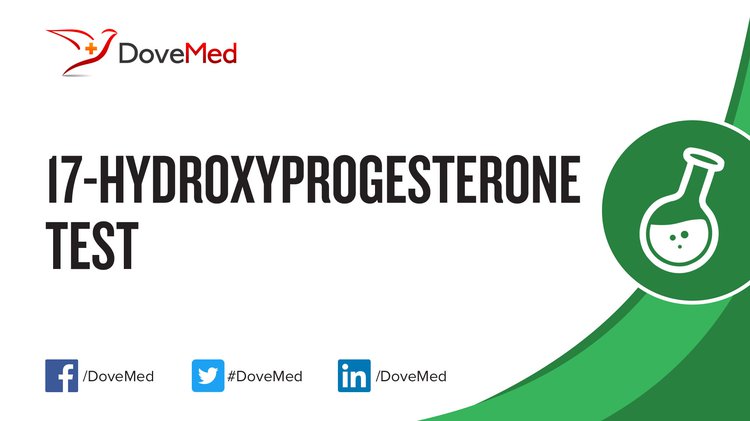 17-Hydroxyprogesterone Test provides information on the amount of 17-Hydroxyprogesterone (17-OHP, a hormone produced by the adrenal glands) present in the blood.
---
What are the other Names for this Test? (Equivalent Terms)
17-OHP Test
17-OH Progesterone Test
Progesterone-17-OH Test
What is 17-Hydroxyprogesterone Test Test? (Background Information)
It is common medical practice to routinely screen neonates for congenital adrenal hyperplasia (CAH), especially if the pediatrician suspects that certain CAH-associated signs are present in the newborn. Often, the exam leads to erroneous results due to the relative sensitivity of the test and hence, utmost care is exercised and positive test results are repeated, or other tests requested, to confirm CAH
Congenital adrenal hyperplasia: The CYP21A2 gene is responsible for producing the enzyme 21-hydroxylase. When mutation of this gene occurs, it causes enzyme deficiency leading to accretion of 17-OHP in blood. Mild or severe CAH is caused primarily due to this reason, which can be detected by a molecular genetic test
17-Hydroxyprogesterone Test (17-OHP): The examination provides information on the amount of 17-Hydroxyprogesterone (17-OHP, a hormone produced by the adrenal glands) present in the blood.
This test can also help identify individuals with CAH, before the symptoms are observed, or to confirm the same. This aids in determining the course of further treatment
Other tests: When positive or abnormal results for 17-OHP are obtained, then hormones, such as testosterone and androstenedione in the blood, are tested. As a supplement, in some instances, an ACTH stimulation test is also ordered
What are the Clinical Indications for performing the 17-Hydroxyprogesterone Test?
Individuals in the following category may be prescribed 17-Hydroxyprogesterone testing and/or other follow-up tests:
Newborns: Routine screening, which is then repeated if 17-OHP elevated presence, is discovered
Infants suffering from weariness, low blood pressure, weight loss and dehydration, along with ambiguous genitalia, pubic hair, acne or virilization (causing inter-sex conditions)
On younger adults / older children to confirm suspicion of late-onset of CAH. Girls are known to suffer from irregular periods, virilization, and hirsutism, while boys may exhibit signs of early puberty. In both sexes, infertility may also be observed
How is the Specimen Collected for 17-Hydroxyprogesterone Test?
Sample required: Blood
Process: Insertion of needle into a vein (arm) or by pricking an infant's heel
Preparation required: None, but collection maybe in the early morning or at a specified time for women undergoing menstruation, as per the healthcare provider's advice
What is the Significance of the 17-Hydroxyprogesterone Test Result?
If repeated tests show high level of 17-OHP consistently, then it maybe concluded that the infant or newborn is suffering from congenital adrenal hyperplasia (CAH)
A mild case of CAH can be suspected if an individual shows less to moderate concentration of 17-OHP in their blood. CAH in such cases could also be due to deficiency of another enzyme, called 11-beta-hydroxylase
The laboratory test results are NOT to be interpreted as results of a "stand-alone" test. The test results have to be interpreted after correlating with suitable clinical findings and additional supplemental tests/information. Your healthcare providers will explain the meaning of your tests results, based on the overall clinical scenario.
Additional and Relevant Useful Information:
If an individual, suffering from a proven case of CAH, show reducing concentration of 17-OHP in the blood, it implies that he/she is responding well to the treatment. Conversely, if there is an increase, then it indicates that the treatment method needs to be modified suitably
During pregnancy, karyotyping is performed to detect chromosomal defects (if any), which may lead to genetic disorders. This procedure may sometimes reveal CAH syndrome
Certain medications that you may be currently taking may influence the outcome of the test. Hence, it is important to inform your healthcare provider, the complete list of medications (including any herbal supplements) you are currently taking. This will help the healthcare provider interpret your test results more accurately and avoid unnecessary chances of a misdiagnosis.
References and Information Sources used for the Article:
http://labtestsonline.org/understanding/analytes/6-17hydroxy/tab/test (accessed on 04/28/2013)

http://www.mayomedicallaboratories.com/test-catalog/Clinical+and+Interpretive/9231 (accessed on 04/28/2013)

http://www.nlm.nih.gov/medlineplus/ency/article/003713.htm (accessed on 04/28/2013)
Reviewed and Approved by a member of the DoveMed Editorial Board
First uploaded: Sept. 4, 2013
Last updated: Nov. 27, 2018