Partial Trisomy 21 Down Syndrome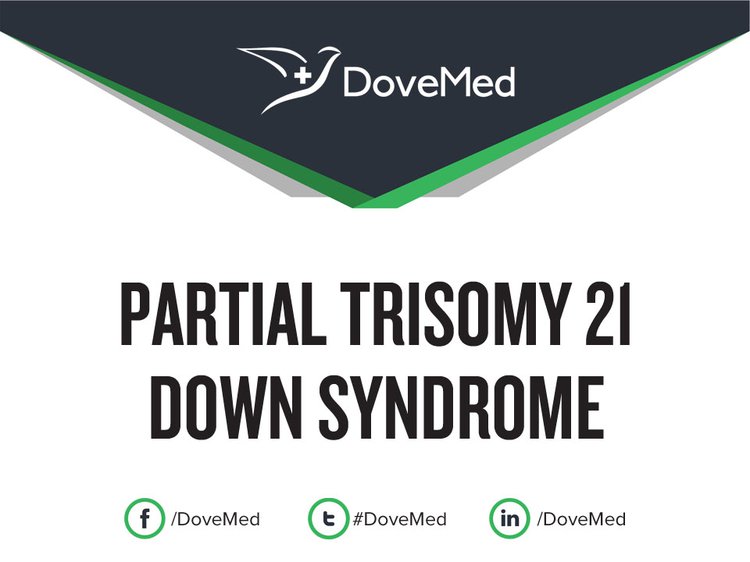 Down syndrome is the trisomy of chromosome 21. The term 'trisomy' indicates that there are three chromosomes instead of a typical pair of chromosomes.
The topic Partial Trisomy 21 Down Syndrome you are seeking is a synonym, or alternative name, or is closely related to the medical condition Down Syndrome.
Quick Summary:
Down syndrome is the trisomy of chromosome 21. The term 'trisomy' indicates that there are three chromosomes instead of a typical pair of chromosomes. The trisomy of chromosome 21 means that there is an extra chromosome 21 
All chromosomes are numbered in pairs. Usually, 46 chromosomes are present; but individuals with Down syndrome have 47 chromosomes
Chromosomes are structures made of deoxyribonucleic acid (DNA). DNA is responsible for the makeup and functioning of every human being
There are 3 common types of chromosomal abnormality that result in Down syndrome:
Trisomy 21: The extra copy of chromosome 21 is typically from the mother, often due to errors in the egg cell. Over 95% of all Down syndrome cases, are due to this  occurrence
Translocation: This occurs when a piece of chromosome 21 attaches itself to another chromosome, usually chromosome 14. Here, the individual has two copies of chromosome 21 and an additional fragment attached to chromosome 14
Mosaic: This means that the individual has 3 copies of chromosome 21 in some, but not every cell of the body
Please find comprehensive information on Down Syndrome regarding definition, distribution, risk factors, causes, signs & symptoms, diagnosis, complications, treatment, prevention, prognosis, and additional useful information HERE.
What are some Useful Resources for Additional Information?
The Arc
1825 K Street, NW, Suite 1200, Washington, DC 20006
Phone: (202) 534-3700
Toll-Free: 1 (800) 433-5255
Fax: (202) 534-3731
Email: info@thearc.org
Website: http://www.thearc.org
National Down Syndrome Society
666 Broadway, 8th Floor, New York, New York, 10012
Phone: 1 (800) 221-4602
Email: info@ndss.org
Website: http://www.ndss.org
Acknowledgement: We sincerely thank National Down Syndrome Society  for their valuable input and feedback, which has enriched the contents of this article.
National Down Syndrome Congress
30 Mansell Court, Suite 108, Roswell, GA 30076
Phone: (770) 604-9500
Toll-Free: (800) 232-6372
Fax: (770) 604-9898
Email: info@ndsccenter.org
Website: http://ndsccenter.org
Down Syndrome International
Langdon Down Centre
2A Langdon Park, Teddington, Middlesex, TW11 9PS, United Kingdom
Phone: +44 (0)20 8133 4891 (Lines open 6am-2pm UK time)
Email: contact@ds-int.org
Website: http://www.ds-int.org
References and Information Sources used for the Article:
http://www.cdc.gov/ncbddd/birthdefects/DownSyndrome.html (accessed on 09/13/2017)
https://www.clinicalkey.com/topics/pediatrics/down-syndrome.html (accessed on 09/13/2017)
Goljan, E. (2010). Rapid Review Pathology. Third edition. Philadelphia: Mosby, Inc., an affiliate of Elsevier Inc.
Helpful Peer-Reviewed Medical Articles:
Mégarbané, A., Ravel, A., Mircher, C., Sturtz, F., Grattau, Y., Rethoré, M. O., ... & Mobley, W. C. (2009). The 50th anniversary of the discovery of trisomy 21: the past, present, and future of research and treatment of Down syndrome. Genetics in Medicine, 11(9), 611-616.
Antonarakis, S. E., Lyle, R., Dermitzakis, E. T., Reymond, A., & Deutsch, S. (2004). Chromosome 21 and down syndrome: from genomics to pathophysiology. Nature reviews. Genetics, 5(10), 725.
Antonarakis, S. E., & Down Syndrome Collaborative Group*. (1991). Parental origin of the extra chromosome in trisomy 21 as indicated by analysis of DNA polymorphisms. New England Journal of Medicine, 324(13), 872-876.
Snijders, R. J. M., Noble, P., Sebire, N., Souka, A., & Nicolaides, K. H. (1998). UK multicentre project on assessment of risk of trisomy 21 by maternal age and fetal nuchal-translucency thickness at 10–14 weeks of gestation. The Lancet, 352(9125), 343-346.
Korenberg, J. R., Chen, X. N., Schipper, R., Sun, Z., Gonsky, R., Gerwehr, S., ... & Disteche, C. (1994). Down syndrome phenotypes: the consequences of chromosomal imbalance. Proceedings of the National Academy of Sciences, 91(11), 4997-5001.