Hemorrhagic Familial Nephritis
Last updated March 5, 2018
Approved by: Krish Tangella MD, MBA, FCAP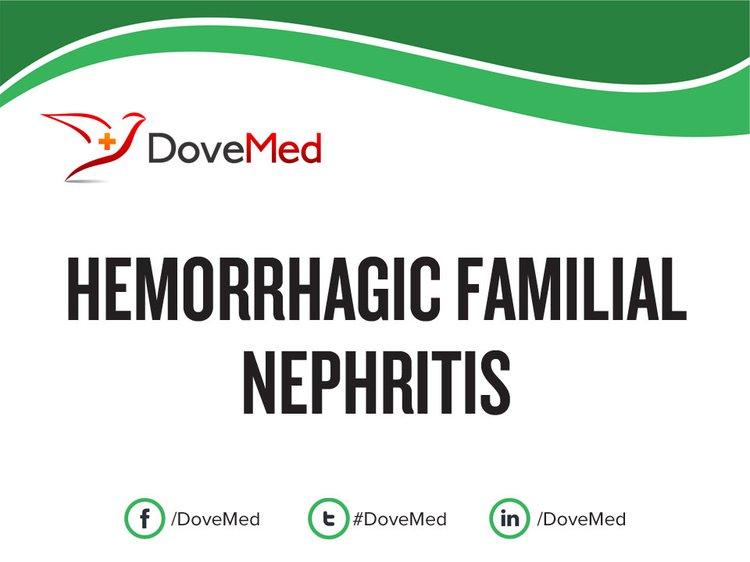 Alport Syndrome is typically observed more in males than females. While the disorder is inherited, symptoms do not arise until later in one's life.
---
The topic Hemorrhagic Familial Nephritis you are seeking is a synonym, or alternative name, or is closely related to the medical condition Alport Syndrome.
Quick Summary:
Alport Syndrome is a genetic disorder that is characterized by damage to the blood vessels in the kidneys, resulting in nephritis (kidney inflammation) and progressive kidney failure
As the disorder progresses, kidney disease, hearing loss, and vision-related abnormalities are likely to occur. Complications of Alport Syndrome are end-stage kidney failure, blindness, and vision loss
Mutations in the genes coding for collagen production are responsible for the symptoms associated with Alport Syndrome. Collagen is important for forming blood vessels in the kidneys; these vessels (glomeruli) remove water and waste from blood and create urine. When mutations are present, collagen is not produced appropriately and the blood vessels cannot function properly
The diagnosis of Alport Syndrome may include a urine test, serum levels of urea and creatinine, and a renal biopsy
There is no cure of Alport syndrome; the treatment is aimed at managing the symptoms. The condition cannot also be effectively prevented
Males are more commonly affected by Alport Syndrome than females; also, females have a milder condition than males. Women with Alport Syndrome have better prognosis than men
Please find comprehensive information on Alport Syndrome regarding definition, distribution, risk factors, causes, signs & symptoms, diagnosis, complications, treatment, prevention, prognosis, and additional useful information HERE.
What are some Useful Resources for Additional Information?
Genetic and Rare Diseases (GARD) Information Center  
PO Box 8126 Gaithersburg, MD 20898-8126    
Toll-Free: (888) 205-2311
TTY: (888) 205-3223
International Telephone Access Number: (301) 251-4925    
Fax: (301) 251-4911        
Website: http://rarediseases.info.nih.gov 

Alport Syndrome Foundation (ASF)
1608 East Briarwood Terrace Phoenix, AZ 85048–9414
Phone: (480) 460–0621
Fax: (480) 460–0621
Email: info@alportsyndrome.org
Website: http://www.alportsyndrome.org
References and Information Sources used for the Article:
http://www.ncbi.nlm.nih.gov/pubmedhealth/PMH0001533/ (accessed on 05/29/2017)

http://ghr.nlm.nih.gov/condition/alport-syndrome (accessed on 05/29/2017)

http://www.kidney.org/atoz/content/Alport.cfm (accessed on 05/29/2017)

http://www.umm.edu/ency/article/000504.htm (accessed on 05/29/2017)
Helpful Peer-Reviewed Medical Articles:
Deltas, C., Pierides, A., & Voskarides, K. (2013). Molecular genetics of familial hematuric diseases. Nephrology Dialysis Transplantation, 28(12), 2946-2960.

Rheault, M. N. (2012). Women and Alport syndrome. Pediatric Nephrology, 27(1), 41-46.

Roy, F. H. (2013). Ocular syndromes and systemic diseases. JP Medical Ltd.

Bastola, P., Joshi, S. N., Chaudhary, M., & Shah, D. N. (2010). Alport's syndrome. Kathmandu University Medical Journal, 8(2), 238-240.

Mohan, S., Gupta, P., Sahai, K., & Sachan, S. K. (2014, July). Phacoemulsification in a Rare Case of Alport's Syndrome. In Seminars in ophthalmology (Vol. 29, No. 4, pp. 196-198). Taylor & Francis.
Reviewed and Approved by a member of the DoveMed Editorial Board
First uploaded: June 5, 2017
Last updated: March 5, 2018