Aquarium Granuloma
Last updated June 13, 2017
Approved by: Krish Tangella MD, MBA, FCAP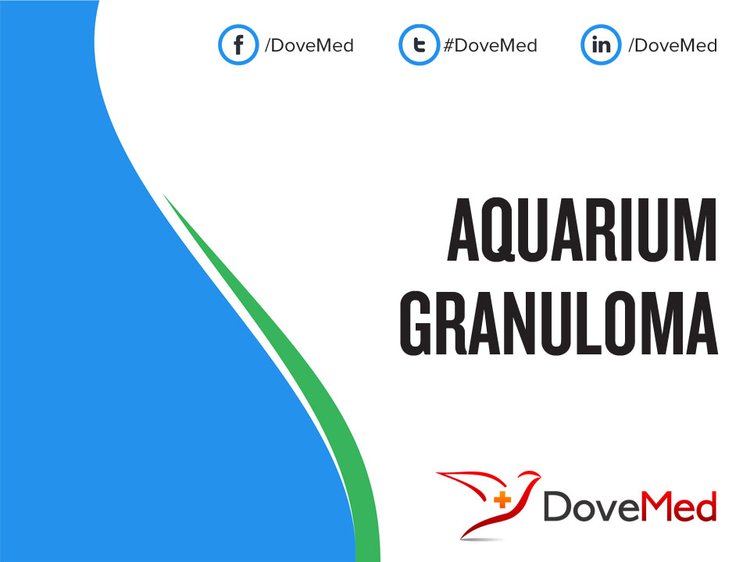 Swimming Pool Granuloma is a rare, chronic skin infection caused by the bacterium Mycobacterium marinum.
---
The topic Aquarium Granuloma you are seeking is a synonym, or alternative name, or is closely related to the medical condition Swimming Pool Granuloma.
Quick Summary:
Swimming Pool Granuloma is a rare, chronic skin infection caused by the bacterium Mycobacterium marinum

The condition develops when water containing this bacterium enters the body through a cut or an injury in the skin. It is characterized by the appearance of small, reddish, raised areas on the skin

The elbows, fingers, and back of the hands are the commonly affected areas. The symptoms start appearing after 2-3 weeks of exposure to the bacteria

Chronic exposure to swimming pools, salt water aquariums, and contact with marine animals (ocean or river) tend to increase the risk of occurrence of this infection

Swimming Pool Granuloma can be cured through the administration of antimycobacterial therapy. The prognosis is excellent with appropriate treatment
Please find comprehensive information on Swimming Pool Granuloma regarding definition, distribution, risk factors, causes, signs & symptoms, diagnosis, complications, treatment, prevention, prognosis, and additional useful information HERE.
What are some Useful Resources for Additional Information?
Centers for Disease Control and Prevention (CDC)
1600 Clifton Rd. Atlanta, GA 30333, USA
Phone: (404) 639-3534
Toll-Free: 800-CDC-INFO (800-232-4636)
TTY: (888) 232-6348
Email: cdcinfo@cdc.gov
Website: http://www.cdc.gov

References and Information Sources used for the Article:
http://www.nlm.nih.gov/medlineplus/ency/article/001357.htm (accessed on 6/14/2017)
http://www.ncbi.nlm.nih.gov/pubmedhealth/PMH0002333/ (accessed on 6/14/2017)
Helpful Peer-Reviewed Medical Articles:
Van Dyke, J. J., & Lake, K. B. (1975). Chemotherapy for aquarium granuloma. JAMA, 233(13), 1380-1381.
Contorer, P., & Jones, R. N. (1979). Minocycline therapy of aquarium granuloma. Case reports and literature review. Cutis, 23(6), 864.
Kox, L. F., Jansen, H. M., Kuijper, S., & Kolk, A. H. (1997). Multiplex PCR assay for immediate identification of the infecting species in patients with mycobacterial disease. Journal of clinical microbiology, 35(6), 1492-1498.
Huminer, D., Pitlik, S. D., Block, C., Kaufman, L., Amit, S., & Rosenfeld, J. B. (1986). Aquarium-borne Mycobacterium marinum skin infection: report of a case and review of the literature. Archives of Dermatology, 122(6), 698-703.
Kirk, J., & Kaminski, G. W. (1976). Mycobacterium marinum infection. Australasian Journal of Dermatology, 17(3), 111-116.
Reviewed and Approved by a member of the DoveMed Editorial Board
First uploaded: June 13, 2017
Last updated: June 13, 2017