Which Foods Contain The Most Vitamin K?
Last updated Feb. 18, 2017
Approved by: Maulik P. Purohit MD, MPH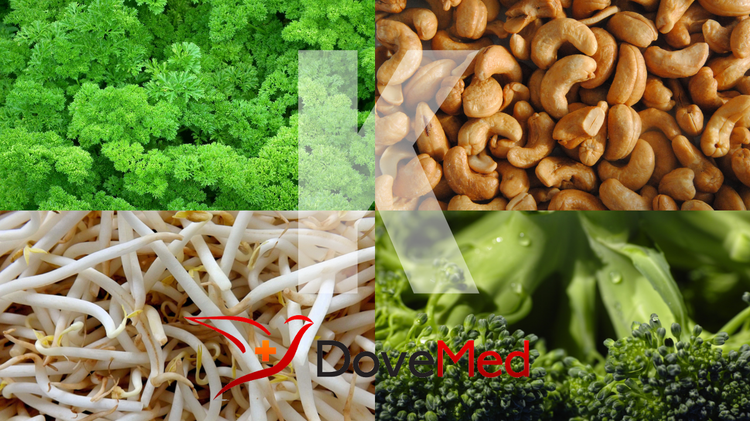 Vitamin K, commonly known as the clotting vitamin, is an essential nutrient that the human body depends on.
---
Vitamin K, commonly known as the clotting vitamin, is an essential nutrient that the human body depends on. By producing essential proteins, vitamin K is responsible for the functioning of several proteins that encompass the regulation of coagulation (or blood clotting). There are several foods rich in vitamin K, rendering it relatively easy to consume and to avoid deficiency. 
A report, which was published in 2012 in Food and Nutrition Research, outlines that vitamin K is formed in plants like green leafy vegetables. Located in the chloroplasts, vitamin K produced in these green vegetables account for a total of 90% of the vitamin K consumed in the western diet. 
There is a wide range of foods that are sufficient natural sources of vitamin K. The United States Department of Agriculture Nutrient Database has classified the content of vitamin K in food sources. The foods highest in vitamin K include the following: 
Green leafy vegetables:
Cooked kale has the highest natural vitamin K content. It contains 1062 micrograms (mcg)/cup (chopped). Raw kale contains 112.8 mcg/ 1 cup
Turnip greens have 138 mcg/cup raw
Watercress contains 85 mcg/cup raw
Green scallions contain 207 mcg/cup raw
Spinach has 145 mcg/cup raw
Swiss chard contains 299 mcg/cup raw
Cole slaw contains 85 mcg/serving
Collard greens have 157 mcg/cup raw
Parsley has 62 mcg/tablespoon chopped
Mustard greens have 144 mcg/cup raw
Romaine has 48 mcg/cup chopped raw
Green leaf lettuce contains 46 mcg/cup chopped raw
Other vegetables:
Apart from the above, other vitamin k foods include:
Mayonnaise has 22.5 mcg/tablespoon
Certain oils, such as canola, salad, and soybean, contain between 10-25 mcg/tablespoon
Pine nuts dried contain 73 mcg/cup
Cashew nuts have 47.5 mcg/cup
Raw soybeans contain 87 mcg/cup
Canned tuna fish drained contains 64 mcg/cup
Cooked spinach and egg noodles have 162 mcg/cup
It is important to note that if you are trying to incorporate vitamin K into your diet, freezing these foods may destroy the vitamin K content, but usually heating has no effect on them.
The Food and Nutrition Board at the Institute of Medicine outlined the recommendations for vitamin K intake in 2001. The recommendations include: 
If you are an adult over age 19, you should be consuming about 90 mcg/day (micrograms/day)
Males and females ages 14-18 should maintain 75 mcg/day
Children ages 9 to 13 should aim for 60 mcg/day
Young children ages 4-8 need about 55 mcg/day
Small children ages 1-3 years need about 30 mcg/day
Consult a physician about the necessary vitamin K intake for infants 1 year old and younger.
Individuals taking prescription blood thinners, such as anticoagulants or anti-platelets, may need to limit foods containing vitamin K, as it may affect the efficacy of these drugs. Talk to your healthcare provider about the amount of vitamin K that is right for you.
As you can see, by incorporating a healthy salad with kale or spinach leaves into your diet, it is simple to maintain adequate levels of vitamin K that your body needs. Your ability to form blood clots is enabled through vitamin K, and in fact, your life may depend on it! It is important to talk to a health expert about your currents needs for vitamin K due to deficiencies, medications, and dietary restrictions (if any).
References:
Vitamin K [Internet]. University of Maryland Medical Center [updated 2013 May 7; cited 2015 Jan 13]. Available from: http://umm.edu/health/medical/altmed/supplement/vitamin-k
Vitamin K Content of Common Foods [Internet]. University of North Carolina Medical School [cited 2015 Jan 13]. Available from: http://www.med.unc.edu/gi/im/staff/clinic/nutrition-files/vitamin-k-content-of-common-foods
Vitamin K [Internet]. National Institutes of Health [cited 2014 Jan 13]. Available from: http://www.nlm.nih.gov/medlineplus/ency/article/002407.htm
National Nutrient Database for Standard Reference Release 27 [Internet]. United States Department of Agriculture [cited 2015 Jan 13]. Available from: http://ndb.nal.usda.gov/ndb/nutrients/index
Institute of Medicine, Food and Nutrition Board. Dietary Reference Intakes for Vitamin A, Vitamin K, Arsenic, Boron, Chromium, Copper, Iodine, Iron, Manganese, Molybdenum, Nickel, Silicon, Vanadium, and Zinc. Washington, DC: National Academy Press; 2001.
Vermeer C. Vitamin K: the effect on health beyond coagulation- an overview. Food Nutr Res. 2012;56: 5329.
Helpful Peer-Reviewed Medical Articles:
Vermeer, C. (2012). Vitamin K: the effect on health beyond coagulation-an overview. Food & nutrition research, 56.
Fusaro, M., Crepaldi, G., Maggi, S., Galli, F., D'Angelo, A., Calò, L., ... & Gallieni, M. (2011). Vitamin K, bone fractures, and vascular calcifications in chronic kidney disease: an important but poorly studied relationship. Journal of endocrinological investigation, 34(4), 317-323.
Holmes, M. V., Hunt, B. J., & Shearer, M. J. (2012). The role of dietary vitamin K in the management of oral vitamin K antagonists. Blood reviews, 26(1), 1-14.
Juanola-Falgarona, M., Salas-Salvadó, J., Martínez-González, M. Á., Corella, D., Estruch, R., Ros, E., ... & Lapetra, J. (2014). Dietary intake of vitamin K is inversely associated with mortality risk. The Journal of nutrition, 144(5), 743-750.
Brandenburg, V. M., Schurgers, L. J., Kaesler, N., Püsche, K., van Gorp, R. H., Leftheriotis, G., ... & Krüger, T. (2015). Prevention of vasculopathy by vitamin K supplementation: can we turn fiction into fact?. Atherosclerosis, 240(1), 10-16.
Gallieni, M., & Fusaro, M. (2014). Vitamin K and cardiovascular calcification in CKD: is patient supplementation on the horizon&quest. Kidney international, 86(2), 232-234.
Reviewed and Approved by a member of the DoveMed Editorial Board
First uploaded: Feb. 18, 2017
Last updated: Feb. 18, 2017