Which Foods Contain The Most Selenium?
Last updated May 2, 2018
Approved by: Maulik P. Purohit MD, MPH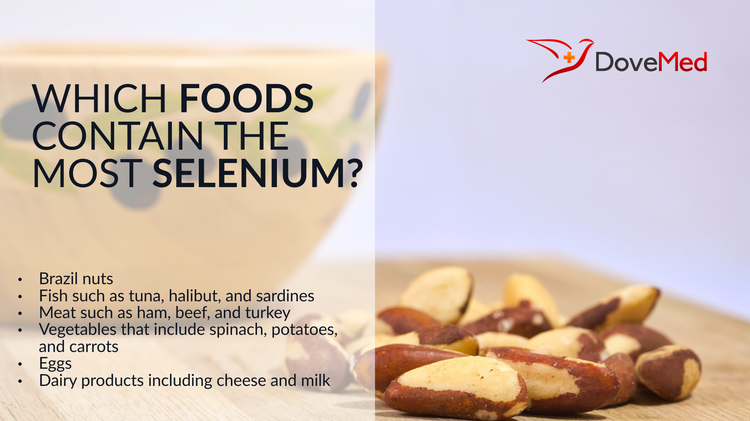 Selenium in the body binds to proteins and form selenoproteins, which are vital to the body and perform a diverse set of functions.
---
The human body requires many minerals, among which selenium is an important and indispensable one. However, it is required in very little quantities, and hence, it is known as a trace element or a micronutrient. We receive selenium mostly from the food that we consume and in some cases, through dietary supplements. Normally, a regular diet that consists of whole grains, seafood, meat, vegetables, fruits, and nuts may make-up for the body's requirement of selenium.
Selenium in the body binds to proteins and form selenoproteins, which are vital to the body and perform a diverse set of functions. These include reproduction, DNA synthesis, and providing antioxidant protection and anti-inflammatory properties through enzymes that contribute to the body's detoxifying systems. In addition, selenium-enzymes contribute to normal thyroid gland function by serving as catalysts for the transformation of hormone T4 to T3.
Selenium also plays a key role in the treatment of major diseases and disorders such as stroke, atherosclerosis, bone-related disorders like rheumatoid arthritis and osteoarthritis, eye disorders like cataract and macular degeneration, infertility and even in the prevention of miscarriages. It has been researched that selenium may contribute in the fight against cancer, chiefly prostate, lung, and skin cancer; to fight infections, such as bird flu and HIV/AIDS; and prevent cognitive decline. However, many studies are still being conducted to firmly assess the effectiveness of selenium in the treatment of various conditions.
According to the US National Academy of Sciences, Food and Nutrition Board, the recommended dietary allowance (RDA) of selenium for adolescents and adults (both males and females) is between 40-55 micrograms/day. Different age groups have different selenium requirement quantities. The RDA during pregnancy is 60 micrograms/day and higher at 70 micrograms/day for lactating mothers.
The following is a list of foods high in selenium: 
Brazil nuts: These contain a very high concentration of selenium, and regular consumption of brazil nuts in not advised (per National Institutes of Health)
Fish such as tuna, halibut, and sardines
Meat such as ham, beef, and turkey
Organ meat, which refers to the internal organs of a slaughtered animal such as a goat, lamb, sheep, pig, etc. The internal organs may include the liver, kidneys, heart, intestines, tongue, and even the head. Organ meat is also known as offal.
Vegetables that include spinach, potatoes, and carrots
Dairy products including cheese and milk
With selenium, optimum body levels have to be maintained, as any excess or deficient levels may lead to adverse health problems. Selenium toxicity may occur due to excess consumption of foods highest in selenium and it may cause nausea, skin lesions, garlic breath odor, fatigue, irritability, hair loss, etc. Acute toxicity may cause serious complications and can be fatal. Selenium deficiency may occur on account of selenium-poor soils in individuals who undergo long-term kidney dialysis or in patients suffering from HIV. However, the use of selenium supplements should be under prescription only. It is always recommended to take the advice of a suitable healthcare professional before bringing any alteration to your regular food habits and diet.
References and Information Sources used for the Article:
http://ods.od.nih.gov/factsheets/Selenium-HealthProfessional/#h4 (accessed on 11/24/2014)

http://www.nlm.nih.gov/medlineplus/druginfo/natural/1003.html (accessed on 11/24/2014)

http://www.whfoods.com/genpage.php?dbid=95&tname=nutrient (accessed on 11/24/2014)

http://www.thelancet.com/journals/lancet/article/PIIS0140-6736%2811%2961452-9/abstract (accessed on 11/24/2014)

http://www.ncbi.nlm.nih.gov/pubmed/10963212 (accessed on 11/24/2014)

Pennington JA, Schoen SA, Salmon GD, Young B, Johnson RD, Marts RW. 1995. Composition of core foods of the U.S. food supply, 1982–1991. III. Copper, manganese, selenium, and iodine. J Food Comp Anal 8:171–217.

Sunde RA. Selenium. In: Bowman B, Russell R, eds. Present Knowledge in Nutrition. 9th ed. Washington, DC: International Life Sciences Institute; 2006:480-97.
Helpful Peer-Reviewed Medical Articles:
Dumont, E., Vanhaecke, F., & Cornelis, R. (2006). Selenium speciation from food source to metabolites: a critical review. Analytical and bioanalytical chemistry, 385(7), 1304-1323.

Combs, G. F. (2001). Selenium in global food systems. British Journal of Nutrition, 85(05), 517-547.

Navarro-Alarcon, M., & Cabrera-Vique, C. (2008). Selenium in food and the human body: a review. Science of the total environment, 400(1), 115-141.

Schrauzer, G. N. (2001). Nutritional selenium supplements: product types, quality, and safety. Journal of the American College of Nutrition, 20(1), 1-4.

Finley, J. W. (2006). Bioavailability of selenium from foods. Nutrition reviews,64(3), 146-151.

Burk, R. F. (2013). Selenium in man. Trace elements in human health and disease, 2, 105.

Rayman, M. P. (2008). Food-chain selenium and human health: emphasis on intake. British journal of nutrition, 100(02), 254-268.
Reviewed and Approved by a member of the DoveMed Editorial Board
First uploaded: May 2, 2018
Last updated: May 2, 2018