What Type of Sunscreen Should I Purchase?
Last updated Oct. 9, 2016
Approved by: Maulik P. Purohit MD, MPH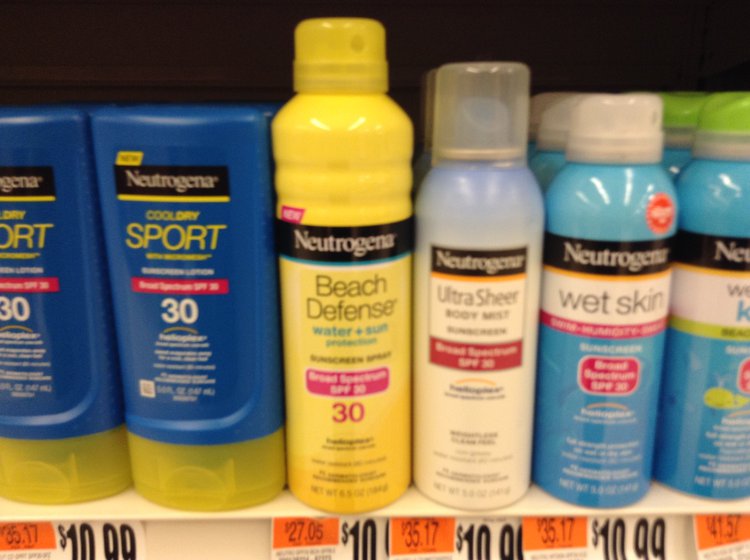 With the consistent use of sun protection, it is simple to limit UV exposure and decrease the risk of developing skin cancer.
---
According to the American Cancer Society, there has been a sharp upsurge in the incidence of skin cancer, as one in every five Americans will be diagnosed at some point in their lives. In about 90% of the cases, the risk of getting skin cancer is directly correlated with the intensity and amount of ultraviolet light exposure from the sun's rays. With the consistent use of sun protection, it is simple to limit UV exposure and decrease the risk of developing skin cancer. Sufficient sun protection is a fundamental portion of the equation, but finding the right type for each individual can be a formidable task.
Guidelines:
First and foremost, you should carefully examine the ingredients mentioned on the label. Various chemicals are used to protect your skin in distinct ways, and not all of these ingredients may be suitable for you. According to the Food and Drug Administration (FDA), 17 sunscreen ingredients have been approved for use in the United States. Certain chemicals, like PABA (para-aminobenzoic acid) or cinnamates, defend the skin by absorbing UV rays and translating the radiation into heat energy. Physical sunscreens, like zinc oxide or titanium dioxide, work by refracting and scattering the UV rays before they are able to penetrate the skin. When used properly, both of these forms have been shown to be safe and effective. However, these chemicals may affect certain skin conditions. It is imperative to know which type is best for your unique skin.
You may be overwhelmed at sunscreens displaying various SPF numbers, known as sun protection factor. These numbers are indicative of the type of sun exposure you will have. The Skin Cancer Foundation has outlined recommendations for SPF usage:
Make sure it says "Broad Spectrum Protection": When you see these words on the bottle, this means that it effectively protects your skin against substantial portions of both ultraviolet A (UVA) and ultraviolet B (UVB) rays. A majority of the sunscreens advertised as "broad spectrum protection" contain multiple active ingredients.
SPF 15: It should be primarily used for incidental sun exposure, such as being outside for only a few minutes at a time. Having a sun protection factor of 15 means that it will filter approximately 93% of UV radiation.
SPF 30 or higher: This should be used for extended or intense exposure to the sun. The sunscreen should contain broad-spectrum sunscreen and be water and sweat resistant so it remains on your skin. An SPF of 30 filters about 97% of UV radiation.
SPF 50 or higher: About 98% of UV radiation is filtered out when using SPF 50 or higher. 
Children: A 2006 review completed at the University of Minnesota in Minneapolis suggested that certain chemicals, such as PABA or oxybenzone, have been associated with skin reactions and irritation in children with sensitive skin. Physical sunscreens, such as zinc oxide and titanium dioxide, tend to be well tolerated for those with sensitive skin. It is a common ingredient found in sunscreen intended for children and baby sunscreen.
Allergy, rosacea, or acne: According to a 2012 review completed in Coimbatore, India, individuals with any of these skin conditions should avoid sunscreen products with preservatives, fragrances, PABA, and oxybenzone, as these products are more likely to cause skin reactions. Acne patients should try gel formulas, as they contain alcohol and have a drying effect on the skin, making it less likely to aggravate acne flare-ups. Creams and greasy sunscreens should be avoided. Those who are allergy prone or have rosacea should avoid sunscreen formulated with alcohol and look for organic sunscreens. If you have any of these conditions, consider ingredients such as salicylates, ecamsule, or physical sunscreens.
Melasma, skin cancer history, or very fair skin: Patients with any of these factors should use a sunscreen daily with at least SPF 30 protection. It is important to apply it every two hours or immediately after excessive sweating or swimming. 
The next time you are scanning the skincare aisle for effective sunscreen, make sure you choose a sunscreen that will best fit the needs of your skin. Examine the ingredient list, consider the length of sun exposure you will have to determine the appropriate SPF protection you will need, and make sure the label includes the words "waterproof", "water-resistant" or "broad spectrum protection." Ensuring your sunscreen has these qualities will provide you with the optimum protection your skin needs from the harmful ultraviolet rays of the sun. When you have all this information, you can be confident that the product you choose is the best sunscreen for your skin.
References:
Saini R, Szemplinski A. How to Choose the Right Sunscreen for Your Skin Type [Internet]. Skin Cancer Foundation [cited 2015 Jan 20]. Available from: http://www.skincancer.org/prevention/sun-protection/sunscreen/choosing
Cancer Facts and Figures 2013 [Internet]. American Cancer Society; 2013 [cited 2015 Jan 20]. Available from: http://www.cancer.org/acs/groups/content/@epidemiologysurveilance/documents/document/acspc-036845.pdf
Scheuer E, Warshaw E. Sunscreen Allergy: A Review of Epidemiology, Clinical Characterisitics, and Responsible Allergens. Dermatitis. 2006;17(1):3-11.
Rai R, Shanmuga SC, Srinivas CR. Update on Photoprotection. Indian J Dermatol. 2012;57(5):335-342.
Helpful Peer-Reviewed Medical Articles:
Bech-Thomsen, N., & Wulf, H. C. (1991). Sunbathers' application of sunscreen is probably inadequate to obtain the sun protection factor assigned to the preparation. Photodermatology, photoimmunology & photomedicine, 9(6), 242-244.
Food and Drug Administration, HHS. (2011). Labeling and effectiveness testing; sunscreen drug products for over-the-counter human use. Final rule.Federal register, 76(117), 35620.
Cross, S. E., Innes, B., Roberts, M. S., Tsuzuki, T., Robertson, T. A., & McCormick, P. (2007). Human skin penetration of sunscreen nanoparticles: in-vitro assessment of a novel micronized zinc oxide formulation. Skin pharmacology and physiology, 20(3), 148-154.
Dutra, E. A., Oliveira, D. A. G. D. C., Kedor-Hackmann, E. R. M., & Santoro, M. I. R. M. (2004). Determination of sun protection factor (SPF) of sunscreens by ultraviolet spectrophotometry. Revista Brasileira de Ciências Farmacêuticas, 40(3), 381-385.
Couteau, C., Faure, A., Fortin, J., Paparis, E., & Coiffard, L. J. (2007). Study of the photostability of 18 sunscreens in creams by measuring the SPF in vitro. Journal of pharmaceutical and biomedical analysis, 44(1), 270-273.
Wolf, R., Tüzün, B., & Tüzün, Y. (2001). Sunscreens. Dermatologic Therapy,14(3), 208-214.
Reviewed and Approved by a member of the DoveMed Editorial Board
First uploaded: Oct. 9, 2016
Last updated: Oct. 9, 2016