What Is Body Mass Index (BMI) And How Is It Useful?
Last updated Feb. 13, 2017
Approved by: Maulik P. Purohit MD, MPH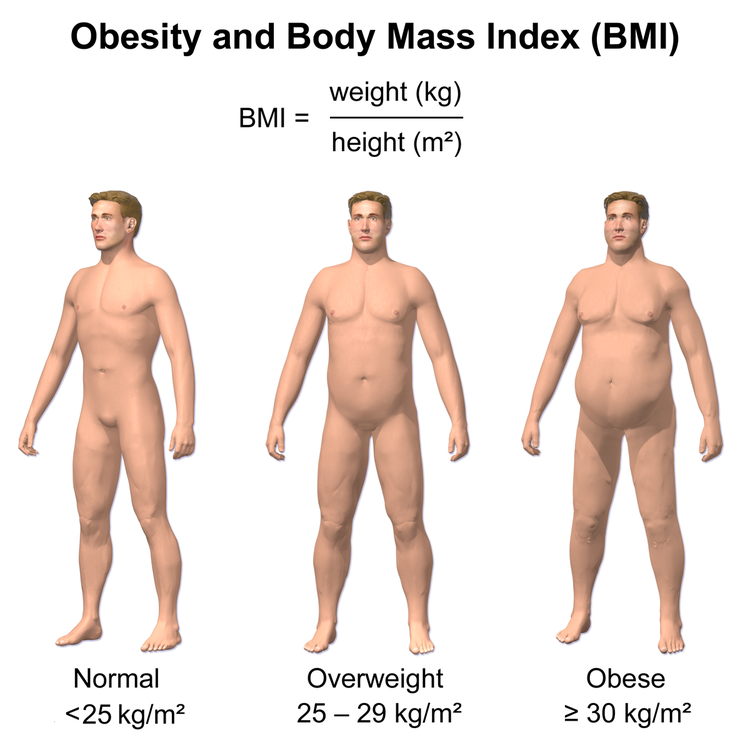 Body Mass Index, known as BMI, is a number calculated from a person's height and weight. It is known to be a reliable indicator of body fatness in most individuals.
---
Body Mass Index, known as BMI, is a number calculated from a person's height and weight. It is known to be a reliable indicator of body fatness in most individuals. It is an inexpensive and simple method to screen for weight classes that could possibly lead to health complications.
While measured with units that include kilograms and meters, body mass index is calculated by dividing the individual's weight by the square of their height. The formula can also be used with pounds and inches by first dividing the weight by the square of the height, and then multiplying this value by the conversion factor 703. These calculations are the same for both adults and children. To interpret these results, adults aged 20 years and older use standard weight status categories that are the same for all ages and for both sexes. For children and teens less than 20 years old, analyses of these results are both sex and age specific.
To better understand the ranking of these values, BMI users can view a corresponding table to determine their weight status. For adults, a typical healthy BMI would be between a measurement of 18.5 and 24.9. Underweight is defined to be below 18.5 and overweight is considered between 25.0 and 29.9. A measurement of 30.0 and above is indicative of obesity. 
This method has been proven useful for individuals looking to self-monitor their health status. By a simple calculation on paper or online calculators available on countless websites, you are able to instantly receive a result that can be analyzed to determine if medical attention and assistance is warranted for your BMI value. Being able to monitor personal body fatness composition has allowed for individuals to in essence "self-treat" if the results are not optimal, creating a newfound awareness for physical health and weight loss. 
Although BMI is used for weight assessment, it is not an analytical tool. If an individual is found to have a higher than normal BMI, further health evaluations are necessary to conclude if the excess weight serves as a health risk. These assessments may include evaluations of diet and exercise, family history, skinfold thickness dimensions, and other suitable health screenings. Highly trained athletes may calculate a high BMI due to their increased muscularity rather than excess body fat.
Despite that body fat is not measured directly using this method, the Center for Disease Control and Prevention (CDC) states that research has shown that BMI relates to straight measures of body fat including underwater weighing techniques and dual energy X-ray absorptiometry (DXA).
The CDC released a publication in 2002 that assessed the validity of two height and weight indexes for body fatness. Body Mass Index was compared to the Rohrer index. The results indicated that for children aged 2 to 19 years old, BMI was a better indicator for underweight and overweight individuals than the Rohrer Index. An earlier study at Columbia University in New York analyzed the practicality of BMI for assessment of body fatness across sex, age, and race. The researchers found that BMI is age and sex dependent for indicating body fatness, but is ethnicity independent in black and white adults. Due to this, body mass index can be considered as a substitute for more direct measure methods.
Consider using an online BMI calendar as a quick tool to assess your current health standing. Talk to an expert if you have a high BMI to determine if you are at risk for health effects associated with higher body fatness. Although this index seems like a small, insignificant step in your health regimen, this self-monitoring process has the potential to have a large influence in the prevention of serious health consequences.
References:
About BMI for Adults [Internet]. Centers for Disease Control and Prevention [updated 2014 Jul 11; cited 2014 Jan 25]. Available from: http://www.cdc.gov/healthyweight/assessing/bmi/adult_bmi/index.html
Gallagher D, Visser M, Sepulveda D, Pierson RN, Harris T, Heymsfield SB. How useful is body mass index for comparison of body fatness across age, sex, and ethnic groups? Am J Epidemiol. 1996;143(3):228-39.
Mei Z, Grummer-Strawn LM, Pietrobelli A, Goulding A, Goran MI, Dietz WH. Validity of body mass index compared with other body-composition screening indexes for the assessment of body fatness in children and adolescents. American Journal of Clinical Nutrition. 2002;75(6):978-985.
Assessing Your Weight and Health [Internet]. National Heart, Lung, and Blood Institute [cited 2015 Jan 25]. Available from: http://www.nhlbi.nih.gov/health/educational/lose_wt/risk.htm#limitations
Helpful Peer-Reviewed Medical Articles:
Wolk, R., Berger, P., Lennon, R. J., Brilakis, E. S., & Somers, V. K. (2003). Body mass index. Circulation, 108(18), 2206-2211.
Garrouste-Orgeas, M., Troché, G., Azoulay, E., Caubel, A., de Lassence, A., Cheval, C., ... & Timsit, J. F. (2004). Body mass index. Intensive care medicine, 30(3), 437-443.
Ogden, C. L., Carroll, M. D., & Flegal, K. M. (2008). High body mass index for age among US children and adolescents, 2003-2006. Jama, 299(20), 2401-2405.
Janssen, I., Katzmarzyk, P. T., & Ross, R. (2002). Body mass index, waist circumference, and health risk: evidence in support of current National Institutes of Health guidelines. Archives of internal medicine, 162(18), 2074-2079.
Berrington de Gonzalez, A., Hartge, P., Cerhan, J. R., Flint, A. J., Hannan, L., MacInnis, R. J., ... & Beeson, W. L. (2010). Body-mass index and mortality among 1.46 million white adults. N Engl J Med, 2010(363), 2211-2219.
Reviewed and Approved by a member of the DoveMed Editorial Board
First uploaded: Feb. 13, 2017
Last updated: Feb. 13, 2017