What Are The Negative Health Consequences Of Being Obese?
Last updated July 12, 2016
Approved by: Maulik P. Purohit MD, MPH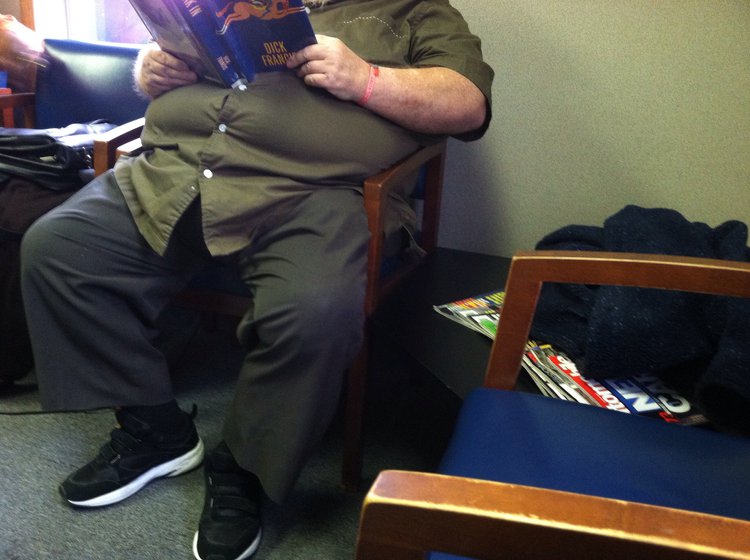 Obesity, morbid obesity, and being chronically overweight can have a negative impact on your health. Unfortunately, these conditions can cause long-term suffering for individuals and families.
---
Obesity is defined in Body Mass Index (BMI) term as any value over 30 and this translates into an individual being 20% or more than the normal weight. The BMI chart indicates the appropriate percentage of body fat an individual should possess. Obesity, morbid obesity, and being chronically overweight puts one at risk for various diseases and disorders. This includes hypertension, diabetes, cancer, arthritis, metabolic syndrome, respiratory disorders, apnea, and heart disease, to name a few. A 2011-12 report published in The Journal of American Medical Association (JAMA) on the prevalence of childhood and adult obesity in the US states that nearly 35% of adults (20 years and over) and 17% of children and teenagers (age group 2-19 years) were obese. 
The Centers for Disease Control and Prevention (CDC) informs that obesity is one of the leading causes of preventable death in America. Obese children are more likely to develop into overweight or obese adults and develop diabetes and heart disease early in their life. The National Heart, Lung, and Blood Institute (NHLBI) in cooperation with The National Institute of Diabetes and Digestive and Kidney Diseases (NIDDK) in their Obesity Education Initiative report inform that overweight and obese individuals are at risk for many diseases and health conditions. These complications and effects of obesity may cause the following health problems:
Heart and vascular system related: Coronary heart disease, high blood pressure (hypertension), and stroke
Cancers: Breast cancer, colorectal cancer, and endometrial cancer
Bone and joint related: Osteoarthritis, gout, and rheumatoid arthritis
Reproductive system related: Infertility, irregular, or abnormal periods
Metabolism related: Type 2 diabetes and dyslipidemia (abnormal amounts of fat in blood)
Non-alcoholic fatty liver disease and gallbladder disease
Sleep apnea and other respiratory illnesses
Studies indicate that many comorbid conditions can be present in obese individuals, which may require complex healthcare treatment and also increase the risk for mortality. Thus, obese individuals with type 2 diabetes are highly vulnerable to health risks such as kidney and eye disorders, cardiovascular diseases, and stroke.
The key risk factor for obesity is mostly attributable to one's lifestyle choices. This includes a lack of physical activity, poor food and dietary preferences, and even stress, which is termed as a contributory risk factor. Apart from being associated with a higher incidence for many health conditions, the number of obesity-related deaths from leading killers, such as cardiovascular disease, stroke, certain cancer types, and diabetes, nearly equal to (or may even surpass) that of deaths from tobacco smoke and tobacco abuse (per Gastroenterology and Hepatology journal report). Besides, the medical and healthcare costs arising out of obesity-related health conditions, along with the indirect costs of lost productivity and absenteeism, amount to nearly $150 billion annually (per Centers for Disease Control and Prevention, 2008).
References:
Ogden CL, Carroll MD, Kit BK, Flegal KM. Prevalence of Childhood and Adult Obesity in the United States, 2011-2012. JAMA. 2014;311(8):806-814. doi:10.1001/jama.2014.732.
Office of the Surgeon General (US). The Surgeon General's Vision for a Healthy and Fit Nation. Rockville (MD): Office of the Surgeon General (US); 2010. Background on Obesity. Available from: http://www.ncbi.nlm.nih.gov/books/NBK44656/
NIH, NHLBI Obesity Education Initiative. Clinical Guidelines on the Identification, Evaluation, and Treatment of Overweight and Obesity in Adults. Available online: http://www.nhlbi.nih.gov/guidelines/obesity/ob_gdlns.pdf
Hurt, R. T., Kulisek, C., Buchanan, L. A., & McClave, S. A. (2010). The Obesity Epidemic: Challenges, Health Initiatives, and Implications for Gastroenterologists. Gastroenterology & Hepatology, 6(12), 780–792.
http://www.cdc.gov/obesity/data/adult.html (accessed on 07/01/2015)
http://www.ncbi.nlm.nih.gov/pmc/articles/PMC3033553/ (accessed on 07/01/2015)
http://jama.jamanetwork.com/article.aspx?articleid=1832542 (accessed on 07/01/2015)
Helpful Peer-Reviewed Medical Articles:
Finkelstein, E. A., Ruhm, C. J., & Kosa, K. M. (2005). Economic causes and consequences of obesity. Annu. Rev. Public Health, 26, 239-257.
Reilly, J. J., Methven, E., McDowell, Z. C., Hacking, B., Alexander, D., Stewart, L., & Kelnar, C. J. (2003). Health consequences of obesity.Archives of disease in childhood, 88(9), 748-752.
Bray, G. A. (2004). Medical consequences of obesity. The Journal of Clinical Endocrinology & Metabolism, 89(6), 2583-2589.
Daniels, S. R. (2006). The consequences of childhood overweight and obesity. The future of children, 47-67.
Wyatt, S. B., Winters, K. P., & Dubbert, P. M. (2006). Overweight and obesity: prevalence, consequences, and causes of a growing public health problem. The American journal of the medical sciences, 331(4), 166-174.
Després, J. P. (2001). Health consequences of visceral obesity. Annals of medicine, 33(8), 534-541.
Reviewed and Approved by a member of the DoveMed Editorial Board
First uploaded: July 12, 2016
Last updated: July 12, 2016