What Are The Health Effects Of Bagels?
Last updated March 31, 2015
Approved by: Maulik P. Purohit MD, MPH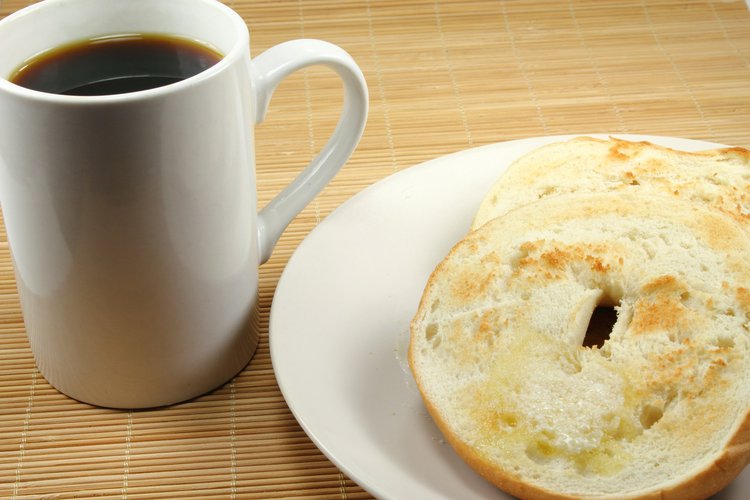 Bagels are an attractive morning breakfast food. Many low-fat eaters look to bagels thinking they are a healthy choice.
---
Bagels are an attractive morning breakfast food. Many low-fat eaters look to bagels thinking they are a healthy choice. Certain factors do make bagels better than others.  For example, bagels are healthier breakfast choices when they are whole-grain rather than refined products because of the better fiber and nutrient content in whole-grain flour. However, many flavored bagels have additional sugar, cheese, or other ingredients that might decrease the nutritional value. This is in addition to what is contained in a plain bagel.
One plain bagel (100 grams) contains 48 grams of carbohydrates and ten grams of protein with nearly no fiber or fat. The sugar content of bagels is equivalent to more than three slices of bread and provides 250 calories from carbohydrates. Because these carbohydrates can be broken down so easily, they account for more than 16 teaspoons of sugar (or one and a half cans of soda) in your blood. To put this into context, according to the American Heart Association, men should not exceed a maximum of nine teaspoons of added sugar per day, and women should not eat more than six teaspoons of added sugar per day.
Excess sugar consumption is associated with a myriad of diseases including obesity, type II diabetes, cardiovascular disease, certain cancers, tooth decay, and non-alcoholic fatty liver disease. According to the American Diabetes Association, the glycemic index for white bagels is rated as high with a score of 72, where pure glucose is 100. A high glycemic index indicates how fast a particular food will affect your blood sugar levels. A higher score means that when people eat it, they will experience a blood sugar spike followed by a crash. These spikes and crashes can be fatal to individuals who have diabetes.
Though bagels have almost no fiber or fat, enriched bagels can provide some vitamins and minerals. For example, one wheat bagel (100 grams) has 2.76 milligrams of iron or 15.3% of the daily value for this essential component. It also has 108 milligrams of folate, 25% of the daily value. In addition, wheat bagels have the B-vitamin complex including thiamin, niacin, and riboflavin.
Nevertheless, bagels also have a high sodium content, which can affect blood pressure and other diseases.  One bagel has 439 milligrams of sodium per wheat bagel. Again, to put this in context, the American Heart Association recommends approximately 1,500 milligrams of sodium per day.
In conclusion, a bagel can provide some nutrients, but at a very high cost of contributing to many other unhealthy factors.  Bagels are not the worst food, but certainly low on the scale of healthy foods.
Additional Resources:
Ackerman, Z., Oron-Herman, M., Grozovski, M., Rosenthal, T., Pappo, O., Link, G., & Sela, B. A. (2005). Fructose-Induced fatty liver disease hepatic effects of blood pressure and plasma triglyceride reduction. Hypertension, 45(5), 1012-1018.
Atkinson, F. S., Foster-Powell, K., & Brand-Miller, J. C. (2008). International tables of glycemic index and glycemic load values: 2008. Diabetes care,31(12), 2281-2283.
Basu, S., Yoffe, P., Hills, N., & Lustig, R. H. (2013). The relationship of sugar to population-level diabetes prevalence: an econometric analysis of repeated cross-sectional data. PLoS One, 8(2), e57873.
Fung, T. T., Malik, V., Rexrode, K. M., Manson, J. E., Willett, W. C., & Hu, F. B. (2009). Sweetened beverage consumption and risk of coronary heart disease in women. The American journal of clinical nutrition, 89(4), 1037-1042.
Johnson, R. K., Appel, L. J., Brands, M., Howard, B. V., Lefevre, M., Lustig, R. H., ... & Wylie-Rosett, J. (2009). Dietary sugars intake and cardiovascular health a scientific statement from the american heart association. Circulation,120(11), 1011-1020.
Larsson, S. C., Bergkvist, L., & Wolk, A. (2006). Consumption of sugar and sugar-sweetened foods and the risk of pancreatic cancer in a prospective study.The American journal of clinical nutrition, 84(5), 1171-1176.
Ludwig, D. S., Peterson, K. E., & Gortmaker, S. L. (2001). Relation between consumption of sugar-sweetened drinks and childhood obesity: a prospective, observational analysis. The Lancet, 357(9255), 505-508.
Wheat Bagel. (n.d.). Retrieved January 27, 2015, from http://ndb.nal.usda.gov/ndb/foods/show/5974?fg=&man=&lfacet=&format=&count=&max=25&offset=&sort=&qlookup=bagel
Reviewed and Approved by a member of the DoveMed Editorial Board
First uploaded: March 31, 2015
Last updated: March 31, 2015