What Are The Health Benefits Of Cranberry Juice?
Last updated Sept. 26, 2018
Approved by: Maulik P. Purohit MD, MPH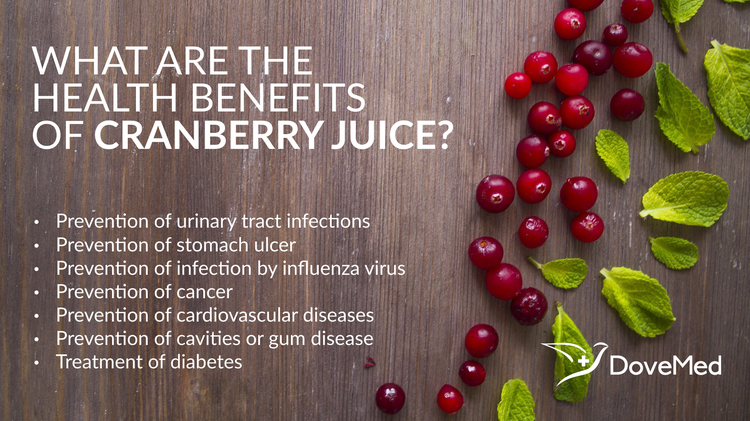 Cranberry is scientifically known as Vaccinium macrocarpon and is a native North American fruit that grows in the wild from the Carolinas to Canada. It is eaten in a variety of forms – fresh and dried fruit, juice, sauce, tablets, and even as capsules.
---
Cranberry is scientifically known as Vaccinium macrocarpon and is a native North American fruit that grows in the wild from the Carolinas to Canada. It is eaten in a variety of forms – fresh and dried fruit, juice, sauce, tablets, and even as capsules. Cranberry extracts are rich in flavonoids, especially myricetin and quercetin. These substances have biological properties that are beneficial for human health.
Native Americans used the ripe fruit to treat urinary bladder and kidney disorders. In the 17th century, cranberries were used to provide relief from blood disorders, liver problems, appetite loss, cancer, stomach ailments, vomiting, and scurvy. 
There are many health benefits of cranberry juice:
Prevention of urinary tract infections. According to a study by Howell et al (2005), cranberry juice contains proanthocyanidins that suppressed the adhesion of uro-pathogenic fimbriated E.coli to uroepithelial cells in the urinary tract. This means that cranberry can prevent bacteria from adhering to the walls of the urinary bladder, thus making it easier to wash them away with urine.
Prevention of stomach ulcer. Clinical studies conducted by Stothers in 2002 and Zhang et al in 2005 showed that regular intake of cranberry juice inhibited urinary tract infections in women and Helicobacter pylori infections in endemically affected populations. Thus, cranberry also prevents the adhesion of ulcer-causing bacteria to the stomach wall. The use of cranberry juice to prevent or treat ulcers has been proposed.
Prevention of infection by influenza virus. Studies conducted by Weiss et al in 2005 show that cranberry extracts have an inhibitory effect on influenza virus adhesion and infectivity.
Prevention of cancer. Studies conducted by Seeram and others in 2004, and Sun and Hai Liu in 2005, show that cranberry extracts suppress the proliferation of human colon, oral, breast, and prostate cancer cell lines.
Prevention of cardiovascular diseases. Cranberry extracts have potentially beneficial effects on cardiovascular diseases, according to studies conducted by Chu and Liu (2005), Reed (2002), and Ruel et al (2005 and 2006).
Prevention of cavities or gum disease. According to a study published in the journal Critical Reviews in Food Science and Nutrition in 2008, cranberry juice has been found to be useful in the prevention of dental caries and gum diseases. However, to be employed practically, the bitter taste of cranberry juice has to be overcome. Adding sweeteners may not be a good idea as it only compounds the issue by encouraging dental decay.
Treatment of diabetes. Cranberry juice is being investigated for its role in the treatment of diabetes too.
In order to be effective, 8-16 ounces of cranberry juice or 300-400 mg of cranberry extract should be taken. Generally, no side effects of drinking cranberry juice have been reported. However, it could interact with the drug warfarin (Coumadin) and cause internal bleeding. Cranberry may also increase the blood-thinning effect of warfarin. Hence, it should be consumed with care, if one is taking warfarin.
Cranberry juice may reduce the effectiveness of weakly alkaline drugs, such as antidepressants and painkillers, by allowing them to be excreted more quickly. There is also indirect evidence that regular intake of concentrated cranberry tablets may raise the risk of developing kidney stones.
Nevertheless, cranberry juice is loaded with health benefits. Try some today!
References and Information Sources used for the Article:
Bodet, C., Grenier, D., Chandad, F., Ofek, I., Steinberg, D., & Weiss, E. I. (2008). Potential oral health benefits of cranberry. Critical reviews in food science and nutrition, 48(7), 672-680.

Sobota AE. Inhibition of bacterial adherence by cranberry juice: potential use for the treatment of urinary tract infections. J Urol. 1984;131:1013-1016.

Schmidt DR, Sobota AE. An examination of the anti-adherence activity of cranberry juice on urinary and nonurinary bacterial isolates. Microbios. 1988;55:173-181.

http://umm.edu/health/medical/altmed/herb/cranberry (accessed on 2/19/2015)

http://www.med.nyu.edu/content?ChunkIID=21704 (accessed on 2/19/2015)
Helpful Peer-Reviewed Medical Articles:
Duthie, S. J., Jenkinson, A. M., Crozier, A., Mullen, W., Pirie, L., Kyle, J., ... & Duthie, G. G. (2006). The effects of cranberry juice consumption on antioxidant status and biomarkers relating to heart disease and cancer in healthy human volunteers. European journal of nutrition, 45(2), 113-122.

Burger, O., Weiss, E., Sharon, N., Tabak, M., Neeman, I., & Ofek, I. (2002). Inhibition of Helicobacter pylori adhesion to human gastric mucus by a high-molecular-weight constituent of cranberry juice. Critical reviews in food science and nutrition, 42(S3), 279-284.Zhang, L., Ma, J., Pan, K., Go, V. L. W., Chen, J., & You, W. C. (2005). Efficacy of cranberry juice on Helicobacter pylori infection: a double‐blind, randomized placebo‐controlled trial. Helicobacter, 10(2), 139-145.

Liu, Y., Black, M. A., Caron, L., & Camesano, T. A. (2006). Role of cranberry juice on molecular‐scale surface characteristics and adhesion behavior of Escherichia coli. Biotechnology and bioengineering, 93(2), 297-305.

McHarg, T., Rodgers, A., & Charlton, K. (2003). Influence of cranberry juice on the urinary risk factors for calcium oxalate kidney stone formation. BJU international, 92(7), 765-768.

Raz, R., Chazan, B., & Dan, M. (2004). Cranberry juice and urinary tract infection. Clinical infectious diseases, 38(10), 1413-1419.
Reviewed and Approved by a member of the DoveMed Editorial Board
First uploaded: Sept. 26, 2018
Last updated: Sept. 26, 2018