How Are Sleep And Mood Related?
Last updated April 23, 2016
Approved by: Krish Tangella MD, MBA, FCAP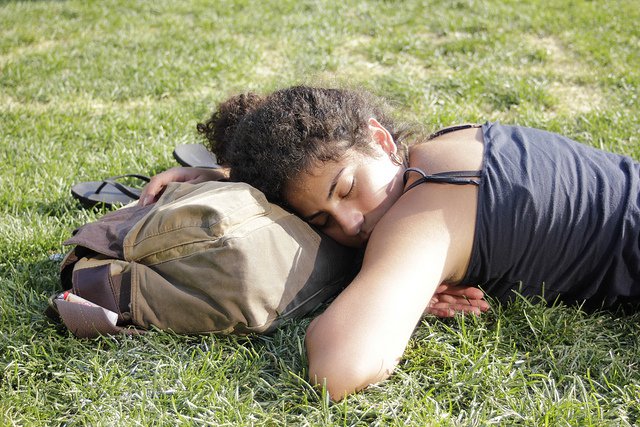 Sleep not only has an impact on mood, but mood can also have a significant impact on sleep.
---
It may not come to you as a surprise that sleep can have a substantial effect on your mood. Being sleep deprived after a restless night can cause you to feel cranky, irritable, and susceptible to stress. You may also know that when you obtain adequate sleep each night, you wake up in a better mood.
Sleep not only has an impact on mood, but mood can also have a significant impact on sleep. Stress can cause the body to be more alert and aroused, making it more difficult to fall asleep. Those with anxiety felt an increased agitation and arousal as well. These changes in mood can significantly impact your sleep behaviors.
Partial sleep deprivation has also been shown in research to impact mood. The University of Pennsylvania led a study in 1997 that showed that individuals who slept only 4.5 hours each night for a week felt more stressed, angry, upset and irritable than those who had proper sleep. Those who were sleep deprived returned to normal sleeping conditions after the week, then reporting a drastic enhancement in mood.
More recent research is showing a link between inadequate sleep and depression. A 1996 study at the Henry Ford Health Sciences Center in Detroit, Michigan showed that 15 to 20% of individuals that had been diagnosed with insomnia will also develop major depression.
If you are experiencing depression symptoms and sleep problems, there are several options for treatment. Examine your sleep habits to see if you can make minor changes on your own to improve the quality and quantity of sleep you get each night. Talk to your medical provider about your current sleep problems and mental health concerns. He or she will be able to come up with a treatment plan that will be most effective for you.
It is essential that you are aware of your symptoms and take the proper measures to fix them, in order to avoid complications in the future.
References:
Sleep and Mood [Internet]. The Division of Sleep Medicine at the Harvard Medical School [updated 2008 Dec 15, cited 2014 Dec 26]. Available from: http://healthysleep.med.harvard.edu/need-sleep/whats-in-it-for-you/mood
Dinges DF, Pack F, Williams K, Gillen KA, Powell JW, Ott GE, Aptowicz C, Pack AL. Cumulative Sleepiness, Mood Disturbance, and Psychomotor Vigilance Performance Decrements During A Week Of Sleep Restricted To 4-5 Hours Per Night. Sleep. 1997;20(4):267-77.
Breslau N, Roth T, Rosenthal L, Andreski P. Sleep Disturbance and Psychiatric Disorders: A Longitudinal Epidemiological Study of Young Adults. Biological Psychiatry. 1996;39(6):411-418. 
Barry Krakow, MD, medical director, Maimonides Sleep Arts and Sciences, Ltd., Albuquerque, N.M.; author, Sound Sleep, Sound Mind: 7 Keys to Sleeping Through the Night.
Allison T. Siebern, PhD, fellow, Insomnia and Behavioral Sleep Medicine Program, Stanford University School of Medicine, Sleep Medicine Center, Redwood City, Calif.
Neckelmann, D. et al., Chronic Insomnia as a Risk Factor for Developing Anxiety and Depression, Sleep. 2007; 30 (7): 873-880.
Dinges, D. et al., Cumulative Sleepiness, Mood Disturbance, and Psychomotor Vigilance Decrements During a Week of Sleep Restricted to 4 – 5 Hours Per Night, Sleep. 1997 Apr; 20 (4): 267–277.
Durmer JS, Dinges DF. Neurocognitive consequences of sleep deprivation. Semin Neurol. 2005;25:117-129.
Payne JL, Quiroz JA, Zarate CA Jr, Mani HK. Timing is everything: does the robust upregulation of noradrenergically regulated plasticity genes underlie the rapid antidepressant effects of sleep deprivation? Biol Psychiatry. 2002;52:921-926.
Cockayne, N. L., Christensen, H. M., Griffiths, K. M., Naismith, S. L., Hickie, I. B., Thorndike, F. P., ... & Glozier, N. S. (2015). The Sleep Or Mood Novel Adjunctive therapy (SOMNA) trial: a study protocol for a randomised controlled trial evaluating an internet-delivered cognitive behavioural therapy program for insomnia on outcomes of standard treatment for depression in men. BMC psychiatry, 15(1), 1.
Figueiro, M. G., & Rea, M. S. (2014). Office lighting and personal light exposures in two seasons: Impact on sleep and mood. Lighting Research and Technology, 1477153514564098.
Reviewed and Approved by a member of the DoveMed Editorial Board
First uploaded: April 23, 2016
Last updated: April 23, 2016