Health Benefits Of Granola
Last updated April 19, 2020
Approved by: Krish Tangella MD, MBA, FCAP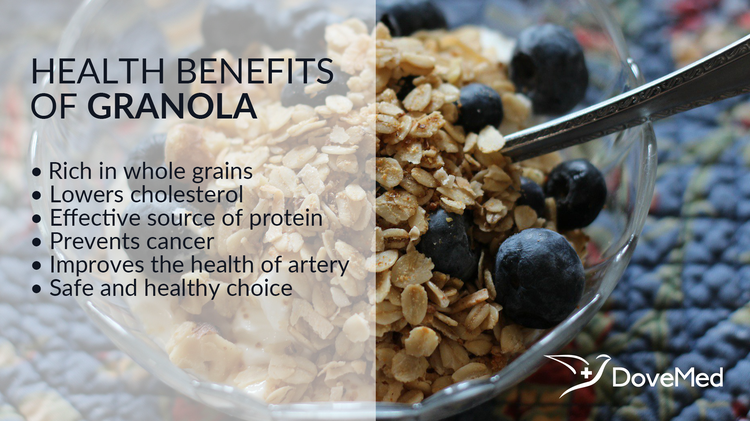 Granola is a breakfast and food snack consisting of nuts, honey, rolled oats, and sometimes puffed ice that is generally baked until crisp.
---
Granola is a breakfast and food snack consisting of nuts, honey, rolled oats, and sometimes puffed ice that is generally baked until crisp. Dry fruits, such as raisins and nuts are also added. Besides serving the purpose of breakfast and snacks, it is also consumed by athletic individuals like those who are hiking, camping, or backpacking, because it is lightweight, high in calories and can be easily stored. It is often available in a bar form. Granola is often eaten in combination with fruits (strawberries, blueberries, and/or bananas), honey, yogurt, milk and other types of cereals.
Rich in whole grains: Whole grain consists of the entire cereal grain seed, also known as kernel. Kernel is crushed during the milling process. If the finished product holds on to the essential qualities of kernel even after getting milled, it is considered as a whole grain. The essential components are fiber, vitamin B, few other minerals, carbohydrates, protein, antioxidants, and vitamin E. Granola consists of nuts, honey, oats and puffed rice, and has all the essential components that are necessary to be considered as whole grain. In addition to this, it is a delicious breakfast option and can be easily served to children, which is mentioned in "Whole grain resource for the national school lunch and school breakfast program: A guide to meeting the whole-grain rich criteria" issued by United States Department of Agriculture (USDA).
Lowers cholesterol: Oats is a primary component of granola. It has been found by researchers that consuming oats lowers the level of cholesterol, especially LDL "bad" cholesterol. In a study conducted by Davidson in 1991 it was found that due to the consumption of oats there was a significant reduction in overall LDL cholesterol. Thus granola intake can bring down one's cholesterol levels.
Effective source of protein: Granola bars have multiple health benefits, and being high in protein is one among them. As per the guidelines of USDA, consuming a granola bar that is organic in nature can provide an individual with 14 g of carbohydrates and 10 g of protein. 
Prevents cancer: Granola has been associated with reduction of risks associated with cancer. The American Institute for Cancer Research recommends granola as a healthy breakfast option and a good way to prevent cancer. Granola has oats which has been shown in researches as a cancer-preventing fiber. It helps in the prevention of colorectal cancer. It contains inositol a phytochemical that retards cell growth, and is an antioxidant as well.
Improves the health of artery: It reduces the chances of deposition of fatty material on inner walls of the artery leading to the prevention of atherosclerosis. In "dietary prevention of atherosclerosis: Go with whole grains" by Malik S Vasanti and Frank B Hu, it has been shown that whole grains reduces the chance of deposition of fatty material on arterial walls. In the research, granola was one of the foods that was used that showed potential reduction of deposits.
Safe and healthy choice: In addition to being stuffed with protein, sunflower seeds, nuts, oats, it also has healthy fats. It is high in fiber content, low in cholesterol and is a potential source of whole grains. All these essential nutrients and health components makes granola a safe and healthy choice.
Granola is a healthy breakfast and snacking option. It can be combined with flax seeds as it has alpha linoleic acid, which is an essential omega-3 fatty acid. Try to consume granola that is organic in nature, by checking the labels carefully. 
References and Information Sources used for the Article:
https://www.umass.edu/sphhs/sites/default/files/Nutrition%20Student%20Anthology%20Spring%2013.pdf  (accessed on 03/17/2015)

http://www.fns.usda.gov/sites/default/files/WholeGrainResource.pdf (accessed on 17/03/2015)

http://preventcancer.aicr.org/site/News2?page=NewsArticle&id=22573&news_iv_ctrl=0&abbr=pr_hf_(accessed on 03/17/2015)

http://www.aicr.org/reduce-your-cancer-risk/diet/elements_phytochemicals.html (accessed on 03/17/2015)
Helpful Peer-Reviewed Medical Articles:
Parello, N., Karimi, M., & Fagan, J. M. (2013). Hemp Nation Bars-the gluten-free, high-protein, superior granola bar.

Li, B. W., & Schuhmann, P. J. (1981). Gas chromatographic analysis of sugars in granola cereals. Journal of Food Science, 46(2), 425-427.

Souza, P. L. C., & Silva, M. R. (2015). Quality of granola prepared with dried caju-do-cerrado (Anacardium othonianum Rizz) and baru almonds (Dipteryx alata Vog). Journal of food science and technology, 52(3), 1712-1717.
Reviewed and Approved by a member of the DoveMed Editorial Board
First uploaded: April 19, 2020
Last updated: April 19, 2020