Is Baking Or Frying Food Healthier?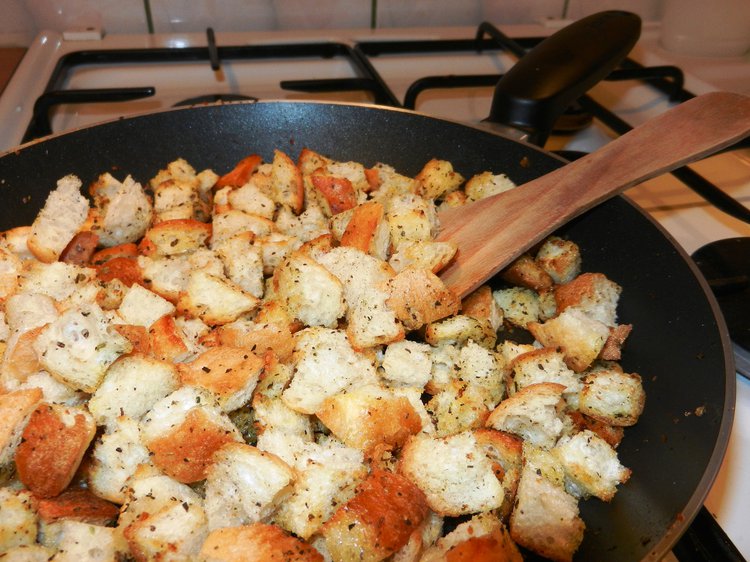 According to the National Cancer Institute, researchers have found that high consumption of well-done, fried, or barbecued meats was associated with increased risk of colorectal, pancreatic, and prostate cancer.
Upon first glance of the comparison between baking and frying, you may be quick to assume that frying is more hazardous to your health. Without a scientific degree or attending culinary school, chemical hazards related to cooking might not be common knowledge to the designated chefs in our families. Although baking and frying have sizeable differences in terms of health factors, one of their hazardous consequences is rather similar.
Frying:
Frying is a method of cooking food in oil or fat. Fried foods often result in a characteristic crisp texture since oils and fats are able to reach higher temperatures than water. Common fried foods include breaded or battered fish, meat, vegetables, chips, and doughnuts.
Three types of frying exist, which are dependent on the amount of fat or oil required, the cooking time, and the material of the cooking pans. 
Deep-frying: A large, deep pan or fat fryer is used and filled half way with fat and heated to the desired temperature. The food is dropped into the pan of fat for a few minutes, then removed and drained.
Stir-frying: A wok or frying pan is used at a very high temperature and food is cooked in a thin layer of fat. The food is fried rapidly and must be stirred constantly to avoid burning.
Shallow-frying: A large, shallow pan is filled with fat that is enough to cover approximately 1/3 of the food that is being fried. The fat in the pan is first heated and the food is then added and cooked for a few minutes. After the food is removed, it is then drained.
According to the National Cancer Institute, researchers have found that high consumption of well-done, fried, or barbecued meats was associated with increased risk of colorectal, pancreatic, and prostate cancer. Numerous studies have speculated this increased risk to be associated with the release of chemicals, known as polycyclic aromatic compounds (PAHs) and heterocyclic amines. These compounds are released when pan frying or grilling in conditions of high heat over an open flame for a long cooking duration. When frying, oil can cause smoke to be produced and result in the release of PAHs.
Frying Tips:
Frying meat in over-used cooking oil will affect both the taste of your food product and result in the creation of PAHs. The European Food Safety Authority has recognized these compounds as a health concern and advises that oils should be clean when frying foods. Make sure to discard oil that gives off an unpleasant odor, trim fat from meats, and lower temperatures if smoking occurs.
When frying foods, consider using healthier cooking oils that contain polyunsaturated and monounsaturated fats instead of trans and saturated fats. These oils include olive, canola, almond, corn, peanut, or walnut oil. They are plant-based oils that help to improve blood cholesterol levels, thereby decreasing the risk for heart disease.
Baking:
Baking is a process of cooking food that utilizes direct heat and is completed using an oven. Baking is often referred to as roasting, as moisture within the food is converted to steam. This steam combines with the dry heat of the oven to cook the food. Typical foods baked in the oven include meat, fish, pastries, bread, and vegetables. In contrast to frying, baking food requires little added fat for flavor. Roasting racks are great for draining fat from meat.
Despite needing little fat to produce flavor, baking meat can provide negative health benefits including potential cancer risk. A 2012 study completed in Thailand determined the amount of heterocyclic amines (HA) produced in meats prepared using various cooking methods. Various studies have connected these compounds to cancer risk. Baked beef was found to have a lower content of heterocyclic amines than fried beef, since baking is done at lower temperatures than frying. Different fish species cooked with several cooking methods resulted in a higher HA content in fried fish than in baked fish. Low levels of total HA content were found in baked beef, fried chicken, medium-rare fried beef, fried chicken breast, and baked pork. High levels of total HA content were seen in fried pork, fried fish, and fried bacon. The study suggests that frequent consumption of high HA content foods are associated with a possible increased risk of cancer.
Frying vs. Baking:
In analysis of the benefits and negative health consequences of baked versus fried foods, they both have potential cancer-causing chemical hazards associated with them. Putting these chemical concerns aside, frying adds a considerable amount of fat to foods in comparison to the 'little to no fat' necessary for baking. Although healthy fats are essential in our diets, there are other healthy ways to incorporate them into our diet besides frying.
When performed properly, potential cancer-causing chemicals can be avoided or decreased during both frying and baking foods. Next time you are given the opportunity to decide between fried and baked foods, consider choosing to bake your food items instead. Health conscious people or those undergoing diets will appreciate the lower fat content, while still enjoying the tenderness and flavor of this healthy cooking method.
References:
The Why, How and Consequences of Cooking Our Food [Internet]. European Food Information Council; 2010 Nov [cited 2015 Jan 22]. Available from: http://www.eufic.org/article/en/expid/cooking-review-eufic/
Healthy Cooking Oils Buyer's Guide [Internet]. Center for Disease Control and Prevention [cited 2015 Jan 22]. Available from: http://recipes.millionhearts.hhs.gov/articles/healthy-cooking-oils-buyer%E2%80%99s-guide
Chemicals in Meat Cooked at High Temperatures and Cancer Risk [Internet]. National Cancer Institute [cited 2015 Jan 22]. Available from: http://www.cancer.gov/cancertopics/factsheet/Risk/cooked-meats
Cooking Skills [Internet]. Utah State University [cited 2015 Jan 22]. Available from: https://extension.usu.edu/foodsense/htm/cook/cooking-skills/grilling-and-broiling/
Healthy cooking techniques: Boost flavor and cut calories [Internet]. Mayo Clinic; 2014 Apr 8 [cited 2015 Jan 22]. Available from:  http://www.mayo.edu/dotorg/healthy-living/nutrition-and-healthy-eating/in-depth/healthy-cooking/art-20049346?pg=1
Puangsombat K, Gadgil P, Houser TA, Hunt MC, Smith JS. Occurrence of heterocyclic amines in cooked meat products. Meat Science. 2012;90(3):739-746.
Helpful Peer-Reviewed Medical Articles:
Gertz, C. (2004). Optimising the baking and frying process using oil‐improving agents. European journal of lipid science and technology, 106(11), 736-745.
Palazoğlu, T. K., Savran, D., & Gökmen, V. (2010). Effect of cooking method (baking compared with frying) on acrylamide level of potato chips. Journal of food science, 75(1), E25-E29.
Sánchez-Muniz, F. J., & Bastida, S. A. R. A. (2006). Effect of frying and thermal oxidation on olive oil and food quality. Olive oil and health, 74-108.
Bread, B. (2006). Baking, extrusion and frying. Food processing handbook, 8, 237.