Human Interest
First Aid for Fractures
Last updated March 5, 2018
Approved by: Krish Tangella MD, MBA, FCAP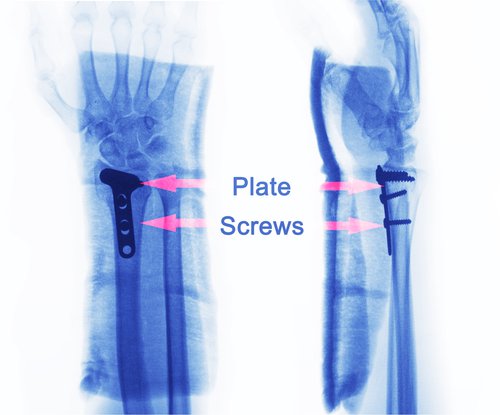 A Fracture is a localized separation, crack, or break, in the bone.
---
What is Fractures?
A Fracture is a localized separation, crack, or break in a bone. Most commonly, Fractures involve the bones of the arms and wrists
Fractures are typically caused by trauma, due to an accident or a fall. These are common in children, sports athletes, and older adults. In almost all cases, medical treatment of the condition is important
What are the Causes of Fractures?
The stresses required to cause a Fracture can be provided by severe impacts or repeated cyclical forces over time; which are termed "traumatic" and "stress" Fractures, respectively
Seemingly trivial stresses can also cause Fractures, when the bone is weakened by conditions, such as osteoporosis and bone cancer. These Fractures are called "pathological" Fractures
What are the Signs and Symptoms of Fractures?
The most common symptom of a Fracture is localized pain. Although, bones contain no nerve endings themselves, the swelling and nerve damage in the tissue surrounding the bone, causes pain that is frequently reported
This pain usually increases, when the patient attempts to use a broken limb, or applies pressure in the area of a broken bone
Some Fractures cause obvious visual deformities, such as limbs that are bent at unusual angles
Fractured bones can also cause bruising or break the skin. When this happens, the Fracture is referred to as an open, compound (as opposed to a simple) Fracture
Loose bone fragments might also frequently cause, muscle spasms in the area surrounding the Fracture
Skull and spinal Fractures cause a wide variety of neurological symptoms by damaging nerves. These symptoms can include, cerebral edema (swelling of the brain), loss of sensation, and paralysis
Severe Fractures can have many secondary complications, like crush syndrome, fat embolism, rhabdomyolysis, infection, and shock. Less severe Fractures are frequently diagnosed using x-rays,in a hospital setting
How is First Aid administered for Fractures?
First Aid tips for Fractures include:
You should immediately call 911 (or your local emergency number) if:

The Fracture is a result of major trauma, injury, or motor vehicle accident
There is heavy bleeding from the injury site
The individual is unconscious
You suspect a head, neck, or back injury
The end of the limb, finger, or toe, is insensitive or is turning blue
You see signs of shock
The injured person has difficulty breathing
You suspect a break in the hip, pelvis, or upper leg

Stop any bleeding by applying pressure, using a sterile dressing or a clean cloth
If arterial bleeding is suspected and medical assistance is not immediately available, use of a tourniquet may be appropriate
Apply a cold pack to site of injury to reduce swelling. Do not apply ice directly to the skin, wrap it up in a cloth or towel
In case there is a break in the skin, the site should be sterilized to remove dirt and then covered, once the bleeding has been stopped
Regardless of the type of Fracture, the site of the Fracture should be immobilized
Do NOT attempt to push or move the bone, which is sticking out, in case of an open Fracture
Do NOT try to realign the bone, if it appears out of place, unless you are trained to do so
Apply a splint to the area, directly above and below the fracture
Who should administer First Aid for Fractures?
Any individual, in close vicinity of the injured person, can provide immediate comfort and First Aid, but one must seek medical help in almost all cases
In case of severe Fractures, calling 9-1-1 (or your local emergency number) is the first line of action
What is the Prognosis of Fractures?
The prognosis for a Fracture varies widely and depends on:

On the area/location of Fracture
Age of the victim
Any underlying conditions, and
Severity of the trauma associated with the Fracture

The majority of young healthy people without severe secondary trauma, or co-morbid medical conditions, recover without any significant impairment
The medical treatment is typically, to reposition the bone in a natural position and immobilize the bone using a cast or surgically implanted hardware, until the bone heals on its own. Barring the afore mentioned complications, these types of treatments are normally successful
Sometimes, the bones fail to heal; this is called a mal-union. In the event of a mal-union, potential long-term effects are shortening of the affected bone, osteoarthritis, stiff joints,or even limb amputation
How can Fractures be Prevented?
A few helpful tips to prevent Fractures:
Utilize suitable PPE (personal protective equipment) while performing certain dangerous activities, outdoor activities, or sports
Carefully supervise children, at parks and playgrounds
Use seatbelts in motor vehicles
Add safety features, such as non-slick patches and handrails to the stairs
What are certain Crucial Steps to be followed?
If the individual is feeling faint, turning grey, or breathing in short rapid bursts, treat for shock by loosening any restrictive clothing and elevating the legs above the head, if the Fracture is not in the lower extremities
Do NOT attempt to move someone with a suspected head, neck, or back injury; or, if you suspect a broken hip or pelvis
What are some Useful Resources for Additional Information?
American Academy of Orthopaedic Surgeons (AAOS)
6300 North River Rd. Rosemont, IL 60018-4262
Phone: (847) 823-7186
Toll-Free: (800) 346-2267
Fax: (847) 823-8125
Email: hackett@aaos.org
Website: http://www.aaos.org
References and Information Sources used for the Article:
http://www.mayoclinic.com/health/first-aid-fractures/FA00058 (accessed on 11/9/2013)

http://www.ncbi.nlm.nih.gov/pubmedhealth/PMH0001072/ (accessed on 11/9/2013)
Helpful Peer-Reviewed Medical Articles:
Nambiar, M., West, L. R., & Bingham, R. (2016). AO Surgery Reference: a comprehensive guide for management of fractures. Br J Sports Med, bjsports-2016.

Auerbach, P. S. (2015). Medicine for the Outdoors E-Book: The Essential Guide to First Aid and Medical Emergencies. Elsevier Health Sciences.

Duff, J., & Anderson, R. (2017). Pocket first aid and wilderness medicine. Cicerone Press Limited.

Thygerson, A. L., Thygerson, S. M., American Academy of Orthopaedic Surgeons, & American College of Emergency Physicians. (2016). Advanced First Aid, CPR, and AED. Jones & Bartlett Publishers.

Bigham‐Sadegh, A., & Oryan, A. (2015). Basic concepts regarding fracture healing and the current options and future directions in managing bone fractures. International wound journal, 12(3), 238-247.

Fernandes, M. D. C., Peres, L. R., Queiroz Neto, A. C. D., Lima Neto, J. Q., Turíbio, F. M., & Matsumoto, M. H. (2015). Open fractures and the incidence of infection in the surgical debridement 6 hours after trauma. Acta ortopedica brasileira, 23(1), 38-42.

Gyedu, A., Mock, C., Nakua, E., Otupiri, E., Donkor, P., & Ebel, B. E. (2015). Pediatric first aid practices in Ghana: a population-based survey. World journal of surgery, 39(8), 1859-1866.

Joseph, N., Narayanan, T., bin Zakaria, S., Nair, A. V., Belayutham, L., Subramanian, A. M., & Gopakumar, K. G. (2015). Awareness, attitudes and practices of first aid among school teachers in Mangalore, south India. Journal of primary health care, 7(4), 274-281.
Reviewed and Approved by a member of the DoveMed Editorial Board
First uploaded: Nov. 9, 2013
Last updated: March 5, 2018